admin
This user hasn't shared any biographical information
Posts by admin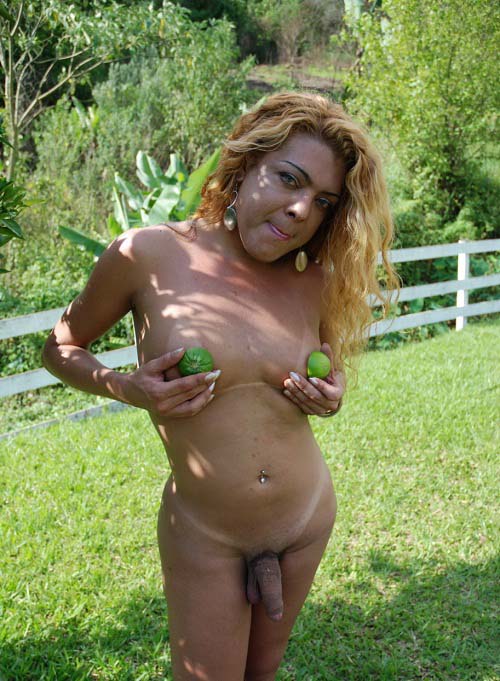 This blond shemale bombshell was scorching hot and she loved posing outside in her thong and chain ringlet top. Danielly had a sweet smile and angelic eyes, but don't let the innocent face fool you this tranny slut was horny and ready to play for us and the camera and exposing herself in the wide open outdoors just added fuel to flame. She teased us by running her hands up and down her shapely legs and well rounded ass. And every time she moved, we would catch a tantalizing glimpse of her funbags beneath her funky top. It was blissful torture watching as she slowly stripped and slid her thong down her thighs exposing that fat girl pole that was getting more erect with every second that passed. The more she teased the camera the harder her shecock became until she was wrapping her hands around her bulging feminine shaft and pumping it in long strokes and moaning in ecstasy as she spewed her creamy, thick cumload.
More >





(No Ratings Yet)

Loading ...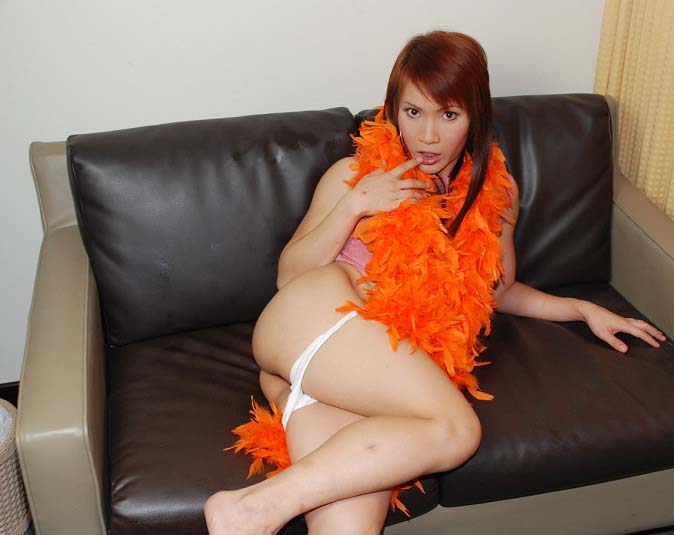 Now Mimi was Mona`s friend (I think) and basically just showed up. My initial thought was that she wasn`t the prettiest girl I`d seen but I am all about trying to bring out the best in each girl. Mimy turned out to be a great poser and I think you can see that she has a phenomenal little bubble but. In fact it is one of the most perfectly shaped bums I have seen on any ladyboy. I showed her the giant red candle and she winced at it but said she would try. She impressed me when she actually got it in her ass a little ways and seemed turned on by this. No problem producing a cumshot from her fat little cock. In the end I was really glad that Mimy came as I probably would not have picked her out of a crowd as someone I wanted to work with (or screw).
I have no back story for Mimy for as I said, she just appeared at my door. She told me she worked at Guess Bar and I did see her there briefly as I only went there once for about an hour this trip. It would pretty hard, IMO, to stay focused on Mimy at a place like Guess with so much top talent working there. The night I went I hung with Fah and got beat twice in pool by Jenny. She is a good player but playing pool for me is more a battle with my own drunkenness then with my opponent.
More >





(No Ratings Yet)

Loading ...
Posted by admin in HD | 1,618 views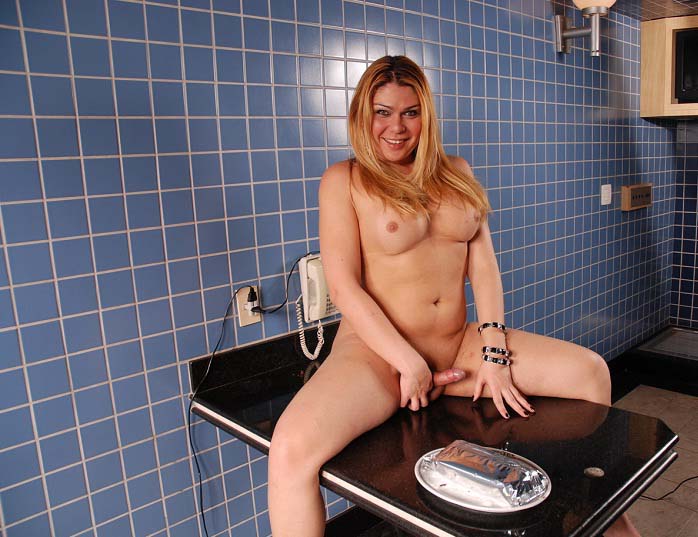 Here is a voluptuous shemale chick that really loves her chocolate cake. Thamires came out dressed in a sexy black teddy and high heels and decided to pose on the kitchen table for us. She looked so sizzling hot slipping out of her satin and squeezing her scrumptious tits together. We didn't know quite what to expect when this naughty T-girl pulled out a small chocolate cake. But when she began to crumble it and smear it all over her shecock, it wasn't long and she was coating it with her own gooey icing.
More >





(No Ratings Yet)

Loading ...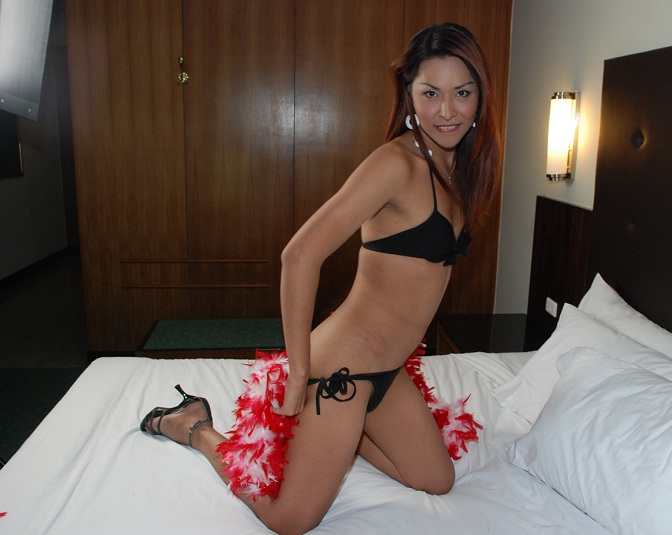 May was immediately struck by May`s unquestionably beautiful face. I think in her case this comes down to the eyes which are supported by her other unextraordinary facial features. There is something about the angle of the eyebrows and the artful application of makeup that makes men open their wallets for May. Really if you look at May`s body, while perfectly adequate for a good time, it is somewhat below average when compared to many other ladyboys without an ounce of fat and big fake tits. May is just one of those lucky girls whose best feature is the first thing people see. If I could speak Thai well enough to give her career advice I would tell her to go into sales or television.
The shoot was a fairly quick little affair. May had a conservative black bikini so I gave her the boa to add some flair. Her body should appeal to guys who like a natural looking girl with a few extra ounces giving her body a soft look. She has gorgeous shoulders and of course her face. Her lovely long somewhat messy hair usually hides one of her dangling earrings. A little dancing, jerking and sucking of me and she was ready to cum. As often happens the model does not understand or forgets when I tell them to give me some notice they are cuming. So sorry I only got the end of her large cumshot from a bad angle. I think it is just as sexy watching her wondering how to and then cleaning up the cum all over her hands, tummy and cock.
More >





(
2
votes, average:
5.00
out of 5)

Loading ...
Posted by admin in HD | 1,563 views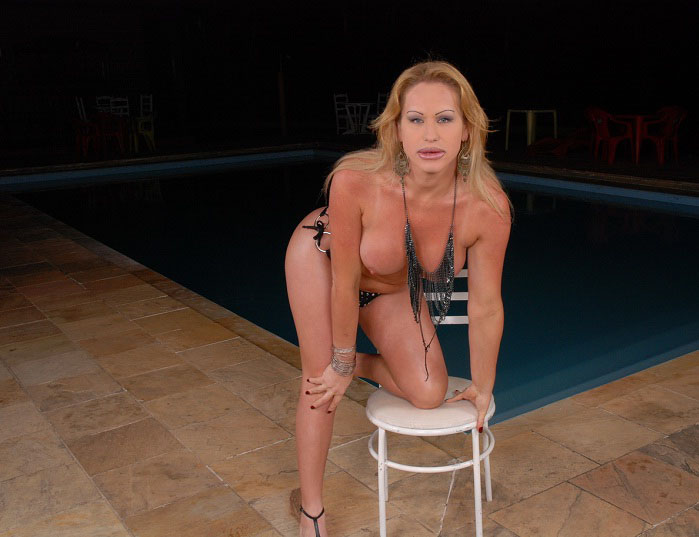 What wicked blue eyes this sexy shemale babe has and her cock teasing skills are merciless. Leticia is one sultry and talented T-girl that loves getting you hot and hard. Just watching as she wraps her full lips around that tasty cream covered cake puts all kinds of wicked and naughty thoughts into your horny head. And watching her smear that thick white frosting on her hard shecock and tugging her girl pole until she shoots her own creamy load will make your toes curl.
More >





(
1
votes, average:
4.00
out of 5)

Loading ...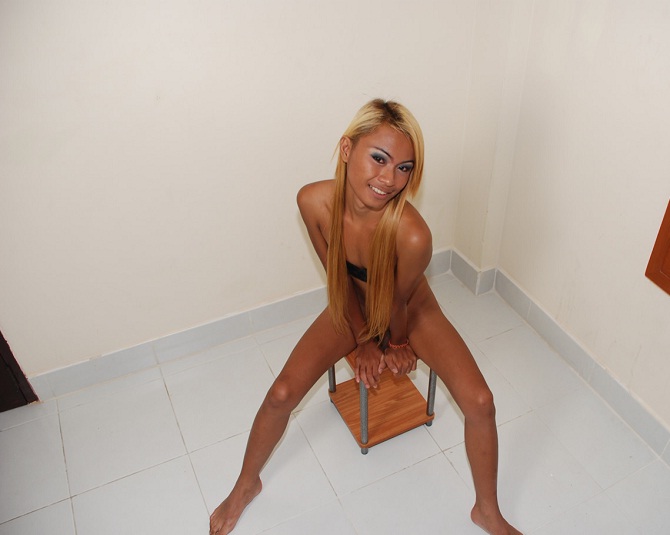 Of all the girls I shot on this trip I think I have thought about Mo the most. Is it the blonde hair, that slim sexy body, those exotic eyes, those big sexy lips, or that beautiful big cock; nigh I think it is the whole package. This cute little girl knows how to pose for the camera; either that or she liked me, I`m not sure as there was not a lot of talk. To my webmasters dismay I had forgot to ask most of the models to smile but Mo is showing her pearly whites in a lot of the pics. She is lucky to have gleaming strait white teeth as a lot of the girls do not have great teeth and as a result are shy about smiling. When she first unsheathed her tool I was thinking oh oh small cock but was I surprised to see it grow and grow. It turned into to a long thick curving sausage relative to her small slim body. When jerking she likes to lay back and close her eyes, I suppose imagining having sex with her dream date. I`m not sure how much of the video we are going to show but I could not resist jumping in several times to help things along. I must have spent half an hour propped on my elbows and knees over her while we French kissed. While I did this she opened her eyes wide and writhed about under me as she jerked both our cocks with each of her hands. I had no intention of cuming as Fon was coming back to spend the night but could not resist; so the first load you see on her stomach is mine which seemed to inspire her to a minute leaky cum. This was obviously quite an effort for her as you can see she just lay there for quite a while.
More >





(
1
votes, average:
5.00
out of 5)

Loading ...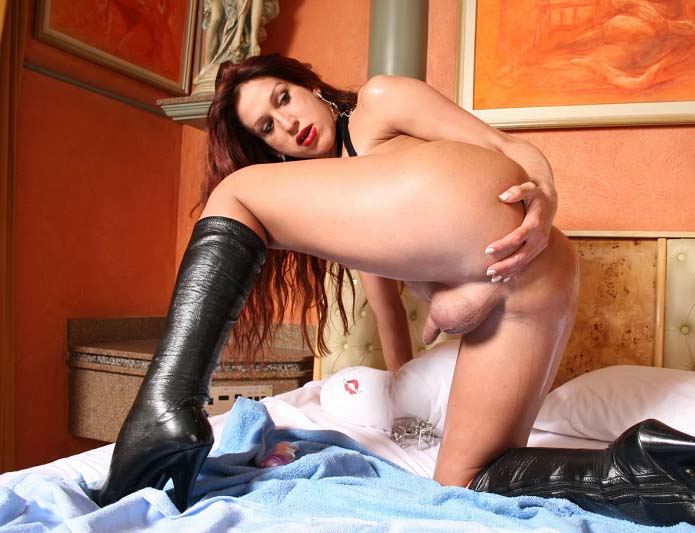 This horny brunette loves her leather. She loves how it feels on her skin as she moves around or just sitting, laying and stroking her shecock. The other thing this slutty shemale loves is to pour oil on her massive breasts and rub it around and around getting her nipples excited and her shecock will get hard and need to be stroked. That oil works great on all of her body parts so she oils her sweet shecock up and strokes it and then she shoves three fingers up her pretty rosebud ass and starts to move them to the rhythm she has going on her shecock. Who could stand so much erotic friction?!? This shemale sure can`t and she cums a geyser!
More >





(
1
votes, average:
5.00
out of 5)

Loading ...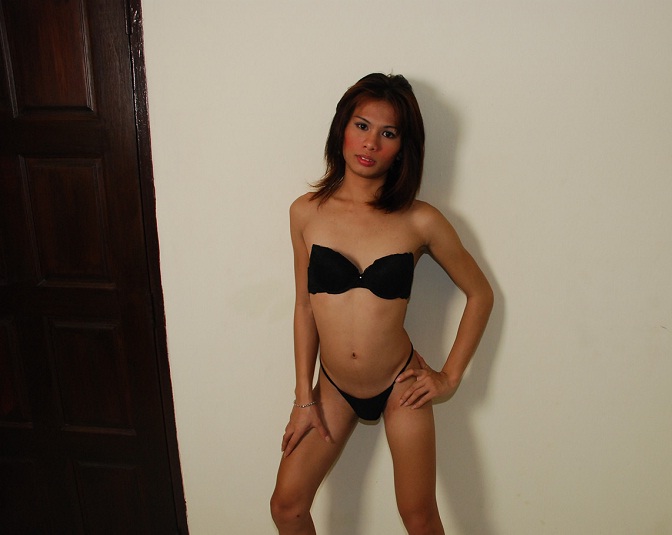 Cute little Pancake didn`t really get that I wanted to take pictures of her naked. We got half way through the shoot and she said she thought we were done. Actually I think she was disappointed that I didn`t want to fuck her. Which of course I did but as I have said before this usually makes a mess of the shoot. This is yet another example of me explaining everything in English and the ladyboy nodding that they understand. In any case we worked it out financially so that she would be satisfied going all way. The result is quite good I think. Her cock appears to be huge in relation to her small body size. I thought she might have difficulty cuming given the prior tension but this was not the case. She came like a rock star from the standing position which in itself is unusual. Unless I help I find most of the girls like to lie down and close there eyes for a bit as they are getting ready to cum. We usually don`t show you this entire scene as sometimes it takes them 10-20 minutes without movement. Often if you ask them to move they will go soft and have to start over again. This time is usually inversely proportional to the amount of times they have cum that day. In their line of work sometimes they will cum 5 or more times in one day. Gone are those days for me as I am lucky to get one good cumshot a day when I`m in Thailand (although I can usually manage two a day for the first few days of my trips, ha ha).
More >





(No Ratings Yet)

Loading ...
Posted by admin in HD | 1,462 views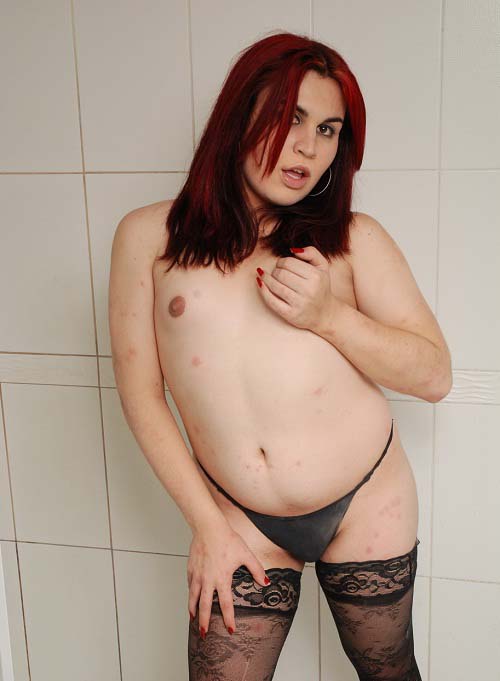 This redhead shemale has a pretty face and a plump body. Anita is dressed in her skimpy black lingerie with thigh high stockings on her shapely legs. She strips off everything but her stockings while she poses in front of a mirror spreading her ass cheeks with her hands to give a good view of her tight bung hole. She tugs on her shecock until it is hard and stading erect. And Anita doesn't stop pumpin on that juicy chick dick until she is spewing her thick load.
More >





(No Ratings Yet)

Loading ...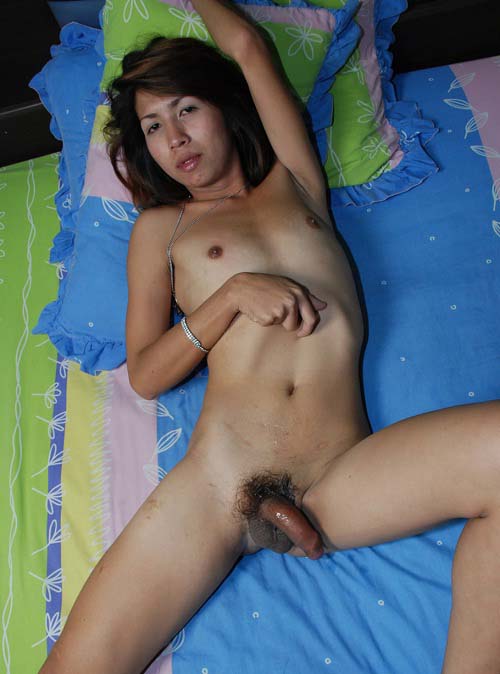 Pangpon was the one I was shooting while Cindy was getting hard and she was a nice surprise. When I first saw her I didn't get the sense that she was very pretty. I didn't realize it at the time being caught up in the shoot but she is very sexy. Her expression, poses and the way her hair falls to her shoulders all do it for me. As you can see she has virtually no makeup on and a few large zits (unless my editing guys airbrushed these out). I think she could be a stunner if made and dressed up to the hilt. Her natural look extends to her whole body which is pale and hairless except the small pube tuft which I like very much. She got hard with a little help and seemed to enjoy sucking my dick. Seeing it soft, I was initially worried she had a small cock but it swelled up to respectable length and above average thickness especially at the base. Her balls seemed to swell up as well just before and after her nice little cum shot. There's a few really nice shots of her spent cock and balls. I'll have to remember to get more shots like this from all the girls. I guess I often don't because many of them want to jump up and go get cleaned up immediately after cumming. Pangpon was content to just lay there as her sausage glistened.
More >





(No Ratings Yet)

Loading ...