Asian
Asian shemale, Ladyboy, Femboy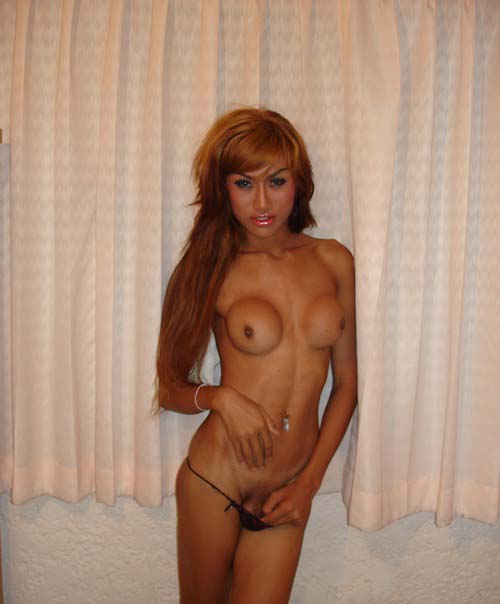 This is by far the horniest girl I have ever met as well as being one of the hottest. She is bubbly and fun and always laughing and acting crazy. Maybe she is on drugs but if so I want some. I mean look at her taking her clothes off, dancing around and hamming for the camera. This was the funest shoot I`d done to date. I`m glad she had a big poofy dress to hide her body or she would be too sexy. I don`t know about you but I love those baseball sized tits protruding from her skeletally thin body. Some would say they look fake, well hell yes but they still look great! Look at her grabbing those things in both hands with nothing else on but her impossibly small string bikini briefs. When you see her huge cock it makes you wonder how it could be restrained by such a tiny piece of cloth. When hard her big cock has a slight twisting up curve to one side. Once she had my cock out and I was looking down on her pretty face sucking it and those tits and cock below I knew I had to fuck her. A little lube and a condom and we were off to the races which I did not catch on film. Fast forward to her huge cumshot all over and around her belly jewel. Well for most girls this would be enough right? Not Pond, she insisted that I fuck her again and she actually came a second time. Unbelievable!
More >





(
1
votes, average:
5.00
out of 5)

Loading ...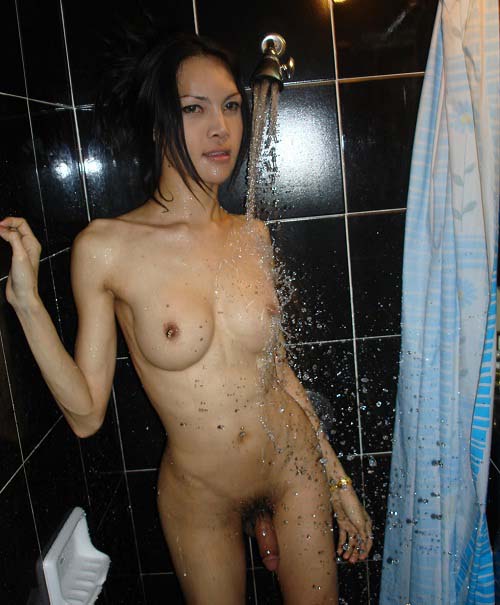 Sorry for the forced wit of the set title but another site had already used Alice in Ladyboyland for this babe. Plus mine refers to her huge hard cock which is just a bonus when you consider this girl is so perfect in every other way. Another girl who must have a good deal of falang heritage if not a full on white daddy. Her circumcised cock is further evidence of this given that most Thai`s have hooded dicks. She could go to any bar in the west and I don`t think anyone could tell she is Thai let alone a boy. However it must be the Thai blood that allows her to look like a girl and yet not be. If she was 100% white she would no doubt have \"that look\" that gives away western shemales.
More >





(No Ratings Yet)

Loading ...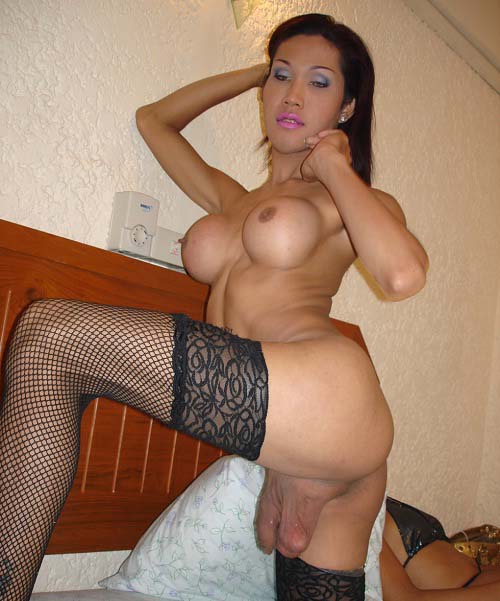 Lek which ironically means small in Thai makes the most of her size. She is a tall girl with a huge dick, big booty and she has recently added some giant boobs to balance things out. She is a friend of Sara`s and started out posing with her in black bra and panties that had trouble containing those grapefruit sized titties and large banana cock and balls. Her balls hang down a good four inches as does her flaccid cock. She has a nice large lower back tattoo framing the top of her ample booty and a smaller one partially ringing her jewelled belly button. I thought it would help her to see my cock and sure enough hers began to swell as she sucked me and licked my balls with her pierced tongue. She asked for the baby oil and I thought what a great idea to oil up those spectacular boobs and cock. Of course a short titty fuck was in order before she sucked me until she spewed hot juice from her trunk sized dick.
More >





(No Ratings Yet)

Loading ...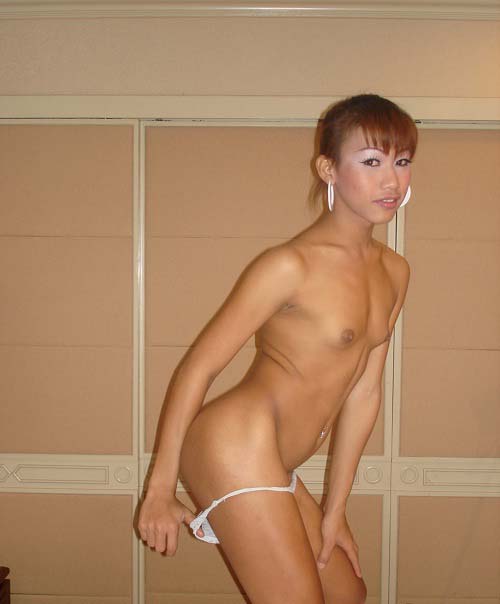 I`m a sucker for a pretty face but I`m also a sucker for a sexy little Femboy body. Monika is the epitome of such a creature. She has a very pretty face with a big mouth that is always smiling and large fluttering eyes. In clothes she reminds you of those pubescent teen girls from Junior High that teased but would have nothing to do with you. If this isn`t enough to get you hard check her out in her black strapless bra showing her petite square shoulders and bejewelled sexy tummy. Femboy lovers will be ready to cum in their pants when she shows her suckabley sweet little hormonal tits. But pace yourself because the best is yet to cum. She takes off her short shorts to show us lacy white panties that contrast deliciously with her mocha skin. But wait, why do those tiny panties on this sweet teen babe have a bulge? Let`s take a peek. My god she has a short fat hooded cock in there! At this point in the shoot I almost uncontrollably forced her to her knees where she obediently went to work on my throbbing dick. She noisily moaned and slurped away as she sucked and yanked on me with one hand and jerked herself with the other. It wasn`t long before she produced a voluminous cloudy excretion from her adolescent girl dick.
For those who don`t know Femboy is broad term given to ladyboys who have retained some aspect of their true gender other than their cocks. Normally a Femboy will not have fake tits and I think Monika`s are perfect the way they are. It is too bad that some quack will likely ruin these by inserting oversized water balloons at some point. I love big fake tits but sometimes I like to imagine that I am molesting that girl from grade school that was responsible for my sexual awakening (and that she had a cock).
I met Monika at Casanova earlier that evening. The moment I sat down Monika plopped down on one side and another more womanly ladyboy on the other. As well an extremely hot girl hovered giving the impression that she was more deserving of my attention. I don`t know why but this always seems to happen to me at Casanova. At bars there are always girls looking over their shoulders to see if I am checking them out but here some girls definitely have an attitude. I will wave them over and say maybe we can talk later or give me your number but they inevitably storm away in a huff. Sure enough though I will catch them glancing over from across the bar. This is a fun game and I like girls with spunk but my instinct tells me that these headstrong girls may be trouble later on when it comes to negotiating the shoot. So as I have learned the hard way countless times I went with the birds in the hand versus the one in the bush. So then I had to decide between girl (Monika) or women.
This again was an easy choice as through all the games with the other girls Monika simply snuggled close and beamed up at me adoringly. When I waved the waitress over to pay the bill and the barfine she squealed with excitement and hopped up to go change and grab her things. At this point attitude girl strutted over and hand on hips challenged me with \"why you go with that little girl?\". I pretty much laughed in her face and this of course fuelled her anger. She twirled around heel on toe and against better judgement I jumped up catch her by the arm. I moved close and whispered in her ear something like \"Sorry baby, I like you, give me your number, I`ll call you later\". Like magic her body unstiffened and she turned her head and said \"I like you too but my phone not work, you come back later\". I said that I would try but of course I did not and it was probably for the best.
More >





(No Ratings Yet)

Loading ...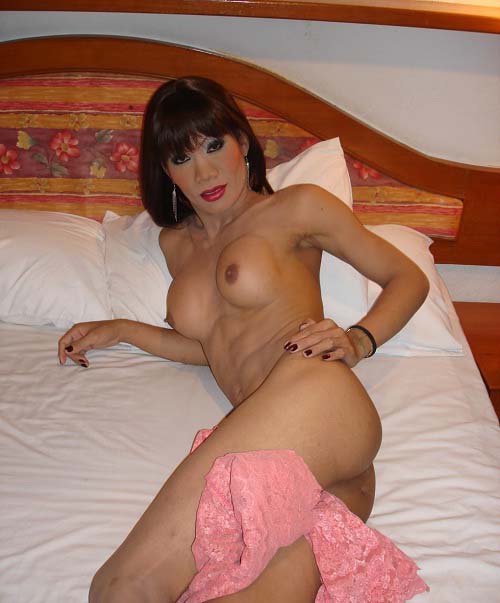 Not the prettiest girl in Pattaya but my god, what fucking body. In fact I can`t think of a ladyboy or girl who has a better one. She has perfectly shaped tits and ass tacked on to a long lean muscular frame. I found her showcasing this well in her slightly tattered cocktail dress on Beach Road around Soi 13. I bumped into to her as I was stumbling along on my ways back to the bars after finishing with another girl. She said \"go with you\" and so I did a 180 and she followed me back the short distance to my hotel. She took a call and then slinked out of her dress to reveal her spectacular tits sitting atop washboard abs. She took a shower and there are some great shots of the water streaming down on her against the black tile background. She is an awesome sight in just a towel and she seemed to know what to do next as she pawed to free my hard cock from my pants. I love her lower back tat which is eye candy when you are ramming her from behind. This is the only blemish on her perfect lightly tanned skin which is virtually hairless save her head and trimmed pubes and balls. From behind her sweet A-hole is a site to behold as it winks at you from the middle of her divinely shaped rump. Of course she also has a gorgeous big unhooded cock which sticks upwards at a 45 degree angle. Enjoy the shots of her stroking her big rod to orgasm.
If you look at only Nidnoy`s face you probably think that I must have been pretty drunk to take her home. Well that is true actually but there is another reason; unlike when I was young I no longer give a shit about a girls face. When you`re prepubescent I think for most guys it is all about the face. If I think back to grade school there were girls who had great bodies but were not as popular as prettier girls. This changes a bit in Junior High as the smart guys figure out it is easier to get in the pants of the not so pretty girls. I was way too picky given my minimal game so I did not get much action in my teens and early twenties. My epiphany came in college when I asked a buddy how he could screw a girl that I considered to be ugly. His answer was \"same basic anatomy\" and when this sunk in I promised myself to never again pass up a piece of tail. Of course there has to be something there that I find attractive and in this case Nidnoy has an abundance of cock hardening qualities. Ironically the Thai word nidnoy or rather nitnoy means a little bit.
More >





(No Ratings Yet)

Loading ...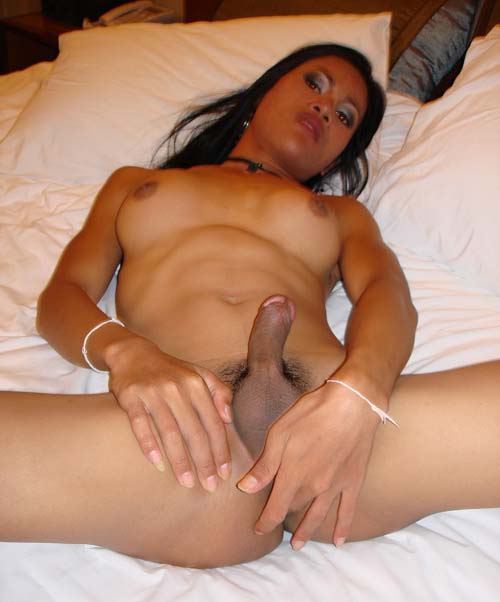 Pat looks super sexy in her sheer red and black dress with her panties and nipples showing through. She striped to her underwear and then had a quick shower. Sitting on the toilet she voraciously sucked my cock while she played with her own. We then went back to the bed for basically a fuck session. Some girls just love to have a nice big dick in their ass and this is one of them. I came to Thailand so that I could capture the vision of a girl ramming her ass up and down on my cock as hers flops up and down and her tits bounce. This got her really hot so she lay down so I could film her doing her two fingered jerk to a creamy cumshot.
I met Pat at the famous Cocktails and Dreams Bar the first time I went there. Cocktails and Dreams is basically the Guess bar of Phuket but is no where near as nice. Pat immediately latched on to me when I went in and I was happy to take her home as she is very pleasant to be around. Pat is a really fun girl with lots of energy and likes to laugh. I complimented her on her muscularity and she said it was because she spent a year in the Army. She explained that it was not voluntary and that every male Thai is required to serve. I don`t really understand how the other ladyboys seem to avoid this. I assume if they come to the draft office dressed as girls they are given a pass. Pat of course did not undergo the change until after she had served. Despite her later transition she is virtually hairless. The only signs of her masculinity are her physique and of course her cock.
More >





(No Ratings Yet)

Loading ...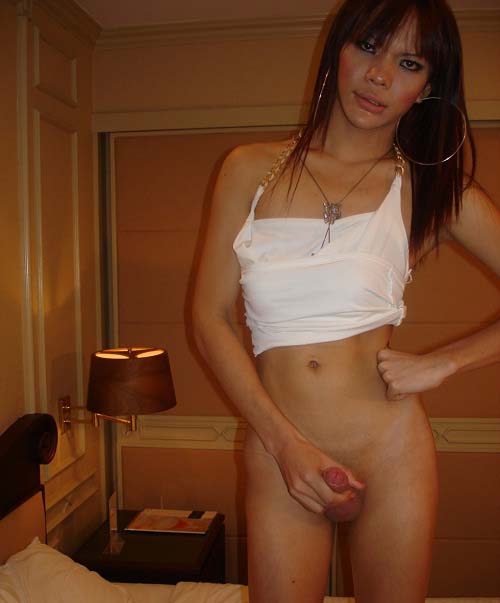 Pinky is another one of those petite feminine girls that you ask yourself how could she have a cock. But sure enough as you will see she has a nice little pink pole between her legs. She is a very quiet girl which may be more to do with her comprehension of English. She did not say or smile much so I wasn`t sure how much messing around she was in to. She starts out doing some innovative posing which was all entirely her idea. I love the ones of here lying face down on the floor and pulling her pants part way down revealing her tight abdomen and upper crotch. Continuing further on this path she shows us she has a nice shaved muff and balls supporting her little pinky. I checked out her cock sucking skills which were more than adequate. Loved the big hoop earrings and the way her lips stretched outwards as I pulled out of her mouth. Her upcurving cock got very hard by this point so we had a brief sword fight before she sat down in my lap for a stroke. It was then time for her to shoot her load all over her flat slim mid section. There is a super sexy bonus shower scene where she shows off her fabulous femboy figure.
I found Pinky on the Nana Hotel side of Soi4 around closing time of the bars in the plaza. This is always a great place to find freelances but at this time you can also find many of the well known bar girls who have just gotten off work. There must be 50 or so girls milling around talking to friends. They will usually hang around for up to an hour looking for customers and then will often go eat with there friends at one of the outdoor restaurants in the area. It is not uncommon to stumble across 4 girls munching away at 4 in the morning at one of these places. On this occasion I had just stumbled out of the bars and was scheduled to meet a girl back at my hotel. I happened upon Pinky who was standing alone and looking like she needed a date. As I was unsure whether she was a ladyboy I asked and was assured she had the necessary appendage. We exchanged numbers and I told her to call me in a couple of hours. She dutifully texted me just as I was finishing up with another girl: \"HI U WANT I TAKE FOTOS NOW PINKY?\". I texted her back and the rest is history. Note I know \"texted\" sounds funny but I looked it up and it is the right word.
More >





(No Ratings Yet)

Loading ...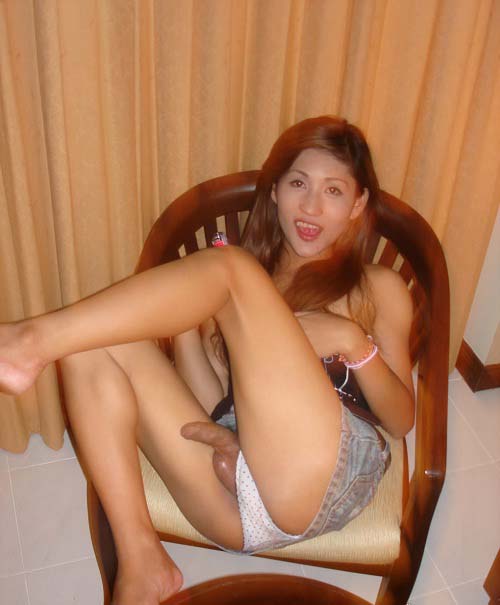 I find the timid shy girls almost more fun than the aggressive sluty ones. I think because they quickly become horny sex machines once you get their pants off. In accordance with her demeanour Pookie seemed a little embarrassed as she removed each piece of clothing. As with most small slim girls the cock looks huge when it comes out. Pookie`s came out erect and she was eager to get mine in her surprisingly large mouth. We made out a bit and I stuck my big hard pole in here little soft hole. I pulled out and she had no problem jerking her banana cock to a nice spurt. Once we were done and she was getting cleaned up she exclaimed, \"I really like you, you call me again\". I said I would if I had time but alas I did not. I will certainly look her up net time I`m in Phuket and will do a better job on her shoot. I always ask the girls if they want a drink and you can see she chose a Bacardi Breezer. This drink is by far the most popular drink with ladies and ladyboys alike in this part of world. The first time a ladyboy had asked me for one I had no idea what she was talking about as they pronounce it \"Ba – Ca – Di\" as of course most Asians have trouble with the western \"R\" sound. They often switch it with the \"L\" sound but in this case they ignore it for some reason. I met Pookie just in front of the bar at Soi Kathoey. She looked happy and surprised when I propositioned her. So off we went to the Poppa Palace. This is a nice hotel but it is in a strange place. The official way to get there is on the Soi that runs towards the beach across from the Royal Paradise Complex. The strange thing is that this Soi does not extend to the beach but dead ends after it jogs around. This kind of street which would be called a back alley in the west is common in Thailand. When you hit these dead ends consider yourself lucky if there is a way out on foot other than doubling back. In this case there is a short cut to the beach between some houses and across a feted swampy lot. Pookie looked a little nervous as I lead her through this short cut back to the hotel. It is dark and little spooky so I enjoyed holding the girl`s hands and they would usually pull closer to me as we strolled. It was sort of romantic and a good lead in to what was about to happen.
More >





(No Ratings Yet)

Loading ...

Ann is a friend of Ann from Laos who asked if I wanted to work with her friend. I said sure as I have learned not to refuse such offers (see below). So I`m sitting in my hotel waiting for this chick and wondering what she will look like. I here a knock at the door and I am a little nervous with anticipation. When I opened the door it was like one of those cartoons where the character`s tongue swells up like a balloon and the eyes spring out of the head to the sound of a horn blowing. At least it felt like this but I think I came off pretty cool as I greeted her, he he. I first saw her beautiful face with those exotic eyes which give her the look of a Bollywood starlet. My eyes dropped to see a skin tight alligator dress straining to hold in her succulently ample curves. I could not wait to see those big soft tits so I asked her to dance around a bit and pull her top down. Although I was feeling a little intimidated by her beauty she must have sensed I wanted to fuck her because she offered to take a shower. Of coarse she has a perfect medium sized cock that sprouts from dark black pubes. To see her soaping up her tits, tummy and cock was almost enough to make me cum in my pants. I held it though and she came to the bed to dry off and suck me off for a while. It took all my self control not to fuck the shit out of this babe as I wanted to properly catch every moment of her stroke to cumshot for you guys.
More >





(
3
votes, average:
4.67
out of 5)

Loading ...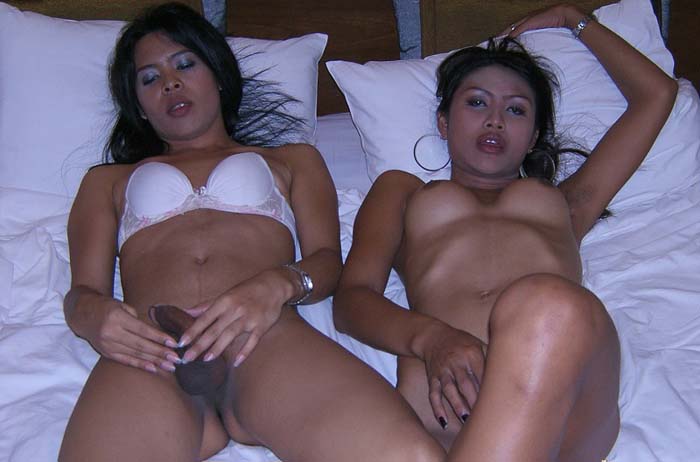 My first ladyboy threesome ever. It had to be done at some point. This was a very interesting combination as each girl has a good body or pretty face, but not both. I met them both near closing of Cocktail and Dreams in Phuket. I was trolling around the outside of the bar, saw Cia and waved her over. Annie was actually an afterthought because I wasn`t originally attracted to her. It was Cia who caught my eye with her IMHO captivating beauty. I find it quite bizarre that some ladyboys have the most exquisitely beautiful faces. A lot has to do with makeup but you can say this about most any women (have you seen those tabloid pictures of Cameron Diaz without makeup, ugh). Cia seemed mildly interested as we chatted. She has a quiet unaggresive confidence about her as most pretty girls do. She is the one that signalled Annie to join the conversation. Annie came over and was much more aggressive about going with me. Annie was wearing kind of a billowy blouse so I did not get a sense of her body. Although at that point in the evening I could not say that I had heightened awareness. My impression was based solely on her somewhat pretty face, the focus of which being her braced grill. I originally said that I only wished to take one girl home (Cia) but Annie was quite insistent and Cia did not discourage her. So off we went, the three of us. I had previously no trouble at the Poppa Palace bringing several girls back in one day but never more than one at a time. Previously the hotel would even let the girls come up by themselves to knock on my door. But they took exception to me bringing two girls back this night which pissed me off. Unfortunately no matter how mad I got they just smiled politely as they demanded 500 Baht. The girls finally agreed to pay this as I was adamant that I would not.
More >





(No Ratings Yet)

Loading ...