Asian
Asian shemale, Ladyboy, Femboy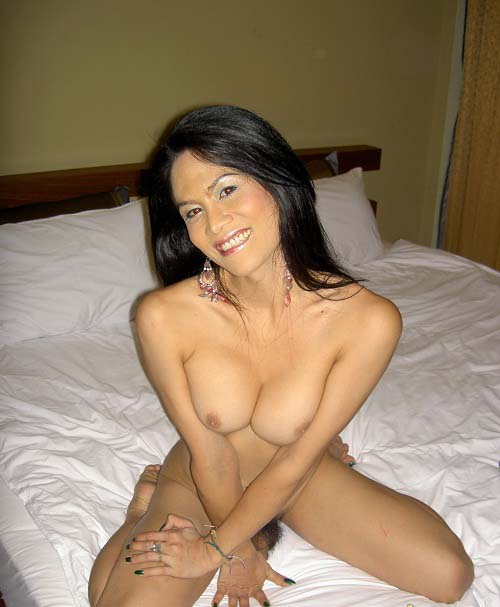 I think Sang has the curviest feminine body I have seen on a ladyboy. Pretty much the opposite of a Femboy, Sang has just a touch of extra body fat that is distributed in all the right places. She also has lovely milky white skin. Usually in Thais this is a result of Chinese blood but in Sang`s case given her Arian features I am quite sure her papa was a falang. She has quite an extraordinary mane of bushy hair another sign she is not entirely of Asian decent. So if you knocked up your Thai girlfriend in the late 80`s this maybe your daughter… er… son. I popped a boner just waiting for her to expose those big meaty tits which looked extremely natural. Once she unsheathed her pork sword I knew the shoot was going to shit. This is my favourite type of girl with a hair trail stretching from her abdomen around the balls to her anus. Of course I had to fuck her tits and ass which made me blow a giant load right on her crotch. I think she loved this because she came soon after. Afterwards she took a shower and looks super sexy doing it. I walked her out and she sped away on her motor bike; another cock hardening vision. She works at Soi Kathoey / Crocodile but rarely seems to be there as I guess she has lots of customers; easy to see why, ha ha. Once again sorry for the horrid photography which does not do justice to this babe. She looks much better in person and I hope to capture her again soon as my skills have improved.
More >





(
1
votes, average:
5.00
out of 5)

Loading ...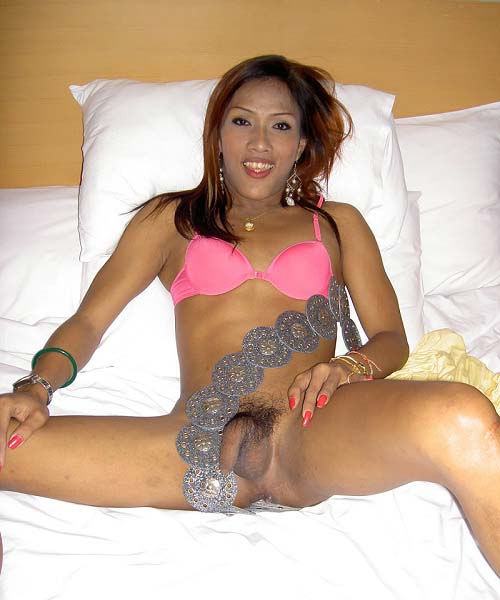 If you hook up with svelte and sexy Wan she will rock your world. Wan is a Femboy lovers delight with her ripped little body but feminine face. She knows how to use that bod to please her man. If you decide to go long time expect to get little sleep. If you get tired or cum she will get you hard again and pull your cock into her ass. She loves to get fucked hard in the ass and to watch you doing it in a mirror. She writhes and moans under you as you are fucking her and she will not cum until you do. She also likes to sing, dance, play pool, and drink. Treat and tip her well and you will get the royal treatment.
I met Wan around Soi 5 on Sukhumvit Road as I was walking back to my hotel on my first night ever in Bangkok. I didn`t really know what I was doing yet as I had just arrived and was pretty drunk and tired. She was with a friend who I was actually a little more attracted to so I invited both of them upstairs. I did the shoots one at a time and did not do a great job as you can see. After all these were the first ladyboys I had ever been with after dreaming about this for years. Wan was first and we had fun fake fucking and she had a nice little cumshot. Her curving banana dick looks big in relation to her tight little body. Her friend was next and even though I thought she was prettier she was just not in to it as much. So they decided to sleep with me and I thought that was pretty cool given it was my first night in Thailand. I must have been sleeping 20 minutes when Wan started snuggling up to me and grabbing my dick and pulling it towards her ass. We fooled around a bit until we noticed her friend stirring so then we went into the washroom.
More >





(No Ratings Yet)

Loading ...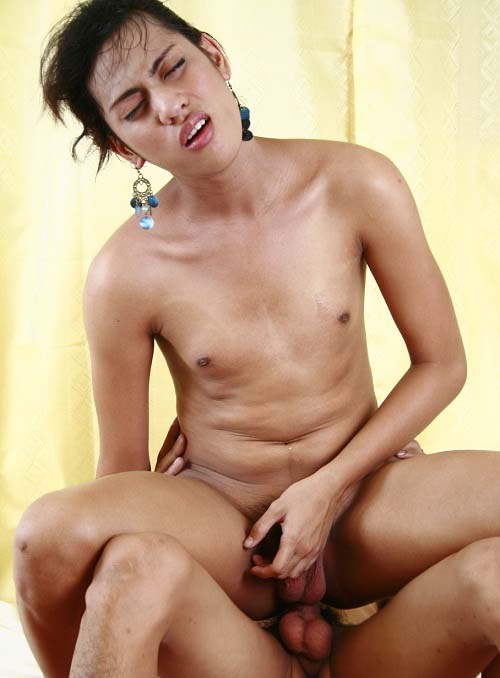 She might have a shecock between her legs but this Asian ladyboy just doesn't get enough dick. As soon as her boyfriend walks into their apartment she is on him and slipping of his pants so she can give him a blowjob and get her tight ass fucked.
More >





(No Ratings Yet)

Loading ...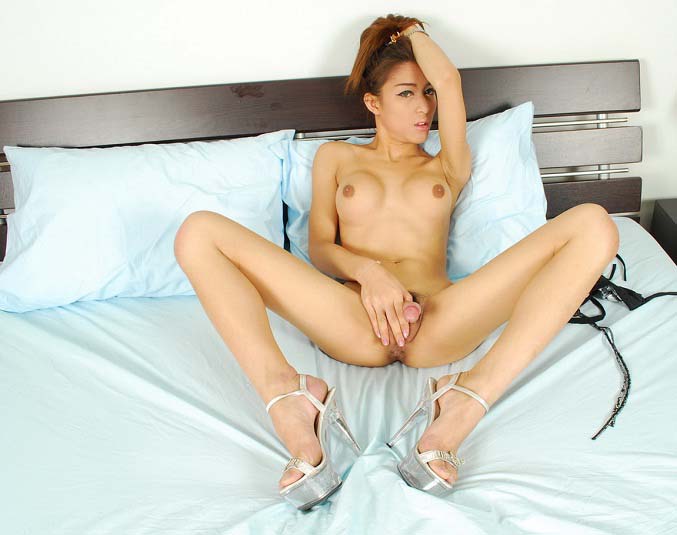 Lovely Yoyo is an Asian ladyboy that loves to be seen. Her boobs are sweet and pert and that small ass is tight. Her shecock is smooth and tasty looking and the more this chick teased it with her hands, the longer it grew and the harder it got.
More >





(
1
votes, average:
5.00
out of 5)

Loading ...

Eye is a gorgeous ladyboy with plump boobs and slim hips that look sexy as hell in her slut clothes. She teases the camera by squeezing her succulent tits and stripping down to bare skin. Then she plays with that shecock until it is nice and hard.
More >





(
1
votes, average:
5.00
out of 5)

Loading ...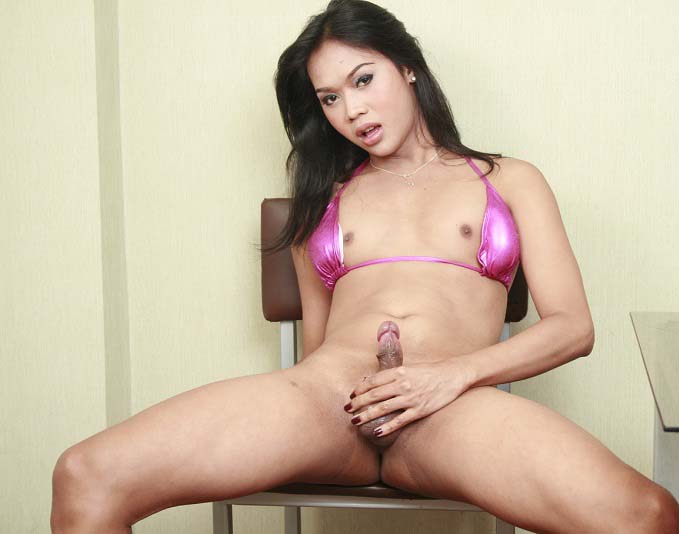 You wouldn't know it when passing her on the street but Jhodi has a plump shemeat under her panties that she loves to play with until it squirts cock milk. She rubs her shaft while fondling her balls and teasing her ass then goes off like a geyser.
More >





(
2
votes, average:
5.00
out of 5)

Loading ...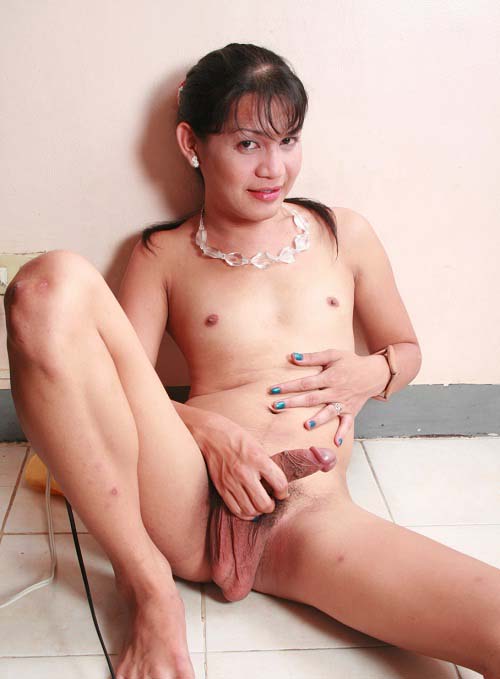 Ahya didn't even try to hide the fact she was a naughty ladyboy that loved playing with her shecock. It didn't take much coaxing to get her out of her dress and stripped down bare ass naked then she was pumping on that shaft and blowing her cum load.
More >





(No Ratings Yet)

Loading ...

The photos of this kinky Asian ladyboy babe just don't do her justice. Tracy gave us a demonstration of just how flexible and naughty she could be. She got on the floor on her shoulders while stroking off her big shedick and gave herself a sticky facial.
More >





(No Ratings Yet)

Loading ...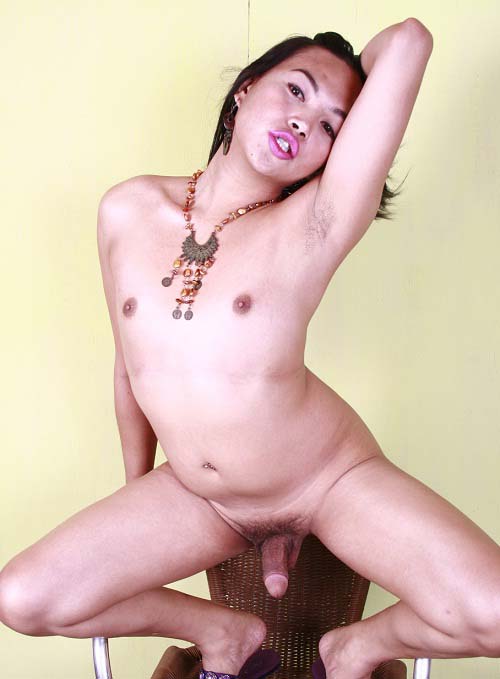 This Asian ladyboy has such a sweet smile and eyes that totally seductive. She loves being on camera and showing how sexy she cam be. She slips out of her clothes and fondles her femdick getting it nice and hard and ready to gush her jizz.
More >





(No Ratings Yet)

Loading ...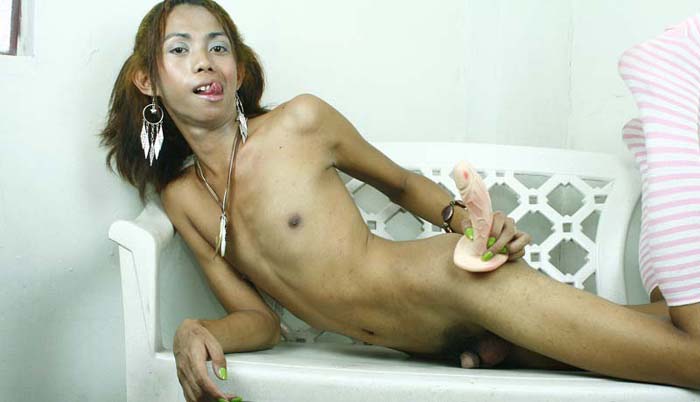 Super tall a slim Lhara showed up for the shoot already half undressed. She rode the bus several hours across Manila in the sweltering heat and looked a little road weary herself. She complained that the men on the bus kept pawing at her and she was forced to give several hand and blow jobs. So when she finally got to the shoot she was ready to get naked and quickly stripped to her white lacey underwear. She then turns around and kneeling she spreads her ass cheeks to show you where she wants a cock to be inserted: her dark puckered asshole. When sitting nude we can see just how tall and skinny she is with her flat chest, narrow torso, long limbs and soft cock. She massages her dick, bushy pubes and large balls before reaching for the large flesh colored dido to get things going. She sucks and dribbles salvia on this large fat fake cock while pulling on her own. In workmanlike fashion she somehow manages to jerk a large load of creamy cum from her semi hard penis and then proceeds to lick the mess off her fingers.
While it is has always been my goal to bring you ladyboys as they really are this set is just a little to real even for me. I had met Lhara on imlive and was so turned on by her that we actually jerked off together. On webcam she appeared to me slim with a very long hard cock. Needless to say I was quite disappointed with this shoot as her cock did not get very hard. She mentioned before the shoot that she had bad skin which I said didn't matter as the camera usually downplays this. But what bothered me the most besides the soft cock was her messy hair and rudimentary makeup. Be assured I gave both the model and especially the photographer shit for not noticing these things. After this we also invested in a supply of generic Viagra as I said I never want to see another picture of a soft cock. For some reason Filipino ladyboys seem to have more trouble with wood than their Thai sisters. This is even odder when you consider that Thai ladyboys generally take mega hormones where PI ladyboys take little if any.
More >





(No Ratings Yet)

Loading ...