Asian
Asian shemale, Ladyboy, Femboy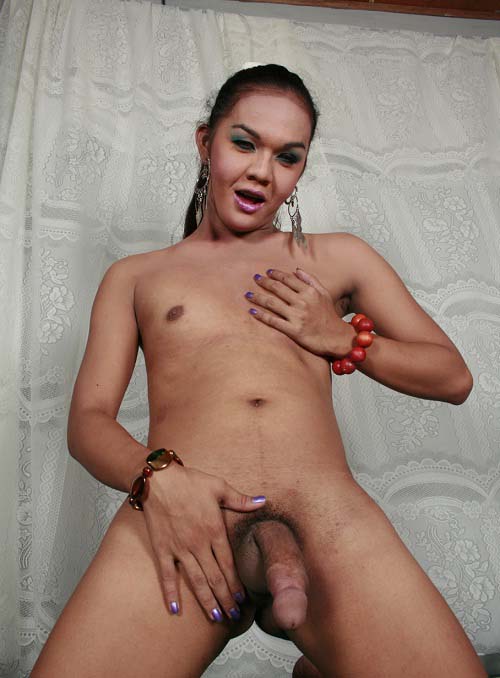 Sometimes we will shoot a model that is not so pretty and feminine if she has a big but we did not have to do that with Tamara. Not only is she a pretty girl with a slim sexy body but she also has a whopping nine inch cock. She starts out looking elegant in her sparkly brown dress showing nice smooth skinned bare shoulders and legs. But no sooner after touching herself she gets a very horny alluring look on her slutty made up face. This makes her want to get naked which she does to a slow strip to a techno beat in the video. Dress off she is wearing a red satin and black lace trimmed undergarments including a feather trimmed bodice which she wiggles out of as she dances. Removing her panties her long fat dink comes out almost hard. Naked with flat small nippled tits she models her large dropping cock with its fat swollen balls and trim of wispy pubes at the base. After showing us her sweet pink hairless asshole there is nothing left to do but jerk her meat monster until it shoots a dozen creamy white blobs of cum between her navel and tits.
More >





(No Ratings Yet)

Loading ...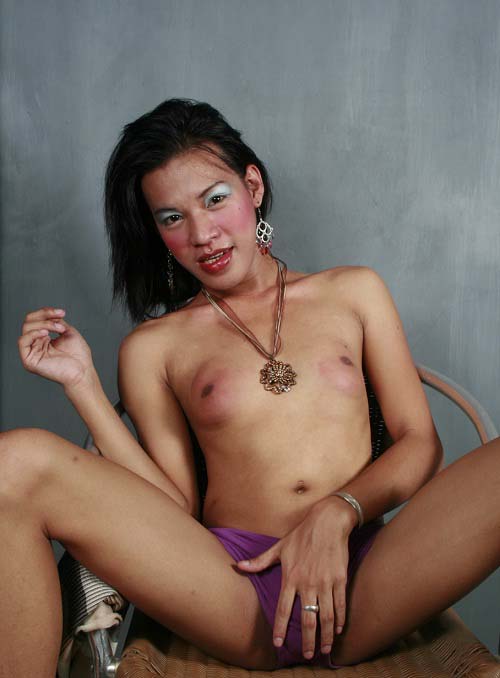 This cute cam model came dressed in a short sparkly miniskirt and billowy open necked leopard print blouse which shows off her slim sexy waist and hips. She has engaging dark eyes and a great smile with big red lips that she often licks so they look wet. She slowly strips to her lavender bikini which reveals her svelte body. Her top can't seem to contain her small hormone tits so she rips this off and has some fun with her tiny red nipples. This gets her going so she starts to rub her crotch which soon bulges revealing floppy balls out the sides of her bottoms. As these come off she fingers her boy pussy and then her cock comes out long and hard. She wants something bigger in her ass and obliges with a long green cucumber before settling down for a good dick stroking. As she cums the gooey juice makes her big shedick glisten and she finishes the set by filling a cup with pee.
More >





(No Ratings Yet)

Loading ...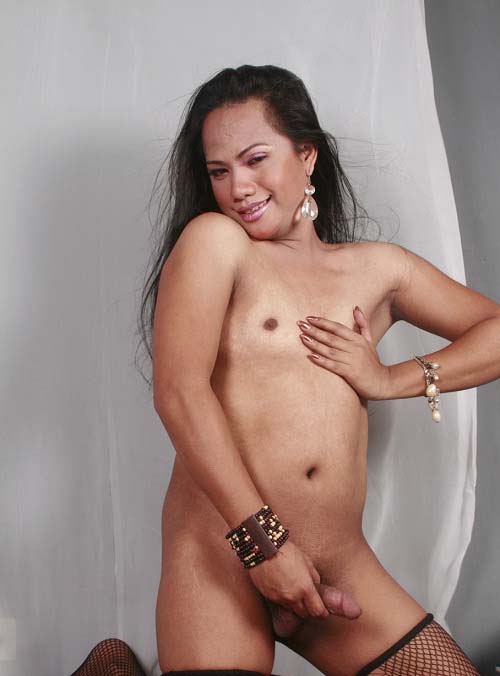 If you are wondering who the masked lady is you would be half right until you got her pants off to see she has a fat hairy dick and balls. Sexy full figured Katrina starts out disguising herself with a bright and shiny red mask and mouse ears. This cannot hide the fact that she has a pretty face and long brown hair but her green sweater, dark shirt and red striped skirt does conceal her true gender for the moment. We are no better informed when she strips to her red cross bikini and black fishnet stockings except that lower plus sign seems to be covering an unusually large crotch bulge for a girl. Not yet revealing her true sexual identity she unmasks her beautiful sultry eyed face which only adds to our gender confusion. She grins while she takes a few puffs on a cigarette before kneading at her groin until she can no longer keep dick a hush hush. Her secret exposed she removes her bottoms and are rewarded by a fat side curving veiny penis with a ring of bushy black pubes. The masquerade over she lays back to massage her tits with one hand while she strokes her chubby cock with the other until she side squirts her ball juice on to the waiting table.
More >





(No Ratings Yet)

Loading ...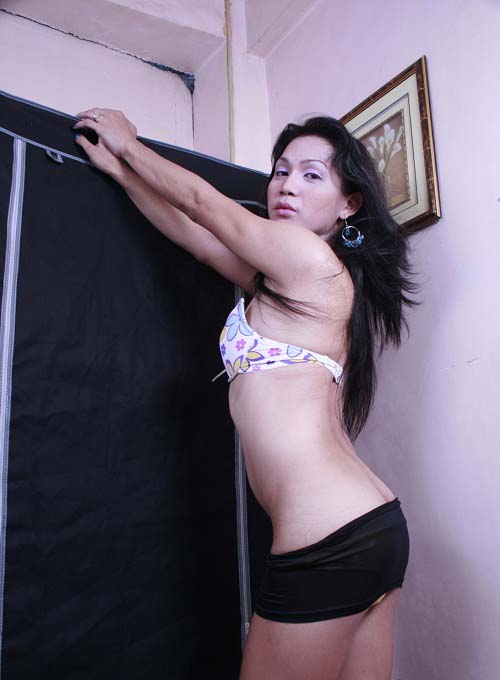 Having a huge dick herself sexy Ahya likes guys with big long cocks. She shows up to the room ready for sex and quickly strips down to her green polka dot underwear. This chick loves to turn on her guy by licking her finger and swaying her hips. To make sure her lover has a hard cock she squeezes her flat tits and rubs her bulging crotch. Arthel joins her on the floor where they start kissing and tears of her top to suck her small pink nipples. Ahya wastes no time getting her slim studs pants off and begins to stroke his schlong. She then goes to work on it with her mouth demonstrating her expert hard working cock sucking skills. Once his dick is rock hard he gives it to her from behind in her boy pussy. He pounds her asshole from several positions before pulling it out and jerking a huge creamy load of cum into her waiting mouth.
Photographer's comments: It's the second for me and Ahya, so I knew more or less how well she will perform, but not Arthel. And he was so silent when we first met. Ahya told me not to worry too much of her guy. She was right. Arthel was so good he brings out all the feminine side of Ahya. She's a cock eater. I have to remind her many times for the fucking part but she will always grab and sucks her guy's cock. They were ex-couples, Ahya confessesd which explains the sizzling lovemaking they did. And through a very good friend, I've learned that Arthel is married to a straight woman but continuously wanting Ahya for sex.
More >





(No Ratings Yet)

Loading ...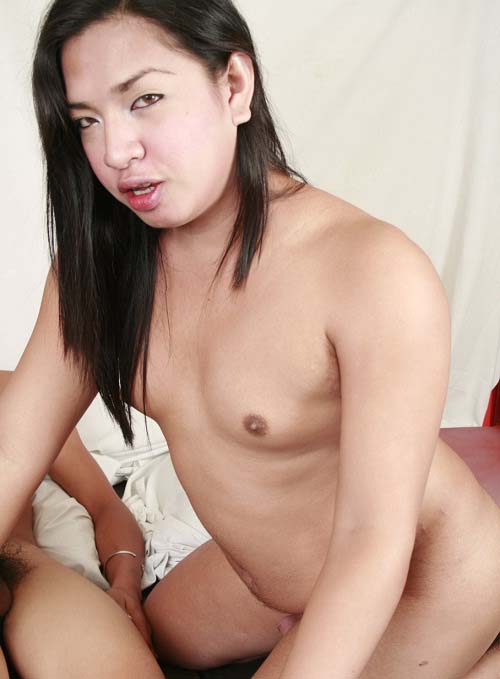 Some guys like fat chicks or at least will screw them in a pinch and the same goes in the ladyboy world. We hired this dude Danilo to have sex with ladyboy Kim but didn't tell him what she looked like. He said he thought that she looked sexy enough when she came in and sat on the bed in her flowing black and white dress. When she stripped this off to show her pudgy little body we could tell he was having second thoughts but he was a pro and let her undress him and proceed to explore his slim hard body with her tongue. She then went to work on his dick which grew larger inside her wet mouth. She began to rub her crotch and then took off her underwear to show her fat cock. Now ready to get fucked she mounted his hard dick and pumped it in and out of her asshole. You can see he is totally into it as he slams her from behind and then missionary position until he pulls out and shoots his load on her chest.
More >





(No Ratings Yet)

Loading ...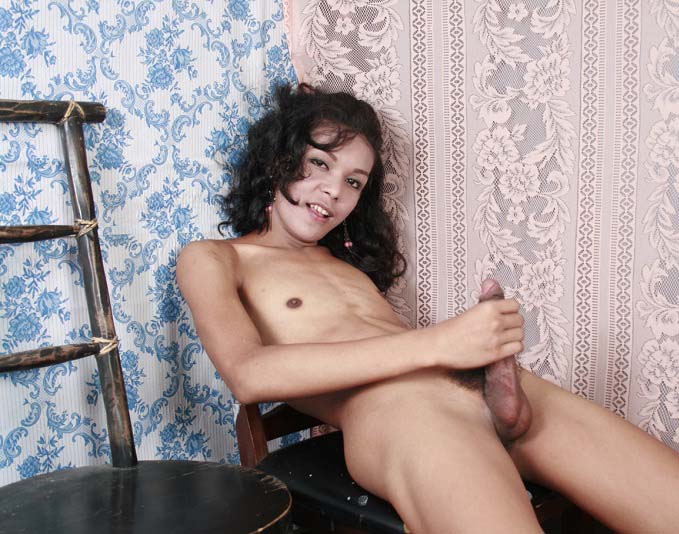 If you doubt that new exclusive model Rhiane is a superstar than take a look at her naked body. If you are not convinced by her rail thin fat free frame and her huge hard cock then look closer at her belly button and you will see it is at the center of a tattoo star. We didn't bother with clothes in the pcitures for this set as we knew you would want to see as many shots as possible of her posing with her hard hairy dick. But for those who like to see there ladyboys first in clothes check out the video for a short strip scene. I just love watching her laying back and stroking her giant cock and then standing as it juts out proudly at a right angle to her body. It's from this position that she jerks out a load of creamy cum from her huge hardon.
Photographer's comments: Hot, that's how I would have described Rhiane in one word. Want to know how hot she is? Well, we have yet to start her shoot and she was already bugging me to give her 3 male partners for her next session. And for someone as pretty and sexy as Rhiane, I won't have a hard time booking TS lovers out there to fuck her.
More >





(No Ratings Yet)

Loading ...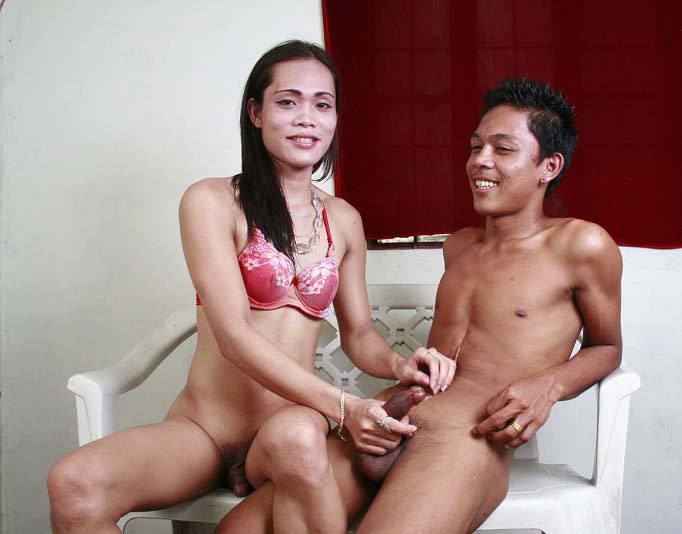 Cherry is back for some hardcore action and after some light kissing with our slim handsome stud Rex she takes control of his dick in her mouth. While this is giving Rex pleasure she has her own selfish reasons for wanting his cock to be rock hard. This she reveals when she stands up and then sits down on his dick until it slides all the way in her ass. Cleary Cherry had her anal cherry popped a while ago as she shows her expertise at getting her pooper pumped. This effort makes her hungry for cum and after he shoots his load in her mouth she licks his dick clean.
Photographer's comments: Cherry and Rex came together for the shoot. While doing her solo, Cherry told me she's been fantasizing Rex who happens to be her neighbor. She claimed another TS friend had a one night stand affair with Rex and TS friend was satisfied with his performance. I guess she is also, it shows in her hardcore scene.
More >





(
1
votes, average:
1.00
out of 5)

Loading ...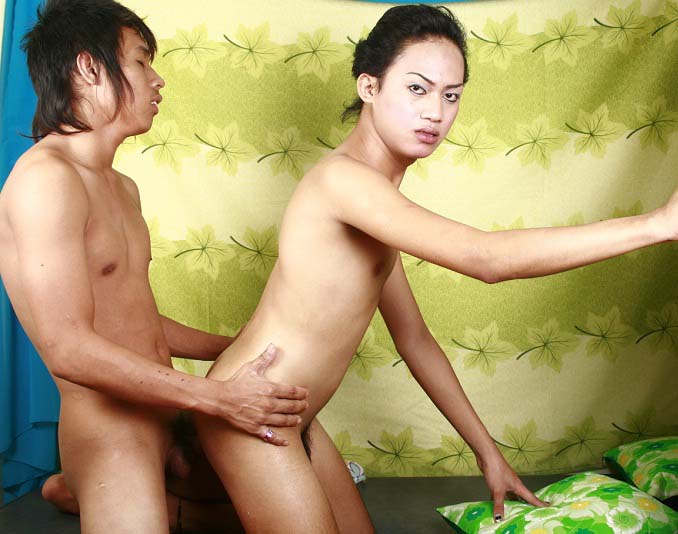 New model Marnel gets it on with Richard who if you prefer femboys has a better body and bigger cock than her. After they kiss and get undressed it takes some effort for her to take his big dick in her ass. But like all horny ladyboys she willingly bends over and takes it like a man. She then enjoys kissing his fat pink head while he squirts cum on her lips.
Photographers Comments: Marnel got to model for me by chance. I have to cancel the shoot of her friend because of a very visible bruise on the ass and Marnel readily offered herself. I thought one thing that push her to do it is money, I later found out she got a long time crush on Richard, her hardcore partner.
More >





(No Ratings Yet)

Loading ...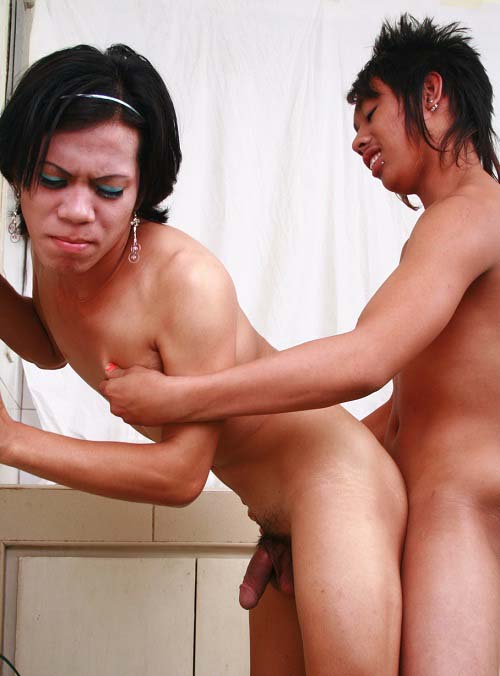 Cock loving femboy Mariel came ready for a good ass reaming from our slim stud Richard. They begin pawing at each others clothes until she drops to her knees and sucks him hard. This girl loves a big hard dick in her ass so she orally works at his cock until it is slick enough to slide into her poo pussy. Richard returns the favor for the great blowjob by pounding her ass raw while her fat cock and balls flop around. She loves it so much that when he takes a break she continues to finger her ass. When he is ready to cum she gets down so her can plaster her flat chest with hi load which she smears all around her neck.
Photographers Comments: Mariel works in a call center and moonlights as webcam model. I have no problem with her whatsoever. She came on time and she came ready. Most of all, she is game. She claimed to go out on date and fucks regularly when I told her about my problem with TS with tight ass. I'm sure she did enjoy the hardcore shoot. She even suggested that I call her again if and when I will do a threesome hardcore theme.
More >





(No Ratings Yet)

Loading ...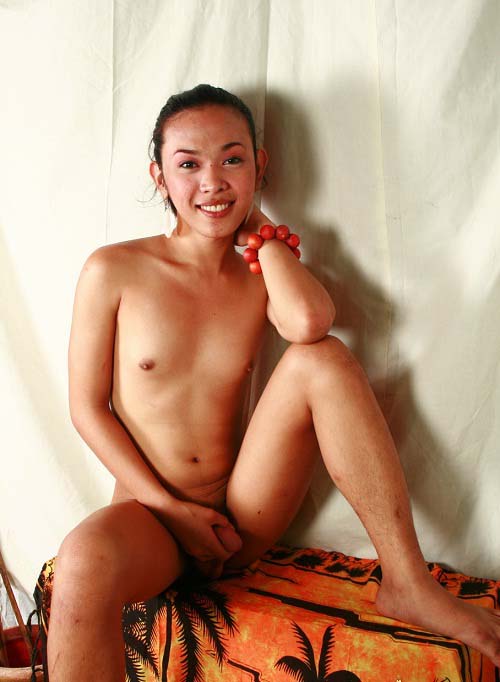 Tall dark Jayson wants to see if he can fit his big dick in cute little Nina's tight white ass. They begin with kissing and stripping off each other clothes. Nin uses her pretty mouth to service Jayson's dick until it is rock hard and ready to test her pain threshold. When he first puts it in her pooper she squeals in ecstasy and as he pumps she can only grin and bear it. She sits up and down on his cock and then he finishes by squirting his load on her pigeon chest.
Photographers Comments: Nina is typically nice and bubbly. But she also admitted to be a little bit afraid to do the hardcore since it has been months since she had her last sex. I told her to just enjoy the scene and the guy, Jayson who possesses a huge dick. As expected, Nina really had a very hard time "accommodating" the huge dick of Jayson. We tried a lot of positions to minimize the pain in her ass. When we are done, she thanked me for the work and pleasure she got from the shoot. Nice girl.
More >





(No Ratings Yet)

Loading ...