Posts tagged
Ann

Ann is a friend of Ann from Laos who asked if I wanted to work with her friend. I said sure as I have learned not to refuse such offers (see below). So I`m sitting in my hotel waiting for this chick and wondering what she will look like. I here a knock at the door and I am a little nervous with anticipation. When I opened the door it was like one of those cartoons where the character`s tongue swells up like a balloon and the eyes spring out of the head to the sound of a horn blowing. At least it felt like this but I think I came off pretty cool as I greeted her, he he. I first saw her beautiful face with those exotic eyes which give her the look of a Bollywood starlet. My eyes dropped to see a skin tight alligator dress straining to hold in her succulently ample curves. I could not wait to see those big soft tits so I asked her to dance around a bit and pull her top down. Although I was feeling a little intimidated by her beauty she must have sensed I wanted to fuck her because she offered to take a shower. Of coarse she has a perfect medium sized cock that sprouts from dark black pubes. To see her soaping up her tits, tummy and cock was almost enough to make me cum in my pants. I held it though and she came to the bed to dry off and suck me off for a while. It took all my self control not to fuck the shit out of this babe as I wanted to properly catch every moment of her stroke to cumshot for you guys.
More >





(
3
votes, average:
4.67
out of 5)

Loading ...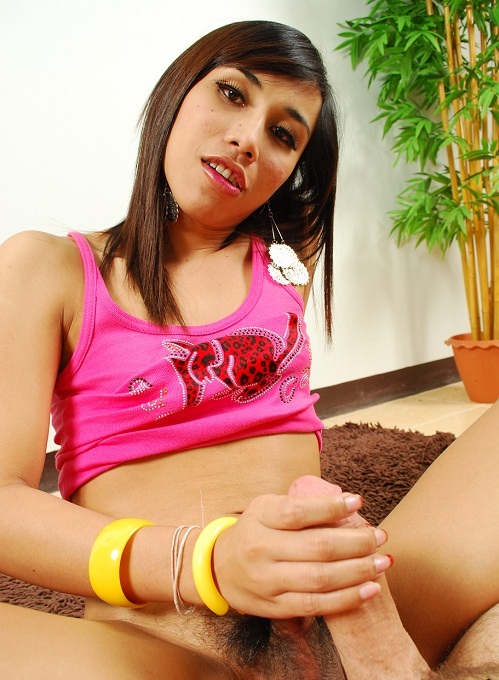 When I first went into the bar Ann wasn`t on the stage, she was sitting with a potential customer and looking great. The bad thing for me was I knew I wanted to have her but didn`t know if she was going to go with him or not. I patiently had a few drinks waiting to see what she was going to happen. Watching her with the potential customer was a real turn on. Watching him feel on her cock and her feel on his…that sort of thing really gets my engine churning…if you know what I mean.
After about an hour the guy stood up and stumbled out of the bar leaving her behind so I quickly seized the opportunity to call her over for a drink. We talked and groped each other for a bit and we both got extremely horny. I paid for her bar fee and we hit the road back to the room.
Once in the room we started making out and right in the middle of it she insisted she go take a shower. Kind of bad timing because we were both already horny but Thais seem to be obsessed with showers before sex…sometimes. She took her shower and I waited in anticipation for what was to come. She came out of the shower naked but I had her put her clothes back on (taking off the clothes is something I take great pleasure in doing) and then we got to it. To be honest, after a little bit of time had passed I realized she wasn`t the sharpest tool in the shed, so to speak, but she did give an awesome blowjob so who cares.


More >





(
1
votes, average:
5.00
out of 5)

Loading ...