Brazilian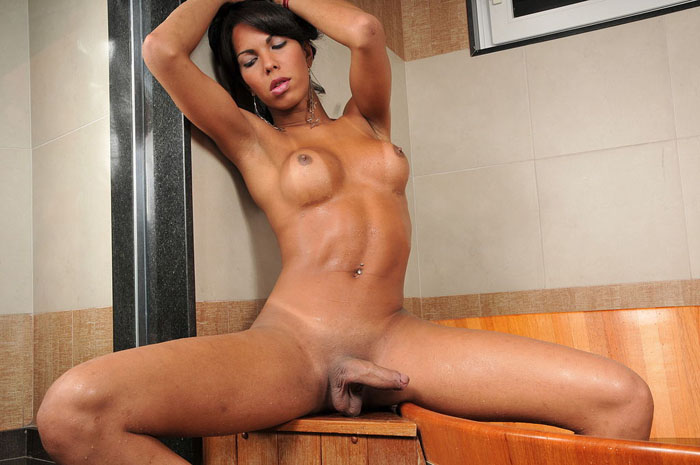 Nothing like a warm bath to soothe the senses and tickle your pickle. Today is the day that Lynda Karoynne finds out if she`s got what it takes to join the sexy shemale ranks. Like others before her, she`ll be worshiped for her unique beauty. Touching herself under the warm waters of the spa, she stops, and stands straight up, water dripping down her stacked figure. The camera pans down lower now. Ah, there`s that lady prick. Sweet Lynda jerks herself off right then and there – her femme cock coughing up white-hot cum all over herself. Her moans turn into climatic screams. Lynda sighs and catches her breath. Sweet release..
More >





(No Ratings Yet)

Loading ...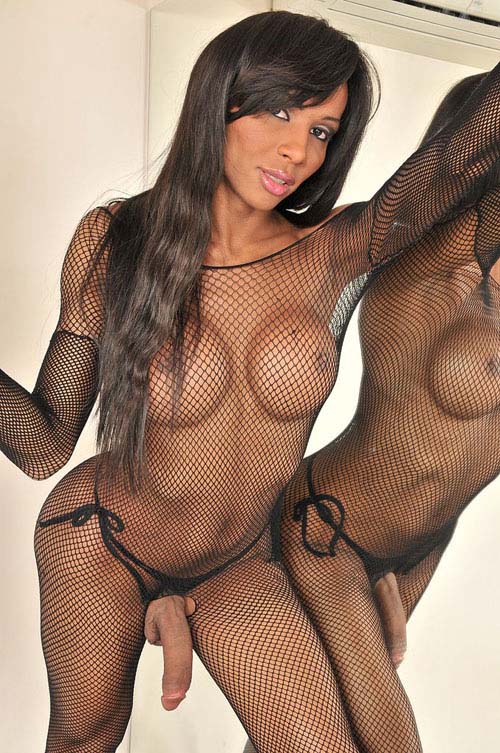 Now this is one well hung motherfucking tranny! Her name is Ariadny Oliver, and she is tall, voluptuous and loaded where it counts! In this video she wears a full length fishnet bodystocking that is conveniently open at the crotch, allowing her huge cock and balls to swing free. Apart from her enormous weapon, this pretty Latina is extremely feminine, with a gorgeous face, long black hair and a full pair of full shapely breasts. However, it's that package that will be the center of your attention as she twirls around the stripper pole and then starts to jerk herself off. That dark brown prick is rock hard, enormous and delicious!
More >





(
2
votes, average:
5.00
out of 5)

Loading ...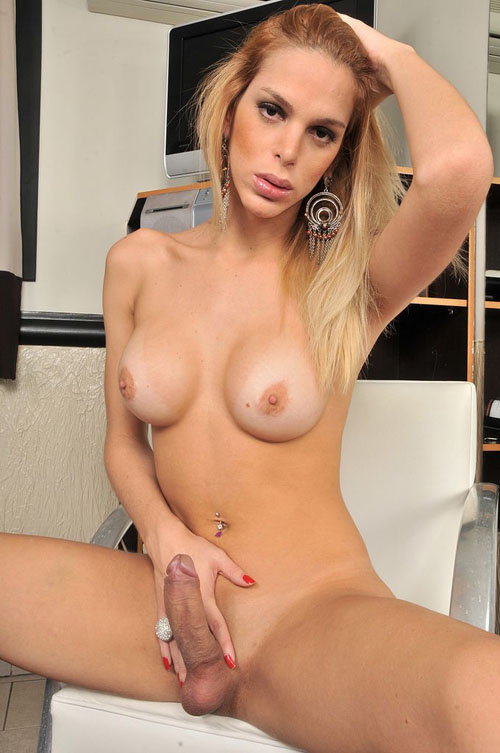 Saucy little shemale darling, Tayra Oliveira is the latest of sizzling hot stunners to grace your screen! You'll be immediately enchanted by her pouty cute face, beautiful brown locks and especially her big cannonball tits. She shakes her bon bon in hip hugging denim jeans, slowly sliding them off revealing a sexy bikini thong! It's there, nestled in between her legs, her lovely lady prick. And it's begging for a sweet tugging. Tayra grips her cock tightly and pleasures herself til she leaves a spot of messy white on her thigh…
More >





(No Ratings Yet)

Loading ...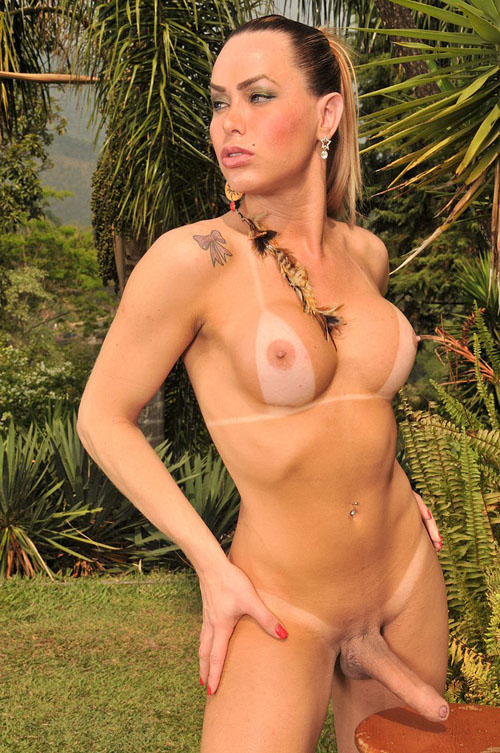 Rakel Rodrigues is incredible, and she's going to show you why. In her tight denim short-shorts, and light flowery tube-top, you would think this sweet innocent looking blonde is just out for a walk, maybe some gardening. As she starts her strip show for you, showing off her huge tranny tits, you'll start to see what incredible really is. Those shorts hit the ground, showing off her big round ass in her leopard-print thong, and you have to know what she's hiding under them! What she's hiding isn't nearly as hot as what she does with it!
More >





(No Ratings Yet)

Loading ...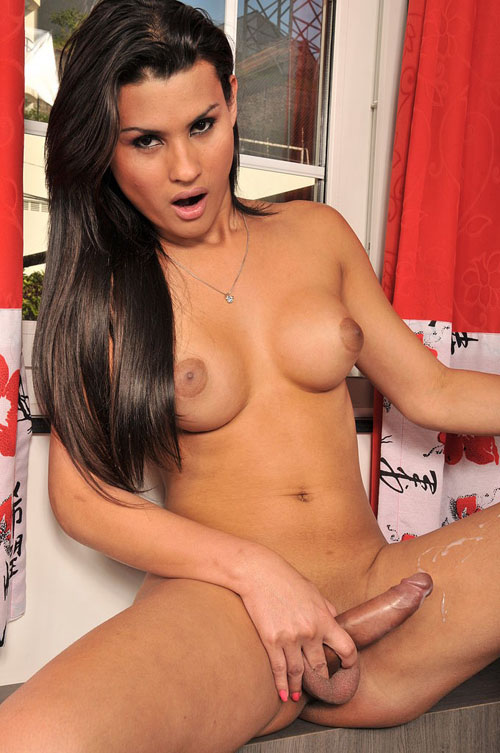 Aline Garcia is fucking hottie t-girl through and through! She'll steam up your screen from the getgo with her ultra-short daisy duke shorts. It's impossible to miss her shapely, round butt. Those denim shorts are so tight, you can actually see her pretty lady package bursting through. Aline pops out one of her huge tits out and squeezes it seductively. Finally, she strips down to her hot, naked flesh and starts jerking off her sexy throbbing femme cock. With every pull and yank, you can feel her moaning harder, so close to the edge of ultimate pleasure. See this babe squirt all over her hands!
More >





(No Ratings Yet)

Loading ...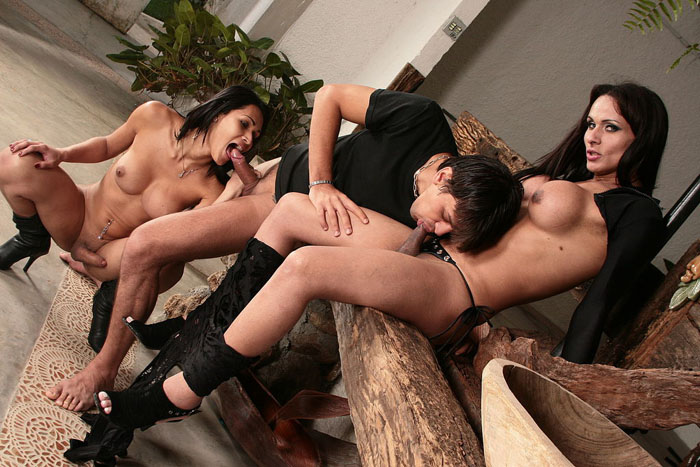 I like to call this type of threesome the tranwich – that is, a tranny sandwich. Sometimes the tranny is the meat in the middle, but other times you have a open minded guy like Bruno Stigmata widening his horizons and letting two big cock trannies have their way with him. Chelsea and Renata Tavares eye up this piece of meat like he's filet mignon. They circle around him, and then when he least expects it they start groping and rubbing at him, watching his dick go up like a firework, and draining him dry.
More >





(
1
votes, average:
1.00
out of 5)

Loading ...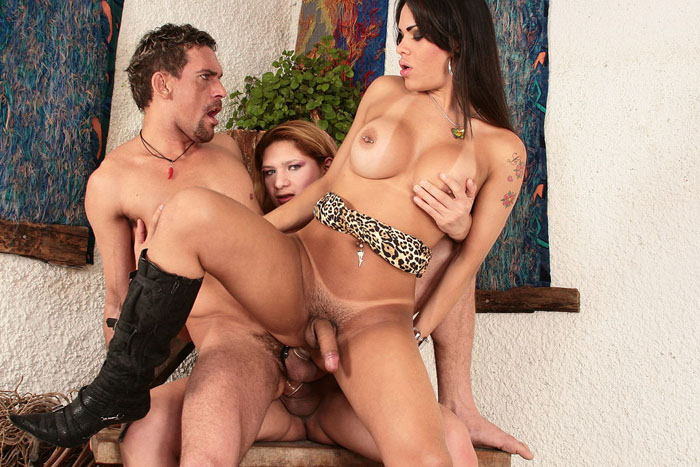 In this hot threesome clip, a big dick stud gets the best of both worlds – a blond and a brunette tranny at the same time! He really is the meat in their sandwich, as the girls surround him, rubbing their cocks on his face. There is some awesome three way oral to kick things off and then it's penetration all the way. With three cocks in the scene, there are all kinds of interesting things these inventive fuckers can do, with the man in the middle, getting ass fucked while he bangs the other tranny in the butt. At the end of the clip guy lies on his back while the ladies take turns spunking on his face until his beard is dripping.
More >





(No Ratings Yet)

Loading ...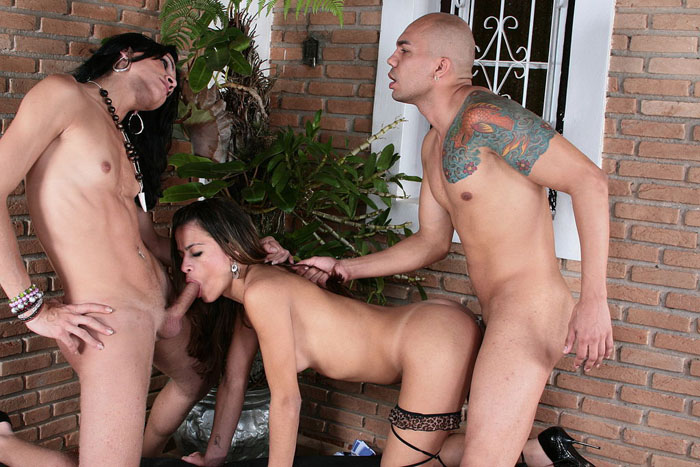 A Latino hunk sits on a bench on the back patio between transsexuals Marcia Kelly and Kamila Smith. They all help each other undress, and Marcia sucks his hard cock while Kamila blows Marcia. They all give each other rim jobs, and Marcia rides his rod reverse anal cowgirl. Marcia fucks Kamila up the ass missionary, and Marcia gets on her hands and knees to have her tight butt plugged doggy style. After fucking and sucking to their hearts' content, they all finally blow their loads all over one another.
More >





(No Ratings Yet)

Loading ...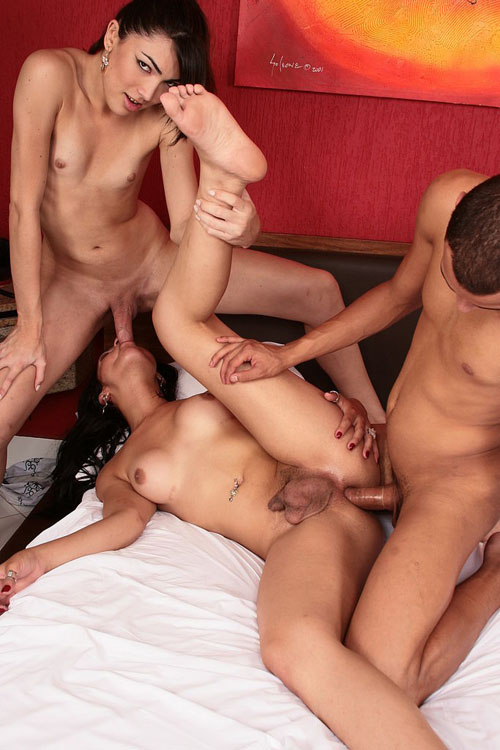 Brunette trannies Laisa Lins and Sandi Lopes kiss him and kneel down to suck his large cock. They take turns going down on him while he strips off his shirt, and Laisa gives Sandy a rim job while she continues to blow him. It's now his turn to drop to his knees to suck each of them off in turn, and Sandy lays back to take it up the ass missionary. She takes it in her butt doggy style, and Laisa climbs on top to ride him reverse anal cowgirl. After much fucking and sucking, he finally jerks his load into his own mouth, and they take turns cumming all over his chest.
More >





(No Ratings Yet)

Loading ...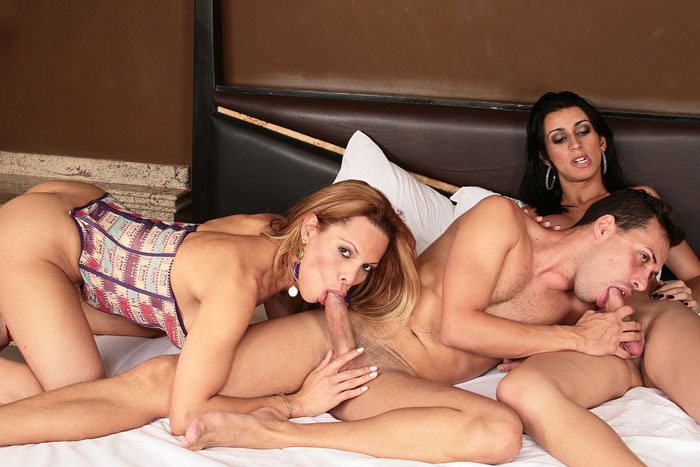 Aleph Navarro was on vacation and living out his every wild fantasy. He hooked up with Rafelly, a sexy tranny, and had her bring along her tranny girlfriend Barbara Vasconcelos. The two got to Aleph's room and ate him alive. They stripped him naked and sucked his cock. While he sucked Barbara's dick Rafelly buried her dick in his ass and plowed him hard. He got on top of Rafelly and rode her dick while Barbara sucked his then they formed a train and he fucked Barbara while Rafelly fucked him. It turned him on so much he had to pull out and all three came together.
More >





(No Ratings Yet)

Loading ...