Brazilian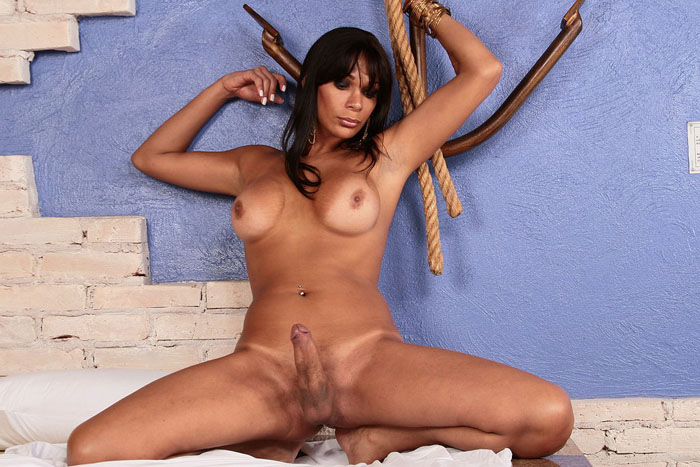 Stunning brunette transsexual Marcela Italy has got a cock for the record books! She's also got great big tits that will leave you breathless! She is all about seduction, and she has to be one of the most delectable trannies out there. She flaunts herself in front of the camera, posing at first like the innocent and tender babe that she is, but growing more and more wanton in her lascivious advances as the clip goes on. She poses in front of a long piece of rope, running the corded material up and down her own moist ass crack. Then she pumps her rock hard shaft, the bulging head glistening with her warm and salty precum.
More >





(
3
votes, average:
4.67
out of 5)

Loading ...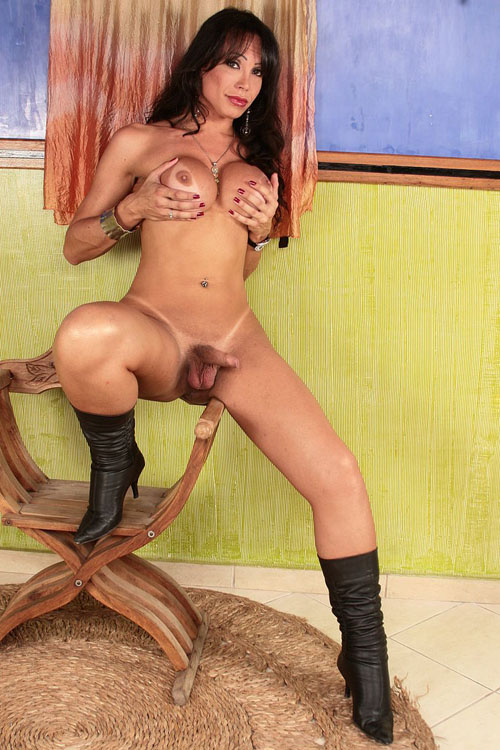 Kris Alves has it all, boobs to kill for with a large tool. Dressed in a black 1 piece we are treated to a disrobing that rivals the best strippers. Exposing exquisite breasts comes easy to this one. Fondling these gorgeous tits and then slowly removing the rest of the garment to reveal a wang to shame King Kong we get the impression that this is not the first time. Stroking and strutting exposes a perfect ass. Able to fondle both perfect boobs while rubbing one off is enough to make one jealous. Rubbing up against the arm of a chair one has to wonder how it feels. Finally it is time to relieve the pressure Kris rubs one off.
More >





(
1
votes, average:
5.00
out of 5)

Loading ...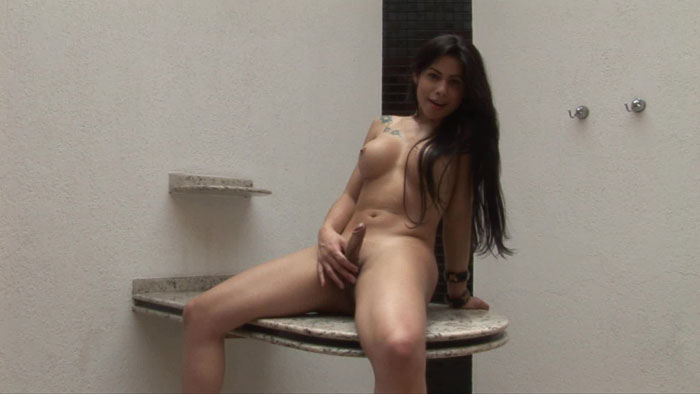 Bruna Rodrigues has what it takes to be everyone's favorite tranny. You can tell this tgirl is really into her own body, she's taken care of it. Bruna has two big perky titties to look at while she slides her hands down her flat stomach all the way to her big tranny cock. She really wants to audition and show you that she can put on a show better than any tranny around. Our hottie gives us a little dance as she slides all her clothes to the ground, but once she's naked she can't ignore her raging boner and strokes it long and fast until she finally squirts out some juicy cum.
More >





(
1
votes, average:
5.00
out of 5)

Loading ...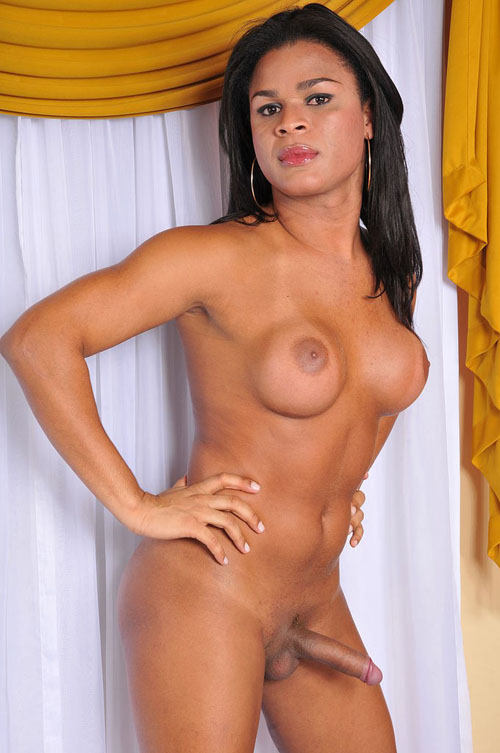 This is the kind of big cock shemale that will churn you up and spit out the seeds! Well proportioned Latina transsexual Rafaele kicks off this clip by teasing you with flashes of her ass and big boobs. Then she pulls them out of her top, showing off a pair of surprisingly symmetrical tits with large brown nipples. That's not all she's got – down below, you won't be disappointed by her large, thick and swinging cock! Her genitals are completely shaved, and the penis is glistening, throbbing and rock hard. The tranny poses in a variety of positions, giving you flashes and glimpses of her big tits and large whopping cock.
More >





(No Ratings Yet)

Loading ...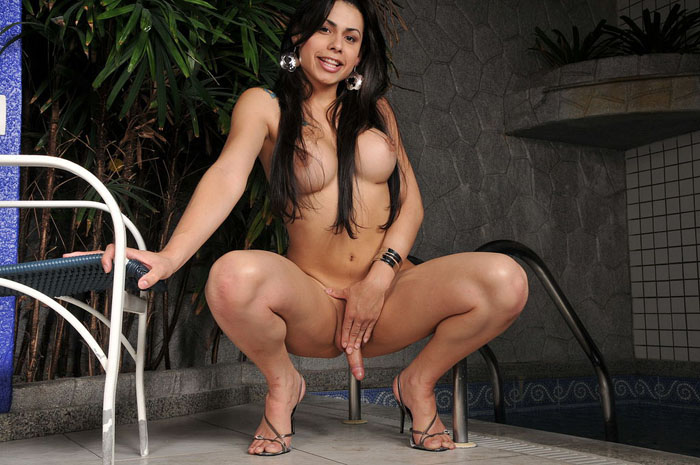 Wow – this sexy Latina shemale is completely passable! When you first see her smiling face in the opening frames of this solo shemale masturbation scene, you will probably genuinely think that she is a genetic woman. With that narrow, feminine face and those puffy lips, she looks completely natural! She's also got a nice big pair of fake tits, combined with a little shaved cock hanging between her shapely legs. She smiles seductively into the camera as she peels off her top and tiny denim shorts, showing you the surprise that she has got waiting for you between her legs. It's fucking hot stuff – this sexy shemale is dynamite!
More >





(
2
votes, average:
5.00
out of 5)

Loading ...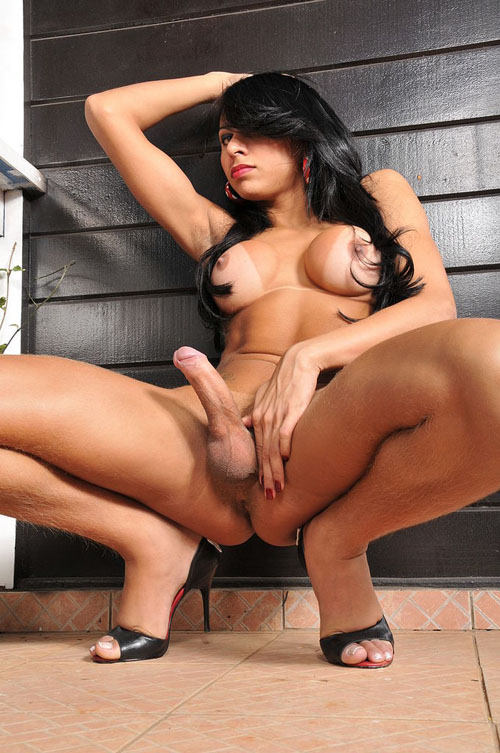 Michelly is a busty and extremely tanned transsexual with a penis that would put most dudes to shame! She's also very young and sweet, chewing gum around the braces in her mouth. As she poses in her lingerie, she looks completely passable; she's got huge tits and a great ass, and you'd never expect that she had a fat cock and balls hiding underneath those panties. However, when she pulls her knickers down, her erect penis springs out and she starts playing with it and waving it around. A lot of shemales have limp little cocks – but not this well hung hottie! She jerks herself off good and sprays jizz on her own leg.
More >





(
5
votes, average:
5.00
out of 5)

Loading ...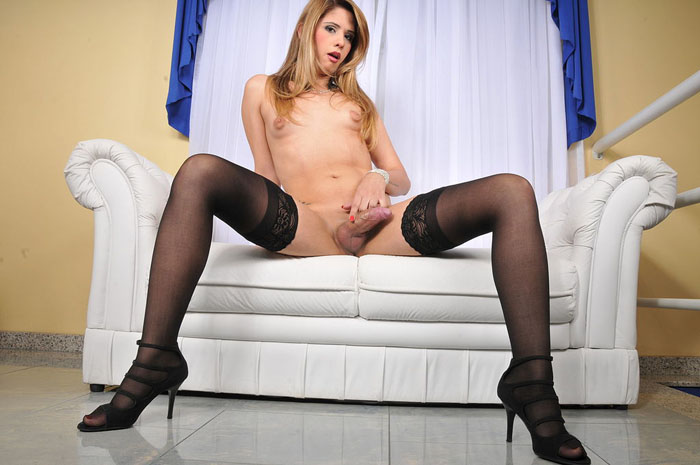 Perfectly passable blond tranny Nicole strips and poses in this delightful shemale solo girl movie. If this cutie passed you in the street you would definitely turn your head to look – and you wouldn't even know that she was a tranny! She has got an extremely feminine figure with out the broad shoulders and large hands of a normal transsexual. She's obviously had some hormones, because she's got nice little rosebud tits, although she still maintains an attractive erection when she gets naked. She strips down to her stockings and high heels, lying completely naked on the bed and jacking off her own shaved cock and balls.
More >





(
2
votes, average:
5.00
out of 5)

Loading ...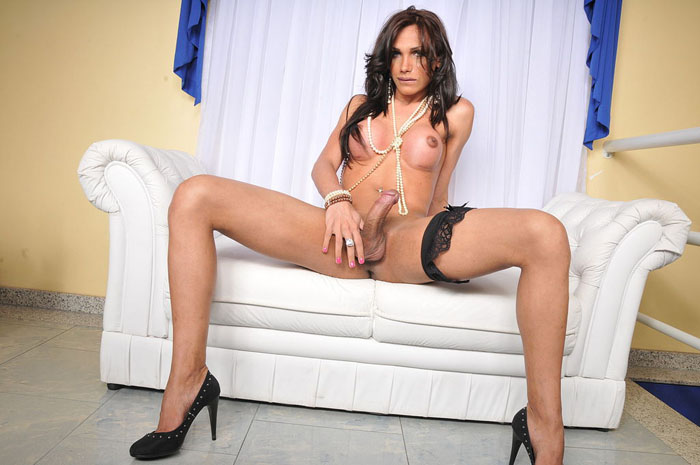 Holy Toledo, Leticia Freitas has to be one of the more premium, hot she-males to ever make her debut. I'll back my point up with the fact that she's absolutely striking with her dark-almond hair, pert tits and dreamy, long legs. She certainly dressed for the occasion, wearing sexy black fishnets with matching bra and panties. Also, not to be ignored, is her elegant string of pearls that she coyly dips in her sweet mouth. She massages her breasts, then starts stroking her long, oily dick. Go ahead, drink her in. Shot from every angle possible, you won't be disappointed with this irresistibly hot newbie!
More >





(
4
votes, average:
4.75
out of 5)

Loading ...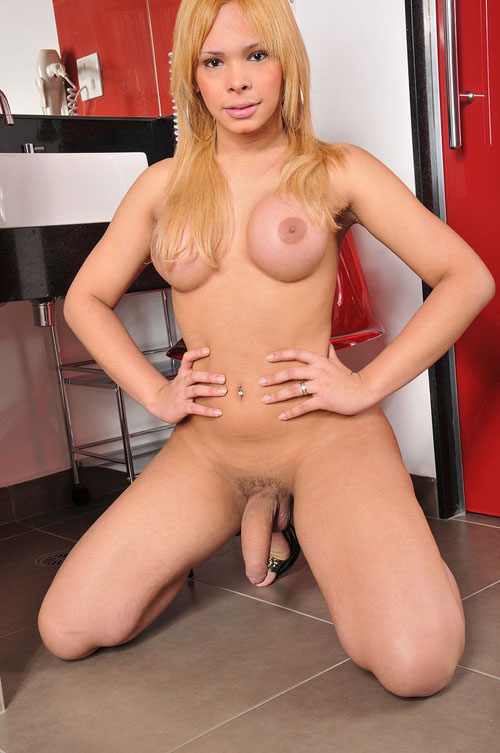 Beautiful tranny, Raica Ferrari is definitely rocking the party with her one-piece lingerie piece that just screams KINK! She massages her nice, bodacious bum, fuck, just look that black thong run up her luscious butt crack! She whips out her cock and tucks it in between her legs as she sweetly strokes. Now, done with the foreplay, she plants herself firmly in a chair and madly jacks off her she-male cock til white cum oozes out on the tile floors…
More >





(
1
votes, average:
5.00
out of 5)

Loading ...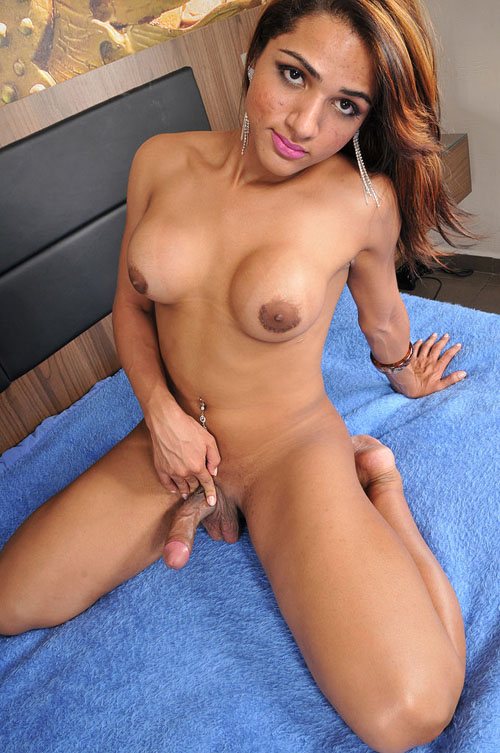 Today's tranny flavor of the day comes to us in dripping hot fashion by way of the beautiful, Drikinho Lima! This fresh-faced babe has got one athletic, toned body with nice, perky c-cups! For her audition, she slowly strips off her two-piece bikini. Great shades of elvis, look at those juicy buns! As Drikinho jerks off her lady prick, we see she's got one of those short, but fat femme cocks. I love how she doesn't break eye contact with the camera as it pans all over her insanely hot body. See her bust hot pearly gobs on the side of her thigh!
More >





(
1
votes, average:
5.00
out of 5)

Loading ...