Brazilian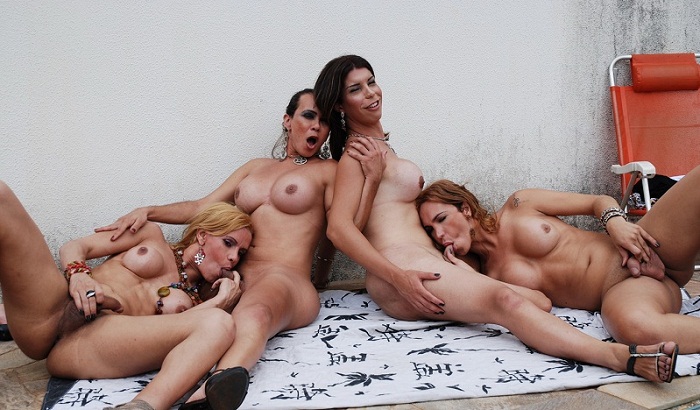 What a wonderful day to be outside with your girlfriends by the pool. Amanda, Natasha, Alexia and Adryella are all dressed in their pretty sundresses enjoying the sunny day when things really begin to heat up. They can't keep their hands off each other and they strip each other down bare ass naked getting to those big boobs and bulging shecocks. They get on their knees to suck each other off then do some hard doggystyle anal fucking until they are ready to pop off all their creamy loads on one lucky shemale.
More >





(
1
votes, average:
5.00
out of 5)

Loading ...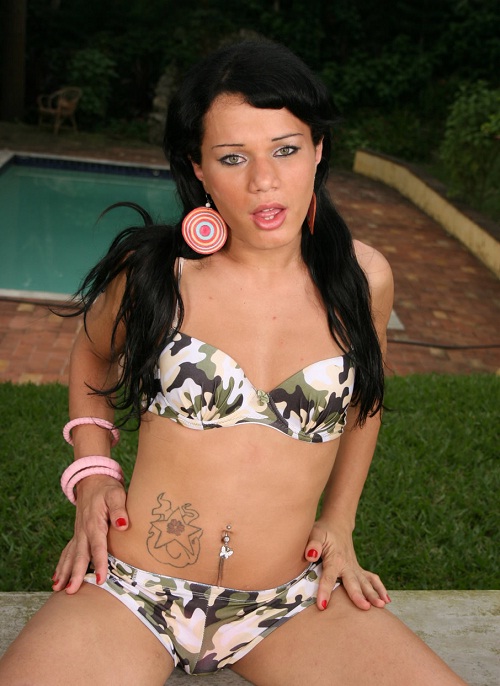 Wow Wow Wow! We have quite a little punker here. She is dressed in camo bikini and has those wild ass earrings dangling from her ears. You know just by looking at this T-girl that she is a kinky little slut. I love kinky girls, sex with those hot kinky shemales is never boring or the same hole thing. I loved watching Fernanda getting out her bottle. I wasn`t sure what was in the bottle, but after a few moments you can see that its chocolate sauce. Mmmm god that is kinky. She starts squirting that messy all over her punk ass. She rubs it in and then squirts a heavy load on her shecock before she starts using her hand to pump that chocolate around and over her meat. The chocolate covers her shecock and her hand moves faster and faster as she gets her groove going and she gets hornier and hotter. Then she explodes and loads of goo mix in with the chocolate on her hand.
More >





(
1
votes, average:
5.00
out of 5)

Loading ...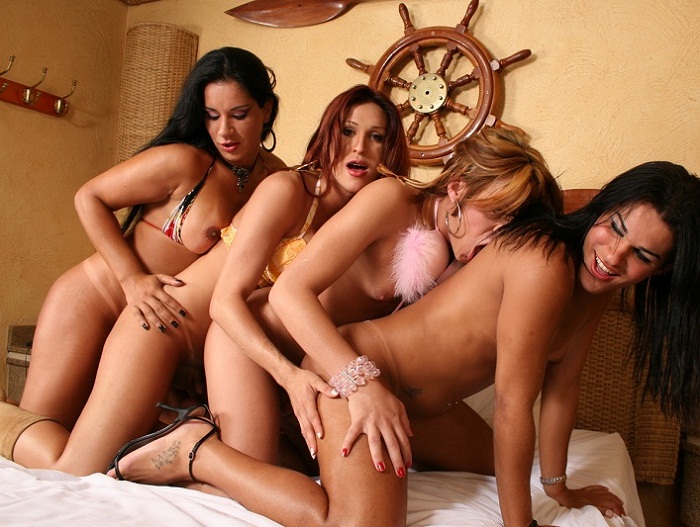 We caught these gorgeous shemales after they had just finished off a bottle of wine and decided to play a naughty game of spin the bottle. It all seemed innocent enough with them sitting on the bed with the bottle between them. But they had their own rules on how the game was played and it consisted of every one getting naked and every one getting fucked. With each spin of the bottle, more clothing was removed and more fondling was done until these T-girls were too horny to bother with bottle anymore and they were just going wild getting each other bare ass naked. They rubbed and tugged on each others girl poles getting them hard as steel before making a shecock ass pumping line of ecstasy. They took turns riding each others hard shecocks until they were all ready to explode in orgasm and they were blowing their cum loads on tits and tummies.
More >





(
1
votes, average:
5.00
out of 5)

Loading ...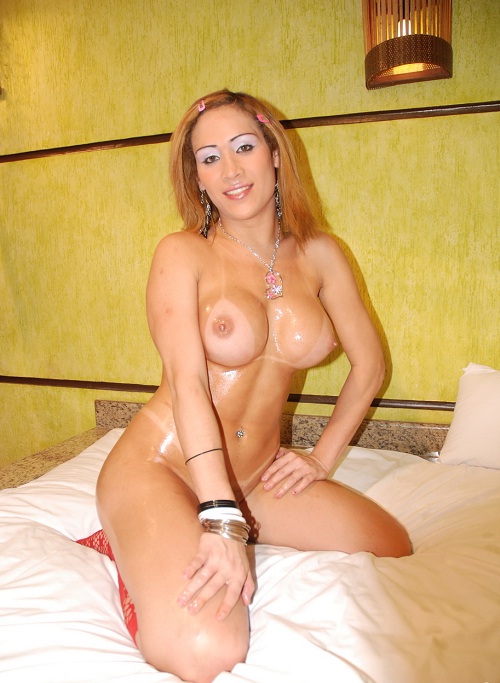 Bianca is one delectable blonde shemale that loved playing for the camera. Her cute and playful personality came through on film and was magnified by her pink bra and panties and red knee high stockings. It made her hot and horny knowing all eyes in the room were on her every move and she loved being a merciless tease. This naughty T-girl stripped off her lingerie and began to cover herself in oil until her tasty tits, curvy booty and juicy shecock was covered in shiny liquid and glistening. She rubbed and squeezed her slick boobs until the pink tips were pebble hard. Then she was on her hands and knees and slipping her oily finger into her tight asshole sliding it in and out slowly until she was moaning in pleasure and her shecock was beginning to harden and grow. Bianca was hot and hard and it wasn't long before this randy tranny was wrapping her hand around her oiled up girl pole and stroking her shaft until she was cumming all over her tummy and thighs.
More >





(
3
votes, average:
4.67
out of 5)

Loading ...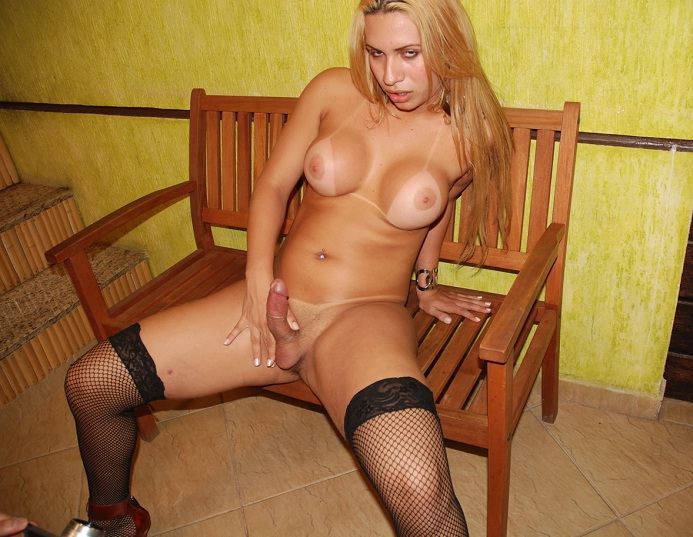 Thayssa is one gorgeous blonde shemale with hot bedroom eyes and a sweet smile that loves getting wild and kinky on film. This playful T-girl came dressed in her lacey black lingerie with black thigh high stockings and red spike heels. Watching her tease her way out of her naughty night wear and down to her flowery thong and thigh highs was a lusty pleasure. And when this tranny babe squeezes her succulent boobs together and looks right into the camera with a cum and get me look, its enough to make you cock start squirming in your boxers. But this was only a prelude to what Thayssa had in mind. She pulled out bottles of ketchup and mustard, wrapped her juicy shecock in a bun and covered it with the red and yellow condiments. Mmm, that is one tasty cock-dog that would be hard to resist. And before the shoot was over, Thayssa added her own special sauce to the tasty mix.
More >





(
1
votes, average:
5.00
out of 5)

Loading ...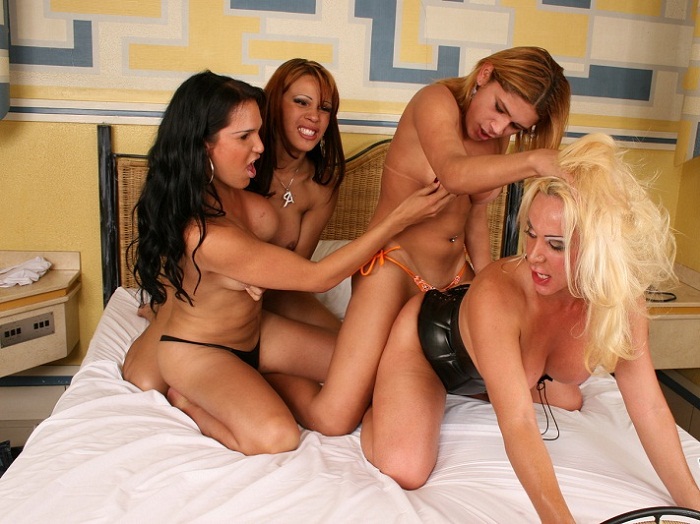 What's hotter then four beautiful shemale babes in skimpy tops and skin tight jeans? Watching them peel off those jeans and fuck and suck each other like crazy, that's what! These horny T-girls could hardly wait to get each other wiggled out of their tight jeans and tops and down to the bare essentials. But once their were as naked as need be, they took their slow sweet time about enjoying their foreplay and working each other up to a wild and horny frenzy. They spent a long time licking each others tits, sucking shecocks and licking each others asses until they were ready for some deep girl pole penetration. And they made sure no one was left out and each of them got a taste of pumping the others tight bums deep and hard. These tranny babes were horny as hell and they fucked each other in every position they could think of until they were ready to squirt their sticky loads on each others chest.
More >





(
2
votes, average:
3.00
out of 5)

Loading ...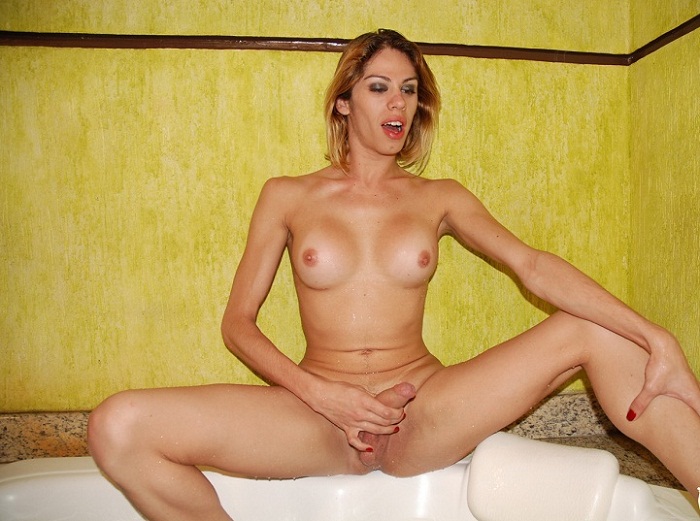 Bia was a gorgeous shemale with a body that would be the envy of top models and an outgoing personality that was a pleasure to be around. Her frame was long and slender and she knew how to move her shapely curves and slide you a sexy glance that would capture your attention. This blonde T-girl had smooth, porcelain that you couldn't help but imagine running you tongue over and those perfect sized titties with their small pink nipples would be perfect to nibble on. She loved to dance and she gave us a striptease performance that was sinfully awesome. She wiggled her way out of her tie-on-the-side skirt and striped bikini before sliding into the tub where she began to lather her sweet body with creamy suds. Sliding her hands up and down her slim body and tasty tits got this shemale hot and horny. And she was more then ready to wrap her shecock in her slender fingered hand and stroke her womanly shaft until she squirted her sweet cream in the bath water.
More >





(
1
votes, average:
5.00
out of 5)

Loading ...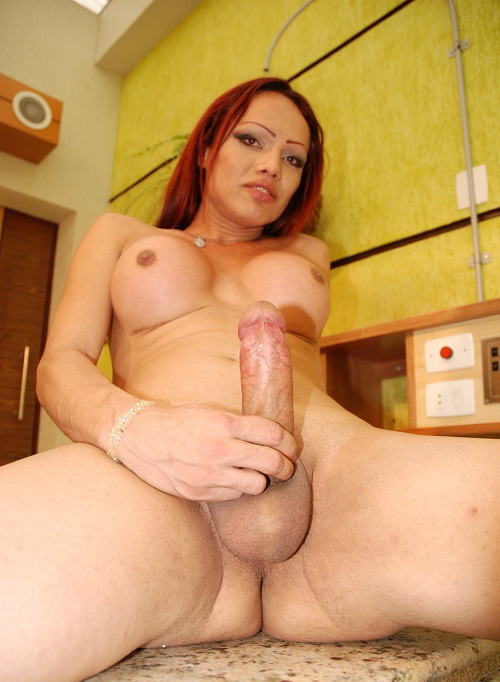 This red head shemale seductress will have you on the edge of your seat and ready to reach for the lube. Sachenka is one hot and kinky tranny that loves to strip and pose for the camera. She was decked out in her sexy, see through dress wearing nothing but a thong underneath and her gorgeous big tits with their hard dusky nipples were bear for all to see. She teasingly peeled and ate a banana sliding it deep in her mouth and sucking like it was a big, thick cock and she was starving for a taste of man meat. She did a sexy striptease leaving on nothing but her high heels and showed off her round, curvy ass before spreading her long legs and playing with her girl rod. She covered her shaft with the banana peel and stroked herself until she was rock hard and it wasn't long before this sexy T-girl was shooting her hot load all over that empty banana peel in ecstasy.
More >





(
1
votes, average:
5.00
out of 5)

Loading ...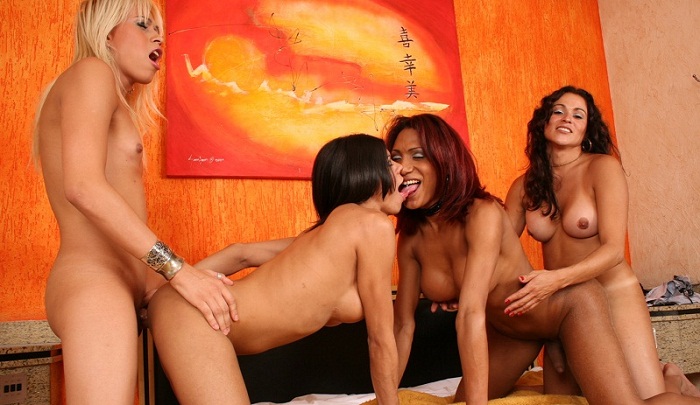 I will never look at the game of twister the same again. Not after watching these sexy and naughty shemales add their own kinky rules to the innocent game and end up in an all out shecock sucking and tight ass fucking orgy. These tranny babes dressed in their skimpy, body revealing lingerie played the game for just a while before all that rubbing on each other and stimulating positions became too much of a temptation to refuse. Then they were tossing the game aside and getting each other out of their clothes to move on to some even better type of game playing. They took turns and took their time tasting each others juicy girl poles and testing the tightness of one another's asses with their fingers. And when all that teasing got too much for them, it was time for some serious shecock ass pumping that led to four sticky loads of cum squirting.
More >





(
1
votes, average:
5.00
out of 5)

Loading ...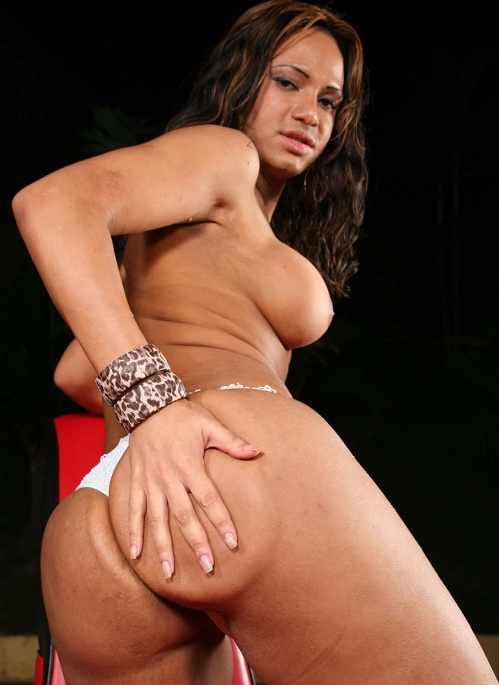 You have to love Brazil, its the only area in the world where you find exotic fruits and sexy shemales that love exotic fruits to fuck. Today we have the lovely Pati and her mangos. She loves fruit, but she really really loves Mangos! These yummy fruits are hard on the outside, and soft on the inside, just like a shecock. They are great to eat, squish and pour the juice all over your body. Pati shows us the correct way to eat and fuck this tasty fruit. Watch as she dribbles juice all over her body, eats some out of that mango, the squishes it all over her body before fucking it with her thick shecock until she cums hard.
More >





(No Ratings Yet)

Loading ...