Brazilian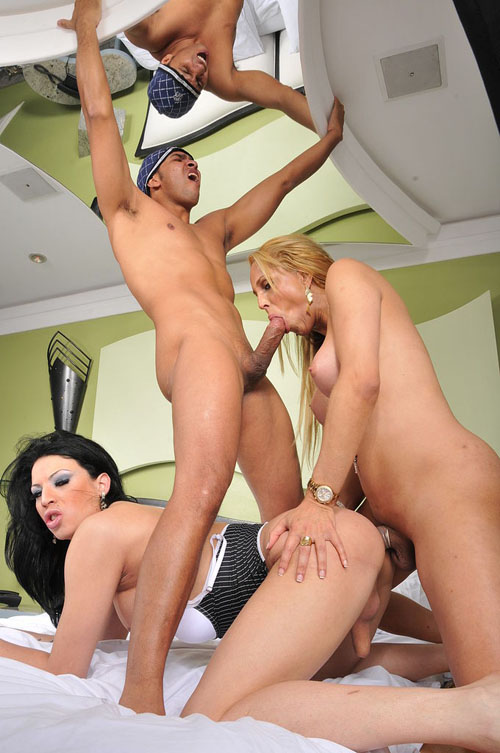 Fernanda Keller gets his dick worked over by Allana Ribeiro and Yago Ribeiro. These two get right down to business and soon have him moaning with pleasure. The tip of his cock is being sucked all the while his balls get licked. His erect tool is proof that these two trannies have what it takes. They take turns bending over taking his tool deep in their asses. The room is soon filled with moans of pleasure as we see asses being rammed deep and hard by these three. Finally the built up pressure in their cocks is released with cum erupting all over.
More >





(No Ratings Yet)

Loading ...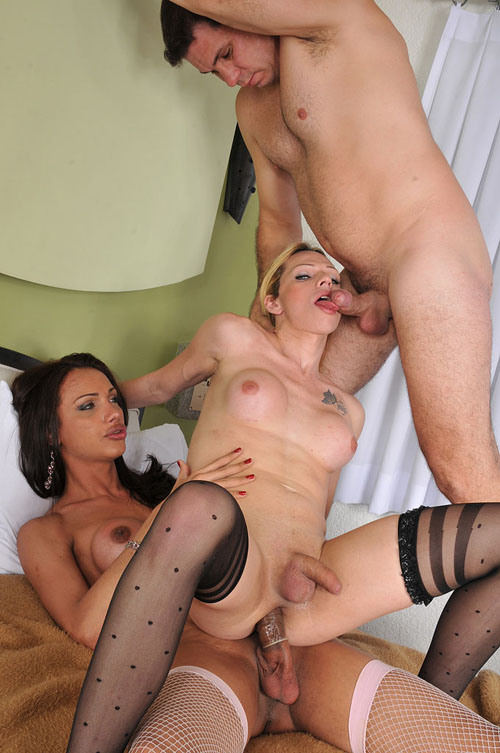 Alessandra and Leticia are a horny tranny pair that is going to blow your mind with how wild they get in the bedroom. Today they want to fuck the same guy together, so they're going to be gearing up for one hot tranny sandwich. There's nothing quite like seeing these delicious trannies tag teaming Paulo Machy, who has to be one of the luckiest guys around. Their cocks are out and flying in no time, and you'll find that these ladies just want to keep going harder and harder until they've ended up covering the room in their cum.
More >





(No Ratings Yet)

Loading ...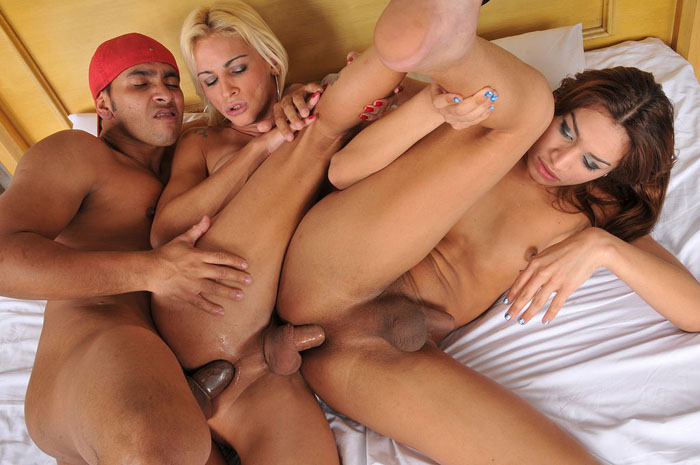 Dany and Suyane Dantas are gorgeous Brazilian trannies who are always looking for guys to enjoy – and today they're going to find a man that is all about getting in the middle of a tranny sandwich. Yago Ribeiro is an adventurous kind of dude, and he was all about seeing this double pair of dicks coming at him. Plus have you ever gotten a tag team tranny blowjob? It's the kind of thing that you're never going to be able to forget, and it's damn hot all the way. Now that's the kind of fucking you'll tell your buddies about forever.
More >





(No Ratings Yet)

Loading ...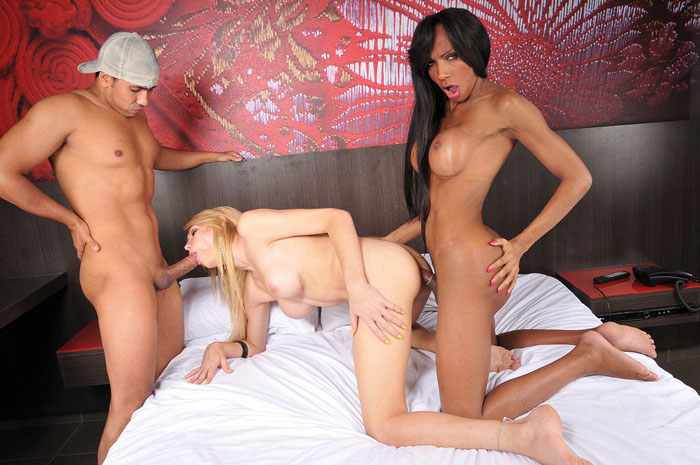 Yago Ribeiro absolutely must have his tranny fetish sated, so much that he's stepped it up to the next level by including two tasty she-males, Laviny and Ariadny Oliver to the mix! Yago tests out the darker Ariadny first, fingering her asshole and watching it pucker open and close like a goldfish breathing. As he's getting his cock sucked by Ariadny, blond bombshell Laviny makes herself useful and sucks Ariadny's long, dark dong. This tranny train ain't coming off the tracks just yet, because as soon as his knob is polished, Yago immediately starts butt-fucking Ariadny as she swallows down Laviny's thin pecker! Watch Yago screw, drill and pound out these tiny, juicy tranny fuckholes!
More >





(No Ratings Yet)

Loading ...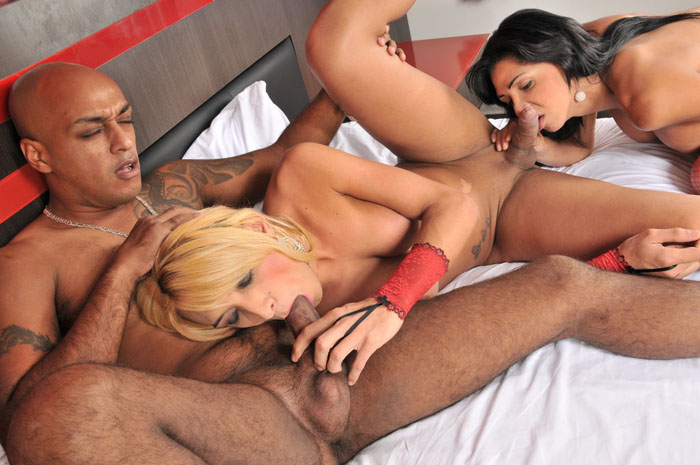 Two of hottest, mouth-watering trannies you could ever ask for: a blond scorcher, Jessica Kathleen and saucy brunette, Camila Close! Caught in between their sultry hot bodies is lucky shemale aficionado, Andre Garcia. Wasting no time, he plays with Camila's asshole as Jessica wraps her lips around his pole and sucks him off almost violently. Andre strains to keep from busting, he's got way more tranny ass and titties to satisfy. Seeing that there's an unattended femme cock, Camila makes herself useful and gobbles down Jessica's short prick. You'll be coming back for seconds and thirds with a tranny sandwich this fucking delicious. I guarantee it.
More >





(No Ratings Yet)

Loading ...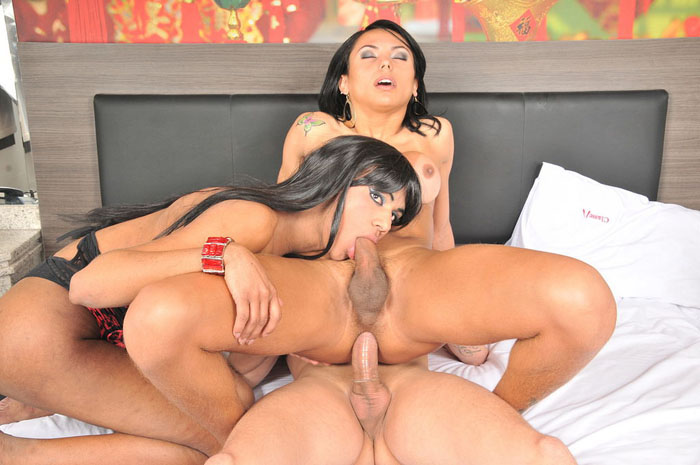 Latin stud Alex turns up to the shoot ready and willing to do some serious damage to some tranny assholes! Gorgeous brunette shemales Michelly and Pamela are gagging for some hard straight cock; the girls get straight into the fun, giving Alex a superb double blow job while he lies on his back with his cock pointing to the ceiling. Both girls are desperate to get screwed in their butts, pleading with their man to give it to them hard and deep; lucky for them, this virile stud has got more than enough stamina to gape out both of the ring pieces! Alex is definitely the star of the show as he manhandles both these well hung babes.
More >





(No Ratings Yet)

Loading ...

Thayla Andrade and Tayana DeCastro are both gorgeous chicks with dicks who love having some man meat in the middle. When they whip out their cocks, you know that they mean business. One tgirl goes down on her back, slurping that cock, while the other gets ready to have her ass licked and probed. This TTM threesome combination is going to have your dick harder than ever, and making sure that these shemales are spraying their cum everywhere. They just love letting their dicks spray out all over the place.
More >





(
1
votes, average:
1.00
out of 5)

Loading ...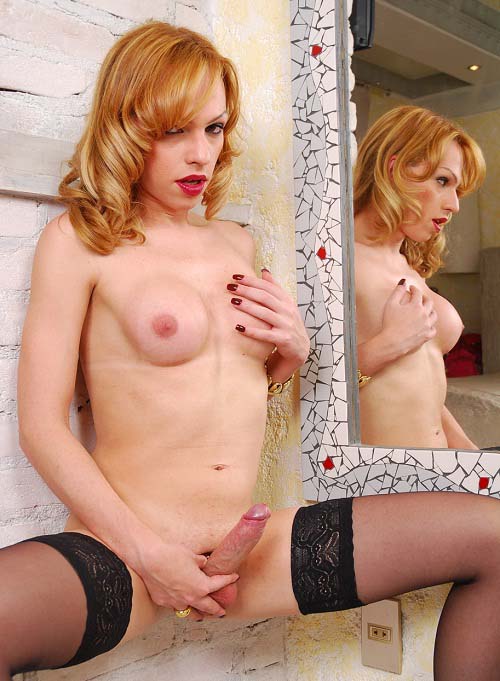 The blonde and naughty Alessandra is so hot, she gets a hard-on just looking at herself in the mirror. She looks sexy as hell in her tight black dress and you can see the sparkle of lust in her gorgeous eyes. She strips down to nothing but her black thigh high stockings in front of a full length mirror giving an excellent view of her big, curved shecock and her tight rear end. And this horny blonde shemale can't resist pumping her hard girl dick until she spews her cum load on her reflection.
More >





(
2
votes, average:
3.00
out of 5)

Loading ...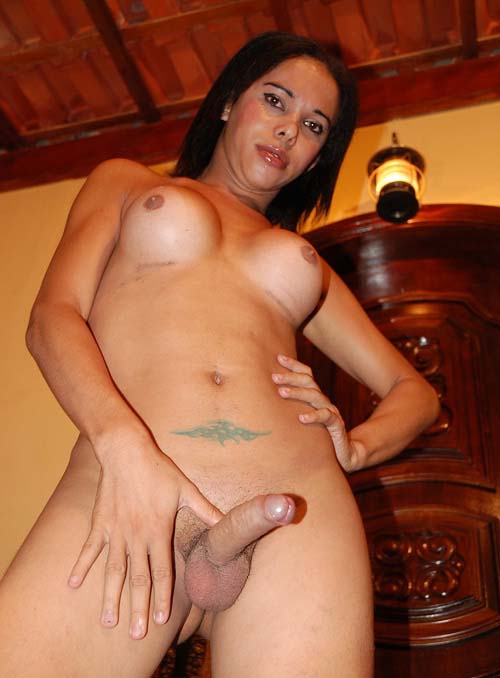 The lovely Lara in her sexy string bikini looked enticing and mysterious. This stunning shemale hottie enjoyed being playful and there was something seductive about her standing there in a skimpy bikini and blowing soap bubbles into the air and watching them float away. Each time she puckered her silky lips your mind couldn't help but wonder how it would feel to have them wrapped around your shaft. Once she was finished with blowing bubbles, she began to slip out of her top and bottoms and it was pure bliss watching her reveal every inch of her creamy skin. She had magnificent tits that sat up firm and high and her ass was deliciously spankable. Lara posed for the camera and began teasing her girl pole into a hard erection. And when teasing wasn't enough, this horny shemale began pumping her shecock until she squirted her load in a bright blue cup and showed her sweet cream to the camera.
More >





(No Ratings Yet)

Loading ...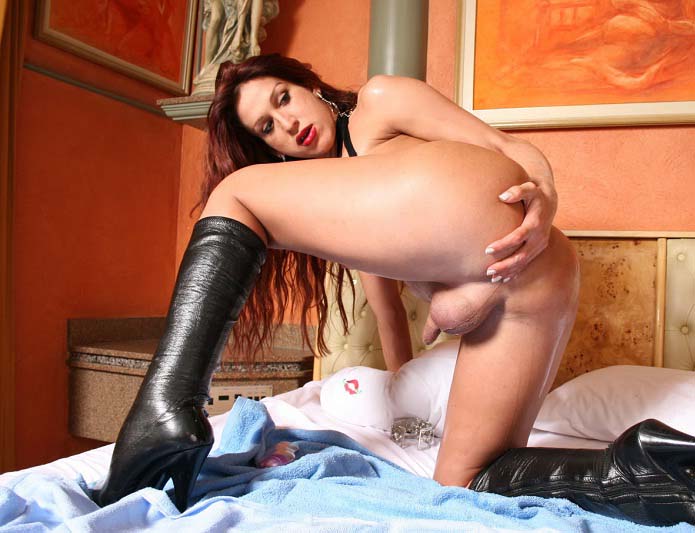 This horny brunette loves her leather. She loves how it feels on her skin as she moves around or just sitting, laying and stroking her shecock. The other thing this slutty shemale loves is to pour oil on her massive breasts and rub it around and around getting her nipples excited and her shecock will get hard and need to be stroked. That oil works great on all of her body parts so she oils her sweet shecock up and strokes it and then she shoves three fingers up her pretty rosebud ass and starts to move them to the rhythm she has going on her shecock. Who could stand so much erotic friction?!? This shemale sure can`t and she cums a geyser!
More >





(
1
votes, average:
5.00
out of 5)

Loading ...