ORGY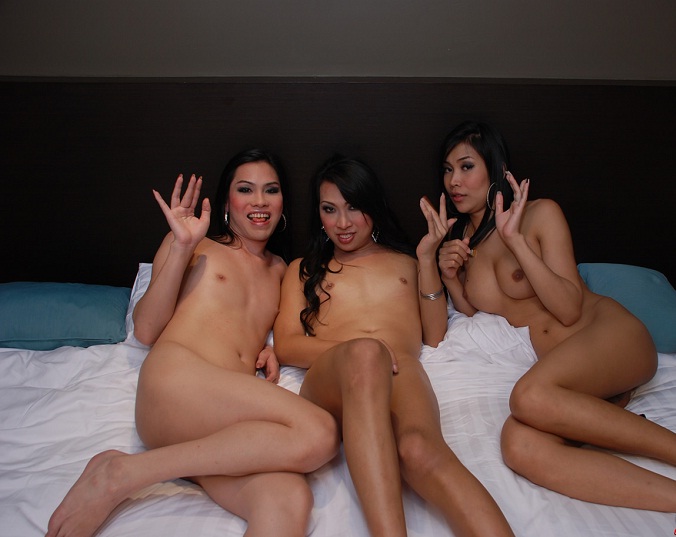 What has 3 cocks, 6 tits and countless places to get your cock fucked sucked and jerked? Why three gorgeous ladyboys from Guess Bar of course. This trifecta of black haired beauties is a good sampling of the fillies at premiere ladyboy stable in Thailand. They come to the gate dressed in slutty revealing bar wear. Ohm had her skimpy cocktail dress which along with her pretty blue lace bra make a poor attempt at hiding her perfect round boobs. Nat with her with her backless metallic halter turns because she knows her best asset is her big round booty which is jammed into some very short shorts. Fah too has shorts along with a black lace camisole that is a bit tight for her rather square midsection but her most appealing feature is her long ringlets of thick raven hair. After seeing close-ups of their faces we must give best in show to Ohm with her incredibly exotic eyes, full lips and pointy little shin. Nat is a close second with beautiful eyes, arched expressive eyebrows and often slightly scowly mouth which seems to say come fuck me. Poor Fah is a distant third but she does a good job working with what she has with her expertly mascaraed and shadowed eyes. Unfortunately there is no way to hide her slight pudginess and of course the serious underbite which gives her a permanent pout. When they show us there haunches Nat easily wins this contest and is not shy about showing the cock hardening crack in her wonderful ass. With all sitting on the bed fooling around it pretty obvious Nat is the horniest as she shows as her swollen balls being squeezed out the sides of her white panties. But before further nudity ensues the girls jump up and start to dance and throw pillows at each other. Ohm is the first off the mark to get naked and we can see that this girl has a perfect body to match her face. Nat is next showing off her flawless milky white skin, nice body and very small nipples. Again Fah is not in the running with the other two body wise with her few extra pounds and squarer shoulders. They all have similar sized dicks with Fah having a slight edge but she also finally takes first prize in something with her massive meaty balls. The race to the finish line begins with the side by side triple jerk with both Fah an Ohm focusing on their cocks while Nat lays flat eyes closed dreaming of fucking her boyfriend as she massages her nipples. Nat props in the same position as the others for the final sprint and Ohm cums out on top as she does in most other areas. Nat has a quick peek at some porno on her phone before laying back down to jerk a clear load from her pink dink to show second. Third place goes to Fah but she is redeemed by her giant scrotum which she methodically pokes until it squirts cum up and out the end of her cock and back down on it. The three fillies cross their legs to hide their spent cocks and wave goodbye before returning to the paddock.
The original plan was to shoot Ohm and Nat separately. But they showed up together with Fah in tow but I was tired, so I said what the hell, let's do a threesome, it'll go quicker. So I hope you guys appreciate this because it's not like I get a discount when I hire two or more girls to do the shoot. Actually it would be a foursome if I had participated which I did a bit but only off camera as Nat and Fah needed a little extra attention to stay hard and get ready to cum and I'm always glad to oblige. They were really a pleasant group to work with like most Guess Bar girls. Nat is by far the horniest, Ohm is sweet but a little distant and Fah is a touch gruff with her truck driver voice. I don't know her too well but from a looks perspective I don't think you could find a better girl than Ohm. I think she is one of the prettiest girls in Thailand (real or otherwise), with a perfect body and great tits. Nat is also quite appealing and is somewhat aggressive (to get you to take her home) in person but I find this attention welcome. She apparently is getting boobs soon which I think is the final puzzle piece to make her astounding. Fah could of course stand to lose a few pounds and I was pleased to see that she has in some recent pictures that I'll be posting to the forum. She has lost weight on both her body and face and is now looking much more feminine but no word on her baritone voice.
More >





(
1
votes, average:
5.00
out of 5)

Loading ...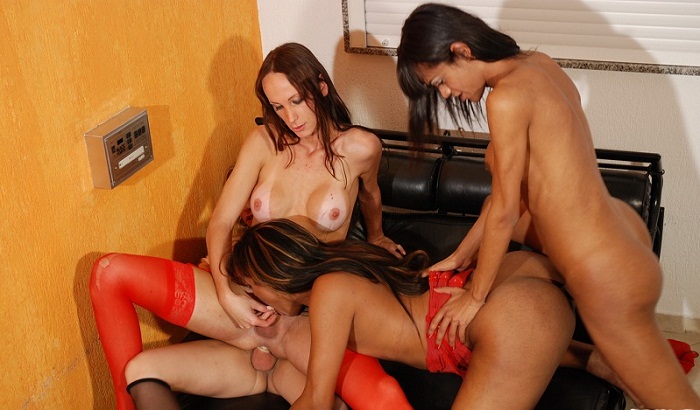 Here are four tranny chicks that love getting down to shecock sucking business. Kawana, Alessandra, Luana and Leticia enjoy getting together for some naughty foursome fun. They have a snack, a few drinks then its time to get to the good stuff and these lovely shemales are sucking each others girl poles and stroking their own. And all that fem dick sucking gets these horny t-girl hotties ready for some hardcore anal fucking that has them spewing their juices on each others tummies and tits.
More >





(
1
votes, average:
5.00
out of 5)

Loading ...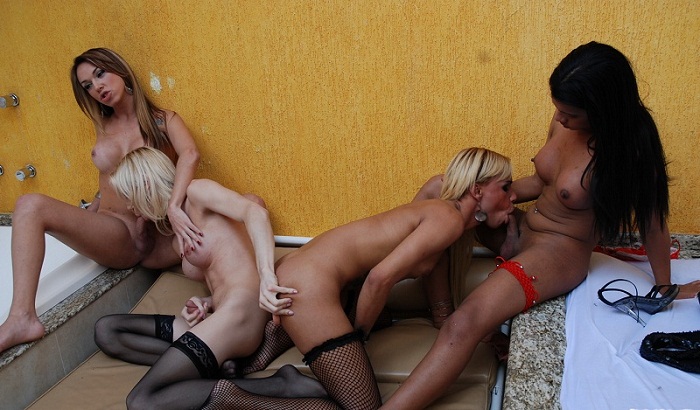 What happens when you get three blonde shemales together with a raven haired t-girl? You get one hot and steamy shecock blowing foursome. Carol, Dany, Isabella and Stefhany love getting together so they can share in some jizz blowing fun. They suck each others girl poles and have the other moaning and squirming in pleasure. Then these four shemales chicks are pounding into each others tights assholes with their shecocks and pumping deep until they are ready to blow their loads and cover each other in sticky jizz.
More >





(
1
votes, average:
5.00
out of 5)

Loading ...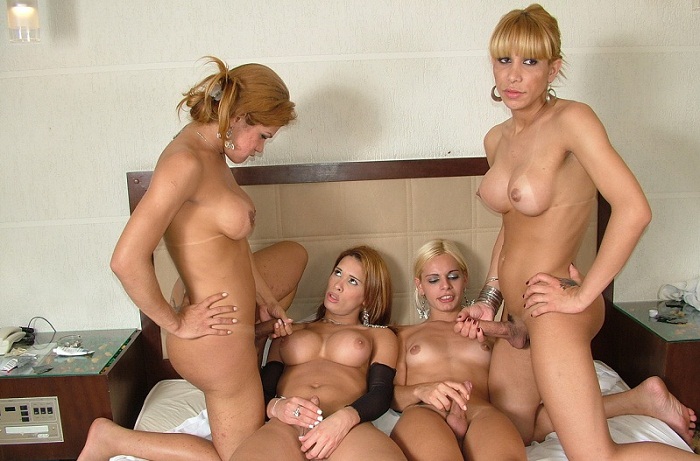 This was one birthday party that definitely turned into a real shecock stroking and sucking, butt fucking X-rated affair! These gorgeous shemale babes decided to surprise a friend and have a private party and enjoy some chocolate cake. And who needs forks and plates when you have fingers and hot bodies to eat off of. These gorgeous blonde trannies got off on feeding each other fruit and cake from their hands. They even decided to get real creative and used the birthday girl's thong covered ass for a plate. They smeared cake and icing on her sexy round butt cheeks and they all took turns licking it off. This seemed to really heat things up and that's when the party really got started and turned into an extreme shemale orgy. Clothes started coming off to reveal hot tits and velvety hard shecocks until all these babes had their mouth or ass filled with girl pole.
More >





(
1
votes, average:
5.00
out of 5)

Loading ...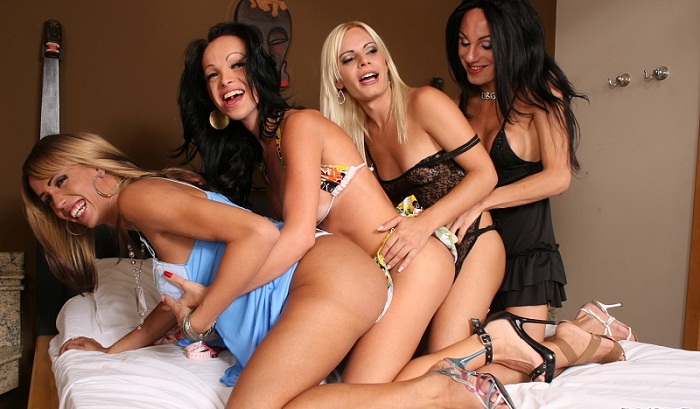 These lovely shemale babes had all been out for a night on the town and when they didn't want the evening to end, they decided go to one of the sexy T-girls apartment and have a few more drinks. Things definitely began to get out of hand once the liquor started flowing loosening up any remaining inhibtions. In no time these shebabes were stripped down to their bra and panties and showing off their tight assholes for each other causing all four of these horny chicks shecocks to harden and swell in need release. After the rest of their clothing was removed they started exploring each others bodies with hands and lips. They pumped each others tight bums and sucked those silky girl poles until they were all moaning. They just couldn't get enough of each other and it didn't end until they were blowing their loads and lay back in exhausted ecstasy.
More >





(
2
votes, average:
5.00
out of 5)

Loading ...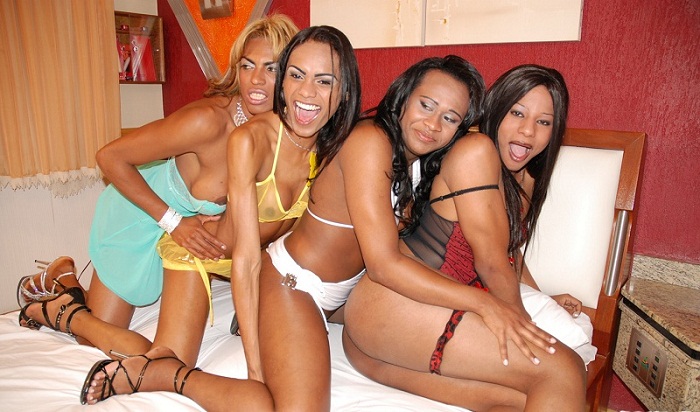 After getting a good look at these lovelies, we knew we were in for a real treat! This was more dark meat then any one person could handle…but we sure as hell were going to give it our best shot. These four ample bottomed ebony shemales were hot and ready for some extreme shecock fucking and sucking action. These luscious ebony trannys will definitely tempt your senses and have your cock bulging as you watch them undressing each other and rubbing those long, thick woman shafts to throbbing life. They took turns tasting each others hard girl poles and sucking them as deep as they could before getting their tight, black asses filled with meaty girl rods. And these wicked and wild ebony T-girls loved pumping their shecocks deep in each others backdoor fuckholes until they others were begging for mercy. And when they were ready to spew out their cum, their covered each others tits and stomachs with their sticky loads.
More >





(
1
votes, average:
5.00
out of 5)

Loading ...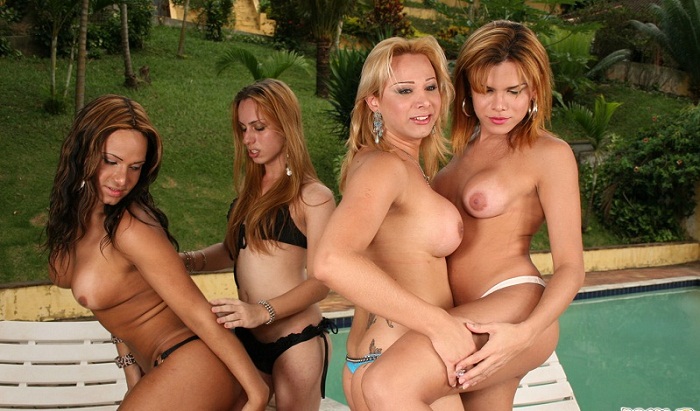 Here is one T-girl orgy you won't want to miss. These stunning shemale babes were all out by the pool enjoying the sun and the water when we caught up with them. After some chatting, they agreed they were more then willing to share their afternoon plans with us, which was a wild and steamy sex romp right there in the wide open outdoors. And they agreed to let us get it all on camera. As we watched, these shebabes began to dance with each other to the tunes on the radio they had with them and slip each other out of their clothes. They rubbed their hands all over each others hot bodies and rubbed their hardening shecocks. And these horny hotties had came prepared. They pulled out a can of whip creams and sprayed it all over their tits and girl poles turning themselves into some tasty treats just waiting to be licked and sucked cleaned.
More >





(
2
votes, average:
5.00
out of 5)

Loading ...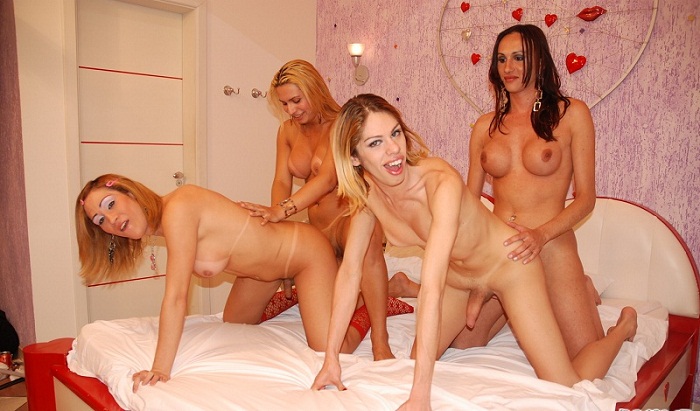 It's good to see that these lovely shemale babes know just how important it is to get their daily intake of veggies and they love it so much, they make sure to share with each. These four stunning T-girls didn't waste any time stripping each other out of their clothes and lingerie and using their hands and mouths to excite each other's shecocks to hard erections. And they all got their own veggie toys to use on themselves and each. They took turns slowly pumping each others tight little assholes with those long vegetables until they were moaning and ready for more. Then it was time for some serious shecock sucking and deep penetrating, girl pole ass fucking. These lusty tranny sluts fucked each other in every position they could, taking turns and making sure they all got to spread one another's asses before shooting their thick and creamy loads in explosive eruptions.
More >





(
1
votes, average:
5.00
out of 5)

Loading ...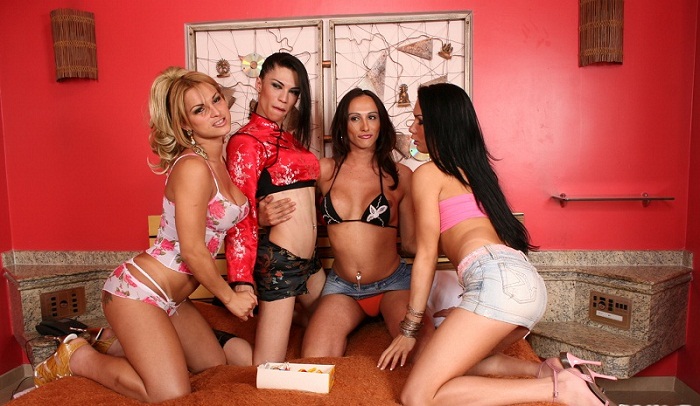 A shemale slumber party is definitely an event to hot to be missed. And these lovely shebabes were kind enough to let us come to theirs and get all the wild and crazy action on film. It started out normal enough, with all four of these luscious T-girls sitting on the bed talking, laughing and munching on candy. Guess that chocolate had some wild affect on them, because before we realized what they were up too, they were smearing the creamy chocolate all over each other and licking it off like it was a game. It turned out to be some extreme foreplay for these tranny babes and they began to strip each other out of their sexy clothes, bras and panties. Their hands and mouths were all over each other nibbling each others tits and stroking and sucking their girl shafts. They fucked each others tight asses until they were shooting their loads all over their tight tummys.
More >





(
2
votes, average:
5.00
out of 5)

Loading ...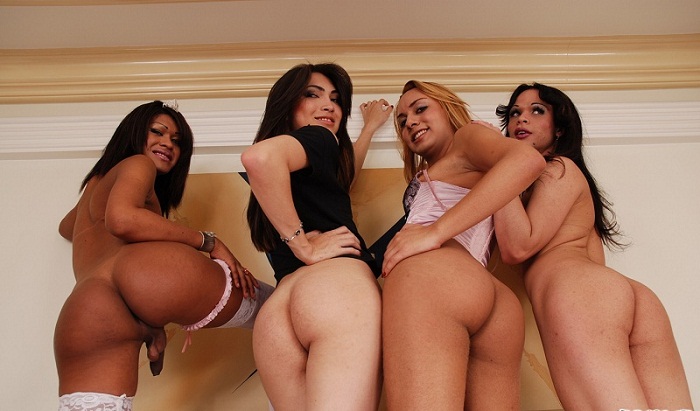 It's the weekend and its party time! And this sexy shemale foursome is ready to party hard and get down and dirty. Bianca, Sandy, Traciely and Tattyana love getting together and letting it all hang out. When these horny T-girls get together it is one ass fucking, shecock sucking good time. And one of their favorite party games is circling up for 69's. Just imagine yourself in the middle of this foursome and see how rock hard your cock gets before you are blowing your load.
More >





(
1
votes, average:
5.00
out of 5)

Loading ...