ORGY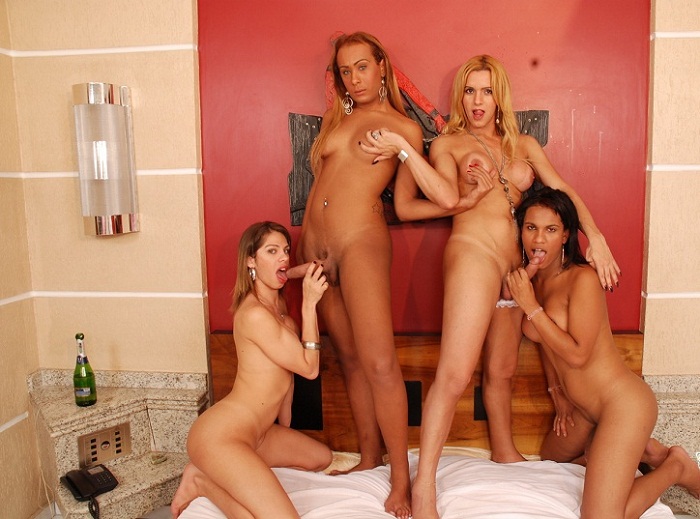 Give these sexy shemale babes a few bottles of wine and a hotel room and you get one shecock fucking and sucking orgy. These t-girl hotties pour booze on themselves and each and lick it off with soft tongues. This gets them revved up and ready for some real foursome action. They suck each others juicy girl poles until they are all hard and ready for some fucking. Then they are pounding each others bums with those shecocks until they are squirting cum like fountains on each other.
More >





(
1
votes, average:
5.00
out of 5)

Loading ...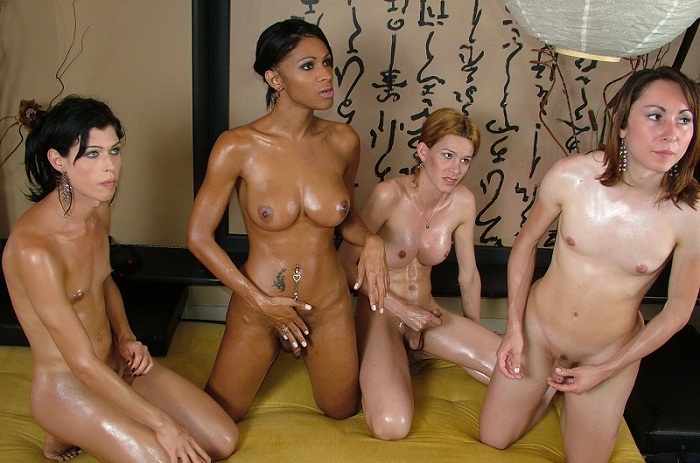 These four shemale babes give a whole new meaning to the word massage. They were all dressed in there sexy lingerie and white robes discussing the finer points of what makes a great massage when they decided to take the techniques they knew and use them on each other. They began to rub and caress each others lovely bodies and slip off their robes and lingerie. Then it was time to pull out the oil and one by one they let the others slick their entire bodies down with oil while they lay there and enjoy so much hands-on contact. That definitely brought a lot of heat and excitement to their small group and things became a frenzy of shecock sucking and stroking. Which in turn led to tight asses getting filled with girl poles and riding those shemeats hard and deep until these shemales were shooting their creamy loads in all over each others chest and bodies.
More >





(
2
votes, average:
5.00
out of 5)

Loading ...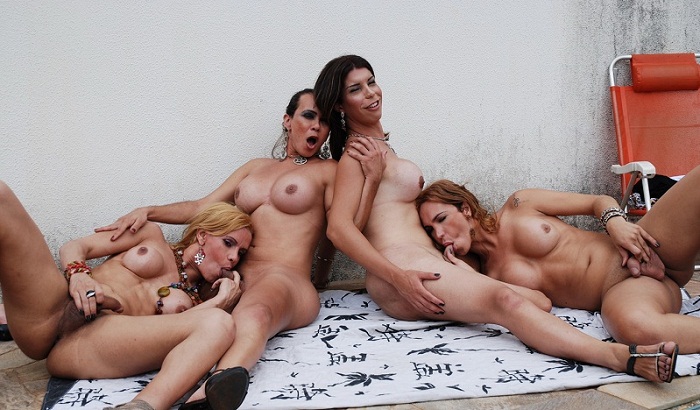 What a wonderful day to be outside with your girlfriends by the pool. Amanda, Natasha, Alexia and Adryella are all dressed in their pretty sundresses enjoying the sunny day when things really begin to heat up. They can't keep their hands off each other and they strip each other down bare ass naked getting to those big boobs and bulging shecocks. They get on their knees to suck each other off then do some hard doggystyle anal fucking until they are ready to pop off all their creamy loads on one lucky shemale.
More >





(
1
votes, average:
5.00
out of 5)

Loading ...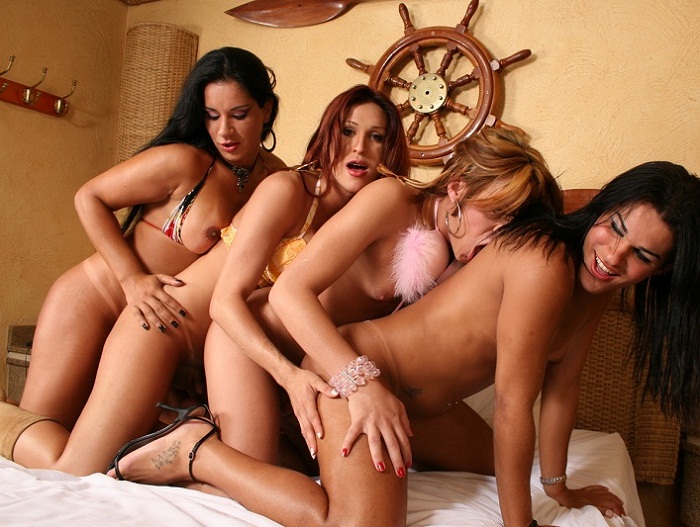 We caught these gorgeous shemales after they had just finished off a bottle of wine and decided to play a naughty game of spin the bottle. It all seemed innocent enough with them sitting on the bed with the bottle between them. But they had their own rules on how the game was played and it consisted of every one getting naked and every one getting fucked. With each spin of the bottle, more clothing was removed and more fondling was done until these T-girls were too horny to bother with bottle anymore and they were just going wild getting each other bare ass naked. They rubbed and tugged on each others girl poles getting them hard as steel before making a shecock ass pumping line of ecstasy. They took turns riding each others hard shecocks until they were all ready to explode in orgasm and they were blowing their cum loads on tits and tummies.
More >





(
1
votes, average:
5.00
out of 5)

Loading ...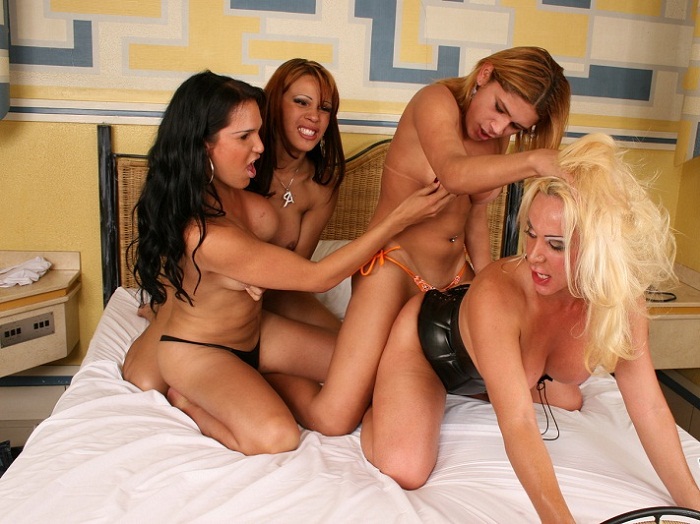 What's hotter then four beautiful shemale babes in skimpy tops and skin tight jeans? Watching them peel off those jeans and fuck and suck each other like crazy, that's what! These horny T-girls could hardly wait to get each other wiggled out of their tight jeans and tops and down to the bare essentials. But once their were as naked as need be, they took their slow sweet time about enjoying their foreplay and working each other up to a wild and horny frenzy. They spent a long time licking each others tits, sucking shecocks and licking each others asses until they were ready for some deep girl pole penetration. And they made sure no one was left out and each of them got a taste of pumping the others tight bums deep and hard. These tranny babes were horny as hell and they fucked each other in every position they could think of until they were ready to squirt their sticky loads on each others chest.
More >





(
2
votes, average:
3.00
out of 5)

Loading ...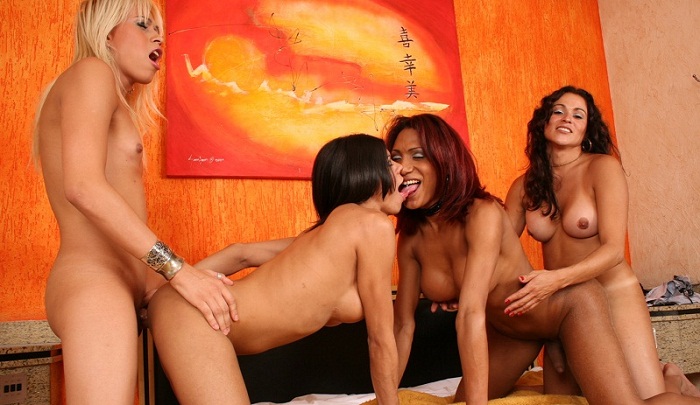 I will never look at the game of twister the same again. Not after watching these sexy and naughty shemales add their own kinky rules to the innocent game and end up in an all out shecock sucking and tight ass fucking orgy. These tranny babes dressed in their skimpy, body revealing lingerie played the game for just a while before all that rubbing on each other and stimulating positions became too much of a temptation to refuse. Then they were tossing the game aside and getting each other out of their clothes to move on to some even better type of game playing. They took turns and took their time tasting each others juicy girl poles and testing the tightness of one another's asses with their fingers. And when all that teasing got too much for them, it was time for some serious shecock ass pumping that led to four sticky loads of cum squirting.
More >





(
1
votes, average:
5.00
out of 5)

Loading ...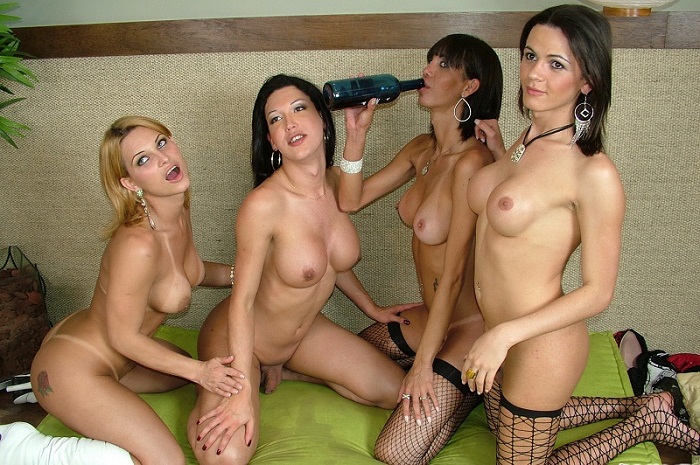 What happens when you get one blonde and three raven haired T-girls together sharing a bottle of wine? One wild party that ends with a lot of shecock fucking and sucking until all four shemales are spewing their loads in ecstasy. These babes were just having a good old time talking about sex and having a few drinks when things began to get a little steamy. After a few glasses, they were all stripping down and showing off their lovely tight bodies, firm boobs and hard girl rods. They made a game out of pouring wine on each other and licking it off which had them really turned on and before long, they were sucking each others shecocks in their mouths and fingering each others tight assholes in preparation of some hard butt fucking. With the aid of a little more wine and some lube, these tranny babes were taking turns riding each others shafts in a shemale fuckfest.
More >





(
1
votes, average:
5.00
out of 5)

Loading ...

What could be more stimulating then a hot game of shemale volleyball? Throwing a blanket on the ground and having a tranny group orgy. This sexy T-girl foursome decide that having a group sex free for all sounds like a lot more fun then sports and lucky for us, we got the whole hot and steamy shecock sucking and tight ass fucking orgy on film. Watching these shemale babes get on their knees to suck girl pole and then ride each other until they explode is hot as hell.
More >





(
1
votes, average:
5.00
out of 5)

Loading ...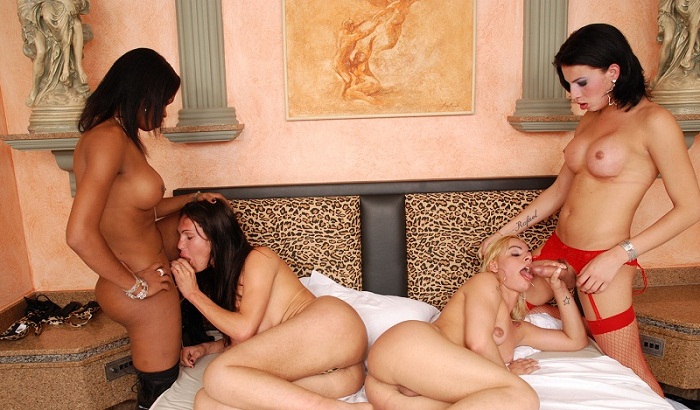 These shemale sluts like things a little on the rough side. And when they get together and have an orgy, they like to go to extremes by taping the others wrists and ankles so they can have their wicked way with their helpless bodies. Dressed in their tit and ass revealing lingerie, these tranny babes get rough with each other squeezing, biting and stuffing shecock down the others throats. And these horny chicks are loving every minute of their rough and tumble orgy. All of that girl pole sucking and fingering their asses are just a prelude to what comes next and these shemales take those shecocks deep in their tight assholes and ride them hard. There is no stopping this wild foursome in their fuckfest until everyone is fully satisfied and that means blowing their hot and sticky cum loads all over the other until they are drained of every last drop of their sweet jizz.
More >





(
2
votes, average:
5.00
out of 5)

Loading ...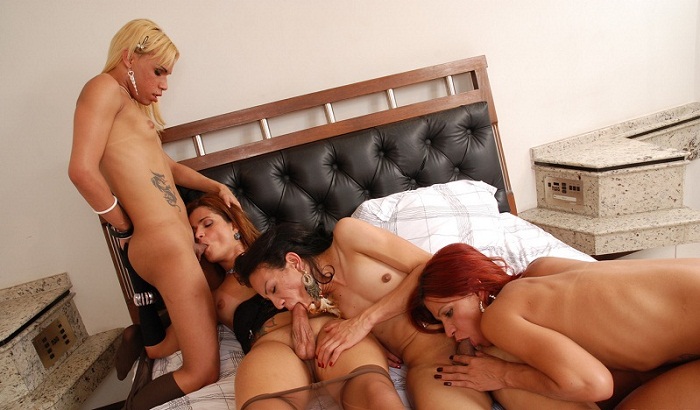 What happens when you get two redhead, one black haired and one blonde shemale in the same room with a bed? You have one hell of a tranny shecock sucking and fucking orgy. Perlla, Paolla along with Dany Bionda and Dany Alencar are lovely shemales babes that like nothing better then to get together and have a wild and load blowing good time with each other. They pose in their sexy lingerie and pantyhose to tease each other as much as the camera before stripping topless and showing their hard shecocks beneath their nylons. These t-girl babes love handling each others tiny tits and shafts but when it's time to get seriously down to the business of sucking and fucking, these horny shemales are ready to go. They take turns sucking each other until each of them have had a mouthful of the others shecock. That is only enough to get them started before it becomes an all out ass fucking orgy and they blow their loads on each others shecocks and stomachs.
More >





(
1
votes, average:
5.00
out of 5)

Loading ...