ORGY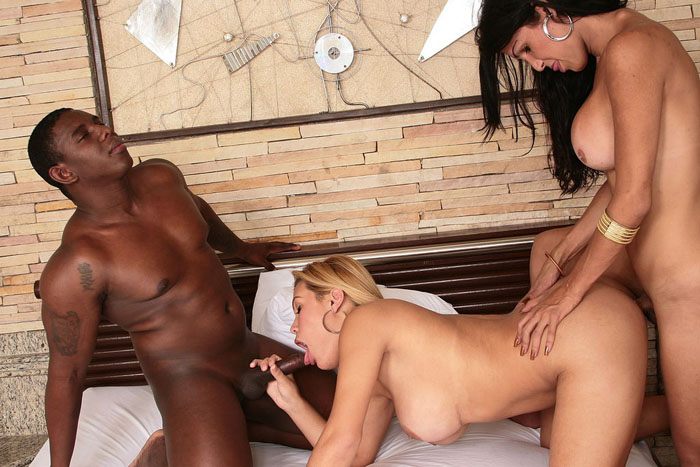 Now this is a hot tranny sex scene! Black stud Hunter kicks things off sandwiched in between the stiff dicks of shemale harlots Wanessa and Hellen. These girls have got bristling boners, but they're not going in Hunter's ass if he has anything to do with it! This dominant stud doesn't mind sucking a bit of dick but he won't take it in the butt, preferring to be the one doing the fucking. He watches in appreciation as the sluts blow him and then take turns fucking each others' asses, getting each others' sphincters loose enough to take that massive black pole. Hunter rams both of these sluts, making them spurt from the backdoor stimulation.
More >





(No Ratings Yet)

Loading ...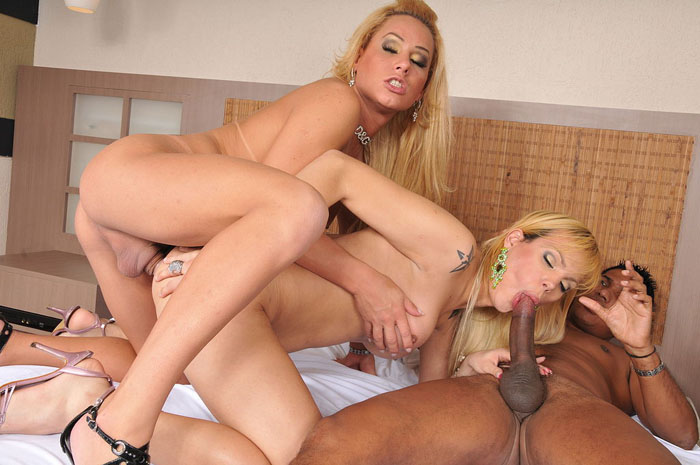 Brunette trannies Renata Aravjo and Marcela Italy kneel on either side of a young stud on a bed. They're both dressed in the skimpiest of lingerie, and they all kiss passionately as they help each other undress. Marcela is soon sucking his hard cock while he blows Renata's hard dick, and he gets on his hands and knees so that Renata can fuck him up his tight ass doggy style. Renata lays beside him to plug his butt hole while spooning him, and Marcela rides his rod anal cowgirl. They finish the scene by shooting their hot cum all over one another.
More >





(No Ratings Yet)

Loading ...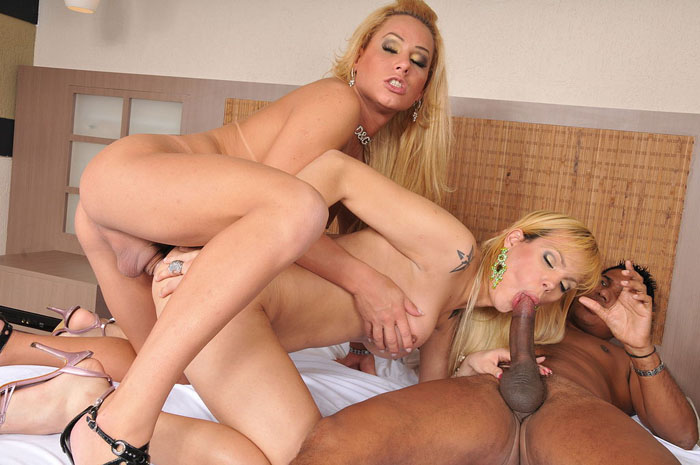 A true connoisseur of shemales, Latin stud Ed Junior has scored himself two gorgeous blond transsexuals today. Their names are Evelin Rangel and Rakel Rodrigues, and these babies are hot to trot! It's all about Ed as the two girls go down on him simultaneously, providing twice the cock slurping quality by using both of their mouths at once. Then Ed bangs both girls one after the other; he also relaxes for a while, having his cock sucked by one tranny bitch whilst the other shemale bangs her from the back! The two girls, who have got awesome fake tits, lie down side by side at the end, stroking their cocks as Ed spurts on them.
More >





(
1
votes, average:
5.00
out of 5)

Loading ...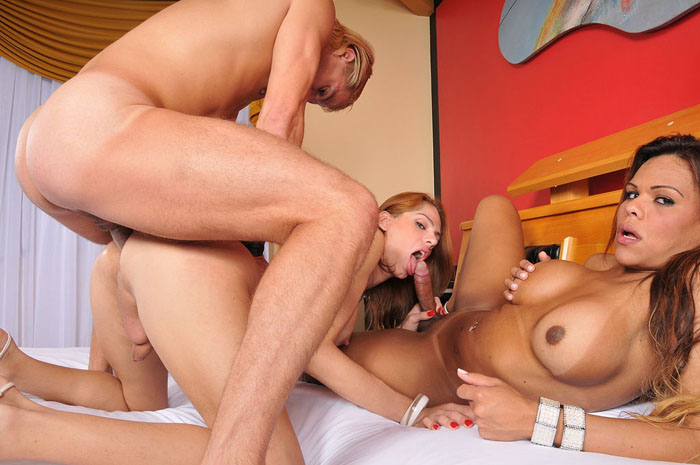 There is some intense tranny hardcore in this hot shemale threesome. Blond, long-haired and slightly effeminate stud Alex finds himself joined by two stunning redhead Latina babes called Bia and Erika. Both of these girls are tall, statuesque and extremely feminine – along with packing some extremely large cocks in between their legs! There a whole variety of positions used in this video, with both shemales taking a hardcore ass banging. The girls take it both from their man and from each other, and there are some extremely inventive threesome situations as well. At the end of the video Bia gets creamed by the other two participants.
More >





(No Ratings Yet)

Loading ...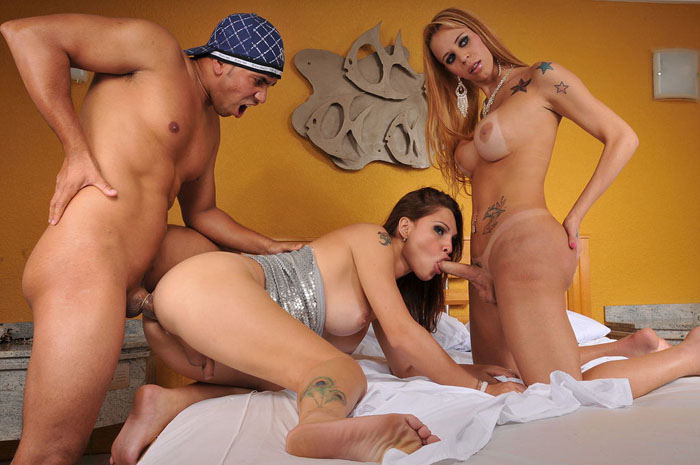 Sexy and big titty blond tranny Sandy and stud Yago have been together a few times now, and so Sandy decides to bring along one of her sexy shemale girlfriends. Stunning redhead transsexual Ana is ready to go, admiring Yago's big prick and then sucking it simultaneously with Sandy. The well muscled stud bends over both horny girls and bangs them hard in the ass, even giving them a little bit of a reach around. The sexy shemales also love to fuck each other's butts, with one whore making sure that their man's prick is always satisfied with some hot oral sex. Dirty Ana ends up with a butt covered in dirty semen; she's a real cum whore!
More >





(No Ratings Yet)

Loading ...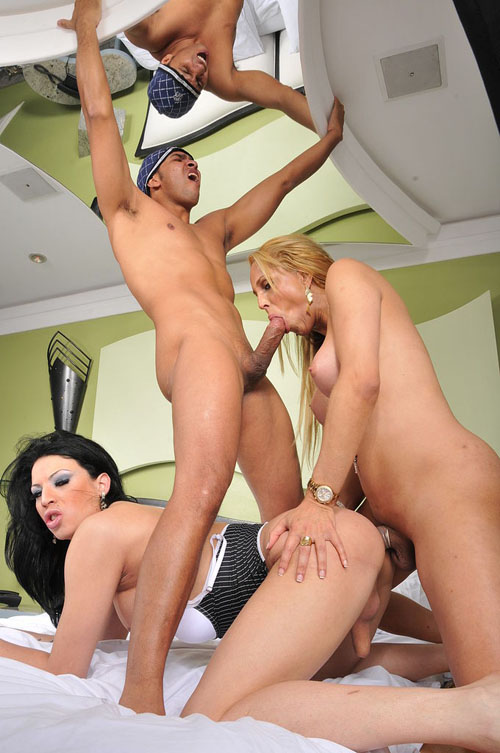 Fernanda Keller gets his dick worked over by Allana Ribeiro and Yago Ribeiro. These two get right down to business and soon have him moaning with pleasure. The tip of his cock is being sucked all the while his balls get licked. His erect tool is proof that these two trannies have what it takes. They take turns bending over taking his tool deep in their asses. The room is soon filled with moans of pleasure as we see asses being rammed deep and hard by these three. Finally the built up pressure in their cocks is released with cum erupting all over.
More >





(No Ratings Yet)

Loading ...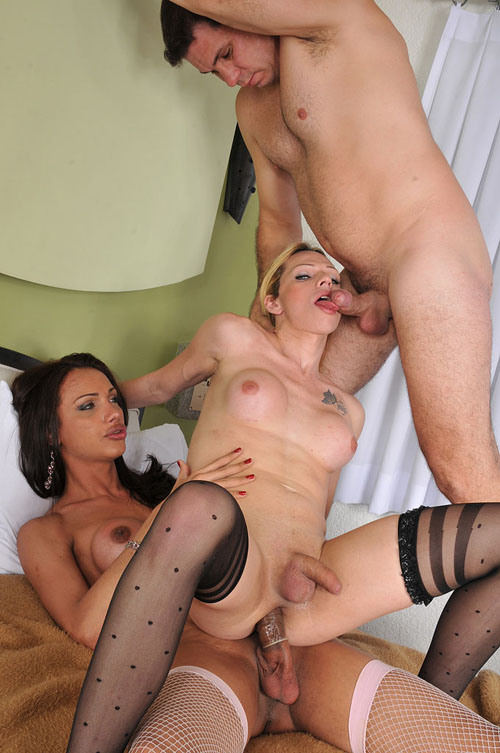 Alessandra and Leticia are a horny tranny pair that is going to blow your mind with how wild they get in the bedroom. Today they want to fuck the same guy together, so they're going to be gearing up for one hot tranny sandwich. There's nothing quite like seeing these delicious trannies tag teaming Paulo Machy, who has to be one of the luckiest guys around. Their cocks are out and flying in no time, and you'll find that these ladies just want to keep going harder and harder until they've ended up covering the room in their cum.
More >





(No Ratings Yet)

Loading ...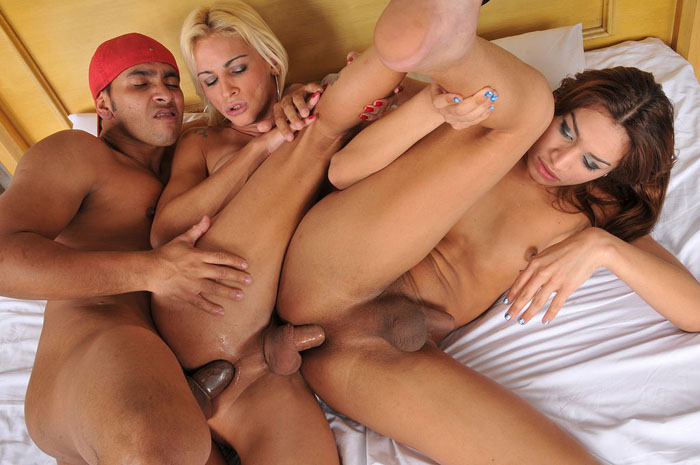 Dany and Suyane Dantas are gorgeous Brazilian trannies who are always looking for guys to enjoy – and today they're going to find a man that is all about getting in the middle of a tranny sandwich. Yago Ribeiro is an adventurous kind of dude, and he was all about seeing this double pair of dicks coming at him. Plus have you ever gotten a tag team tranny blowjob? It's the kind of thing that you're never going to be able to forget, and it's damn hot all the way. Now that's the kind of fucking you'll tell your buddies about forever.
More >





(No Ratings Yet)

Loading ...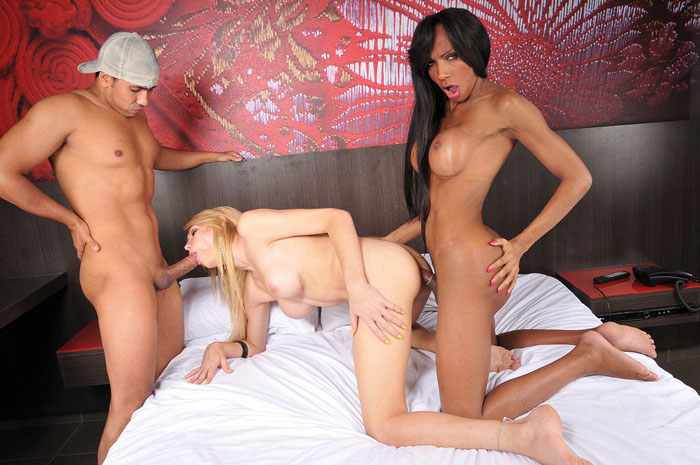 Yago Ribeiro absolutely must have his tranny fetish sated, so much that he's stepped it up to the next level by including two tasty she-males, Laviny and Ariadny Oliver to the mix! Yago tests out the darker Ariadny first, fingering her asshole and watching it pucker open and close like a goldfish breathing. As he's getting his cock sucked by Ariadny, blond bombshell Laviny makes herself useful and sucks Ariadny's long, dark dong. This tranny train ain't coming off the tracks just yet, because as soon as his knob is polished, Yago immediately starts butt-fucking Ariadny as she swallows down Laviny's thin pecker! Watch Yago screw, drill and pound out these tiny, juicy tranny fuckholes!
More >





(No Ratings Yet)

Loading ...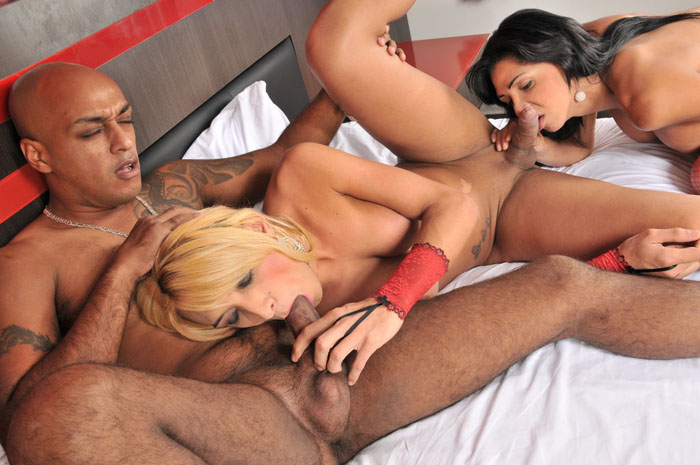 Two of hottest, mouth-watering trannies you could ever ask for: a blond scorcher, Jessica Kathleen and saucy brunette, Camila Close! Caught in between their sultry hot bodies is lucky shemale aficionado, Andre Garcia. Wasting no time, he plays with Camila's asshole as Jessica wraps her lips around his pole and sucks him off almost violently. Andre strains to keep from busting, he's got way more tranny ass and titties to satisfy. Seeing that there's an unattended femme cock, Camila makes herself useful and gobbles down Jessica's short prick. You'll be coming back for seconds and thirds with a tranny sandwich this fucking delicious. I guarantee it.
More >





(No Ratings Yet)

Loading ...