Black Shemale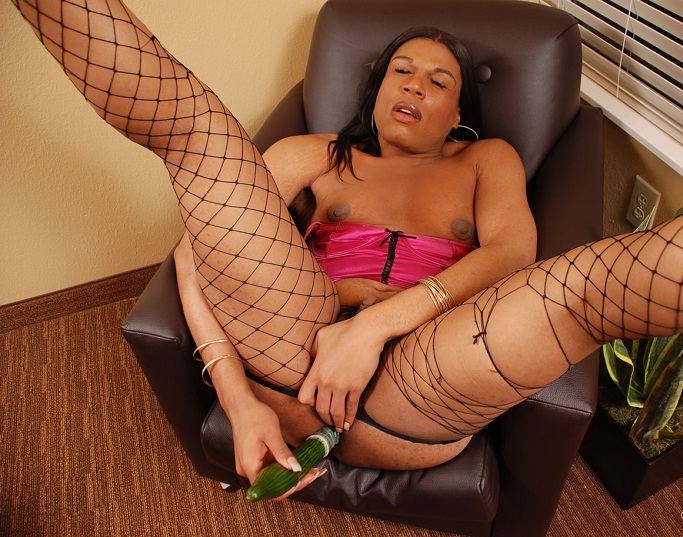 This stunning ebony shemale in her hot pink corset and fish net hosiery was a real pleasure to get on film. She loved dressing up in her naughty lingerie and spending time in the kitchen whipping all kinds of delicious delights. Not only did she know her way around the kitchen like a pro, but this shebabe also knew of all sorts of naughty things she could use those fruits and vegetables for that was just lying on the counter. And she really enjoyed experimenting and pleasuring herself with whatever she found handy. She showed off her shecock all lined up with her tasty assortment before choosing one to use for some personal play time fun. And while we watched, she covered her choice in a condom, set back in a chair while spreading her tight ass cheeks and toyed her fuckhole until her girl rod was hard and glistening with pre-cum.
More >





(No Ratings Yet)

Loading ...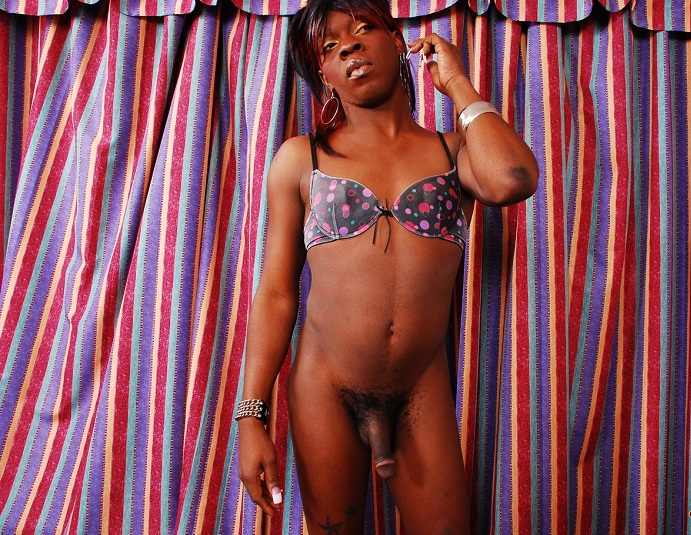 Tameaka comes across as very quiet and shy but when she gets her pants off she becomes one horny black bitch with a cock. She starts the set looking cute and demure sitting in the chair before standing to give as a better look at her firm sexy body. Wasting no time she pulls her dress up to reveal her bright red underwear and then turns to show her booty. Dress off she retains her sexy bra and then ever so slowly inches down her panties from behind. Here perfectly round and hard ass is centered by a nice tight cock craving asshole and hanging below are her large black balls and cock. She slides her panties to her feet and then stands and turns cock out in full glory. From the front we see she has a good patch of curly hairy pubes and some unusual star tattoos across one leg. She brings her legs up and gently strokes her dick and balls with both hands until her cock sticks straight up hard. She then reaches for the cameraman's cock which is only too happy to be sucked while she jerks her own dick. We get more views of her floppy but hard black shedink before she wants some more cock in her mouth as she gets ready to cum. When this happens it is a great flood of multiple gooey white eruptions which cover her thighs and torso.
More >





(No Ratings Yet)

Loading ...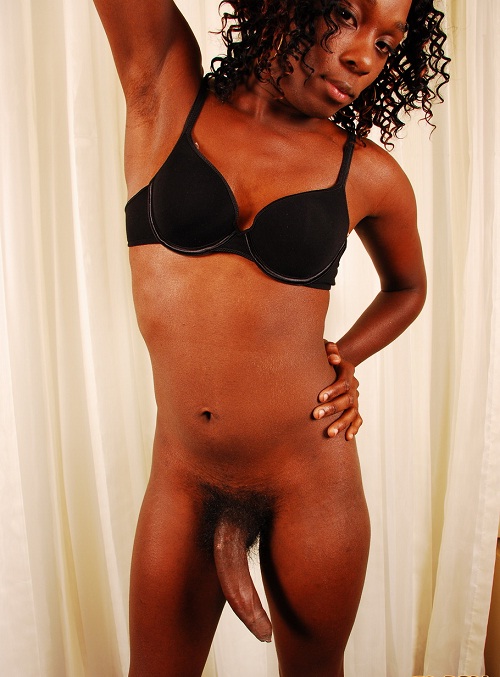 Klarissa is a black shebabe from Orlando who has a cute curly bob hairdo which frames her pretty face. She talks in a calm quiet baby voice which adds to her shy and sexy demeanor. Despite this she has no problem turning around and pulling up her tight satin black dress to show off her bright pink and white panties which she pulls down to give as a peek at her shapely black butt. Facing front she shows us her flat hard abdomen and then inches her dress up past her sexy navel. At the same time she slowly pulls her panties down first revealing the top of her bushy black pubes and then the hardening shaft of her brown shedick. With her panties at her knees we are struck by the excessive length of her huge hooded down hanging dick. Her curving cock grows longer and harder as she pulls her dress up over her shoulders and stands naked but for her black bra. The cameraman is humbled by a cock size comparison and then requests that she kneel and suck his throbbing dick while she stokes her own black meat pole. He lets her catch her breath before stuffing his dick back in her mouth as her dark dink rests at a right angle on her thigh. She is getting very horny and so spreads her legs and strokes her cock giving us a view of her black balls and hairy asshole. When she lets go her big black tapering tinkler hangs down like an elephant's trunk but springs up on her stomach when she gets some more oral pleasure. Kneeling on the chair from behind the vision of her beautiful big black booty is disturbed by the giant brown sausage sticking through her legs. Sitting in the chair she admires her enormous crotch meat before starting a long stroke that ends in a spectacular white cum squirting climax. She then plays with her gooey black penis with one hand while jerking the camerman's dick with the other until he anticlimaxes his load on her bra.
More >





(
1
votes, average:
4.00
out of 5)

Loading ...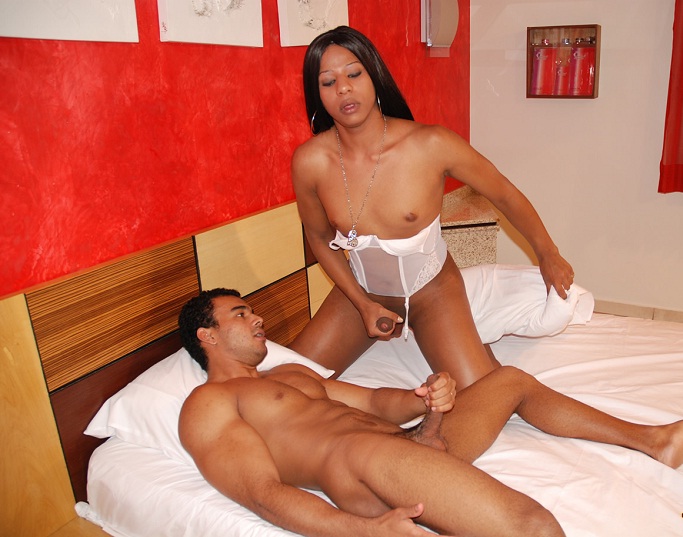 This ebony shemale with her long raven hair and tight bubble butt looked hot as hell in her white corset and her matching white thong. And this stud must have thought so too, because he couldn't keep his hands and mouth off of her. He wasted no time in getting her on the bed and her thong pulled down her shapely legs so he could get to her thick and juicy shecock. And this luscious T-girl loved having her girl pole sucked and licked. She even threaded her hands through his hair and pumped her woman shaft in and out of his mouth. But she wanted her taste of some meat too, so they positioned themselves on the bed for a cock sucking 69. Their lusty hands and mouths went to work pleasuring each others hard shafts and it was clear to all of us, they were loving every moment. But when things got really hot, this shemale babe couldn't wait to bury her girl pole in that ass.
More >





(
1
votes, average:
5.00
out of 5)

Loading ...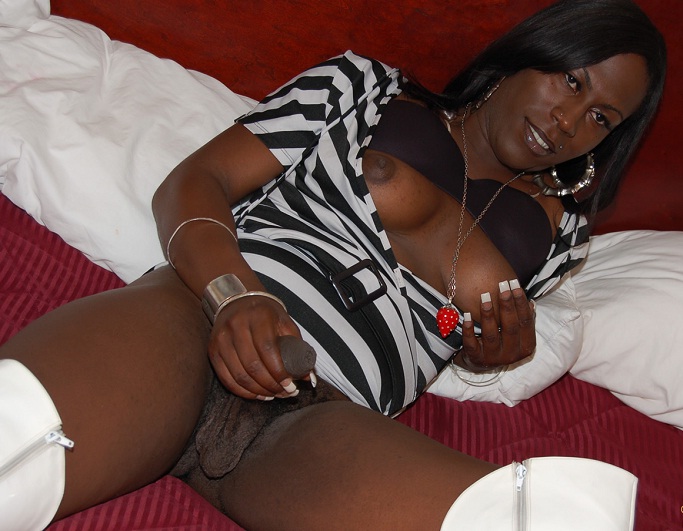 We found this sexy black T-girl at a club downtown and we knew she would be perfect on film. Her body was firm, hot and ready to rock and she had an ass that looked just perfect to go spank crazy with. This gorgeous ebony shemale had perfect handful size boobies and a long, thick shecock that she loved to stroke until she was hard and throbbing. She was enough to make you cream your jeans in her black and white striped mini dress that barely covered her firm ass and showed off her dark skinned tits. Top it off with those lickable thigh high, white leather boots and this shebabe could melt you to a puddle at her feet. She teased us by flashing her sweet rack while licking her full, sensuous lips with her soft tongue. And once she slid her panties down and exposed that thick and meaty girl pole, we knew we had hit the shemale jackpot.
More >





(No Ratings Yet)

Loading ...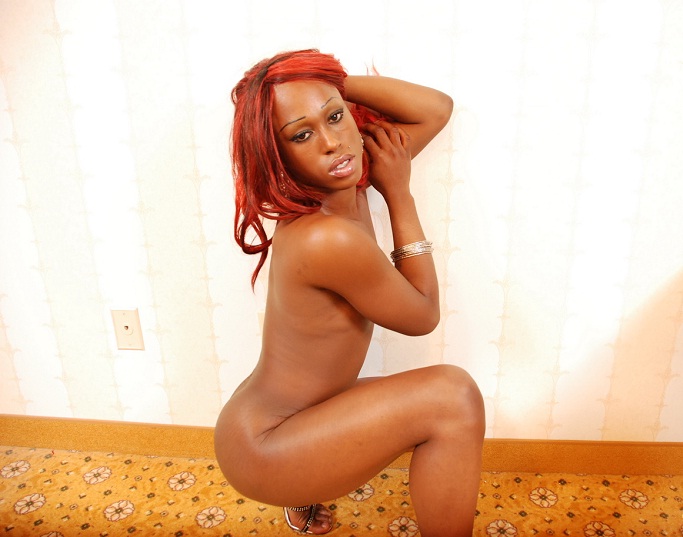 Holy hell, this ebony shemale was incredibly hot and sexy with wicked dark eyes and luscious full lips. Her long hair was streaked black and fire red and her body was sinfully sweet. She was dressed in a sexy matching halter top and mini skirt outfit that left most of her luscious dark skin bare. And that mini skirt didn't even completely cover that tight, bubble ass. Every move she made gave tasty glimpses of her brown buns and was an irresistible treat to see. She was definitely one sultry T-girl and she really enjoyed showing off her sexy self for the camera. She slipped out of her clothes with sensual slowness, keeping her shecock covered just to tease us mercilessly. But once she got her mouth on that man meat, her girl pole got too long and hard to hide. And before long, she was squirting her cum all over her shapely thighs.
More >





(No Ratings Yet)

Loading ...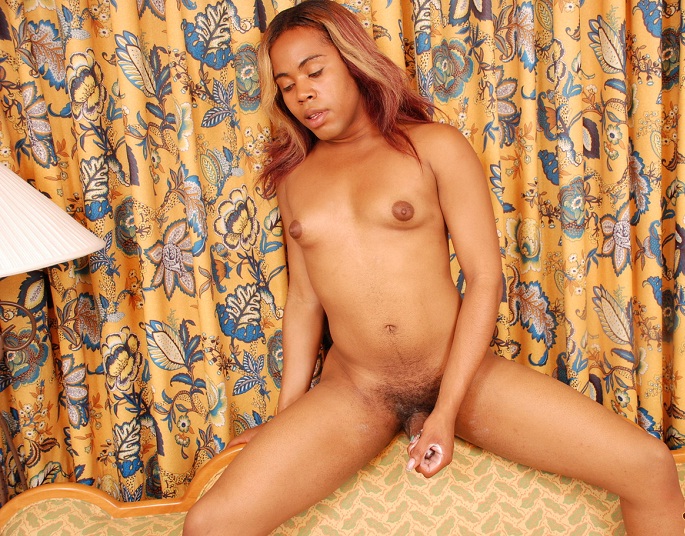 This strawberry blonde ebony T-girl was a real cutie and she loved to show off her sweet body and fat shecock. She stripped down totally naked baring every inch of her sexy body and posed while we got it all on camera. This shemale admitted that it was a real turn on having so many eyes on her and we could tell by the way her girl pole was growing and getting hard, she was getting hotter with each passing second and every click of the camera. She made herself comfortable on the sofa while she covered her girl shaft with lotion and began to tease and rub her long, thick shecock and play with her tight ass. The more she tugged, the more she moaned and her hot little ass began to squirm. And in no time, this horny shebabe was shooting her cum load all over her hand and stomach.
More >





(No Ratings Yet)

Loading ...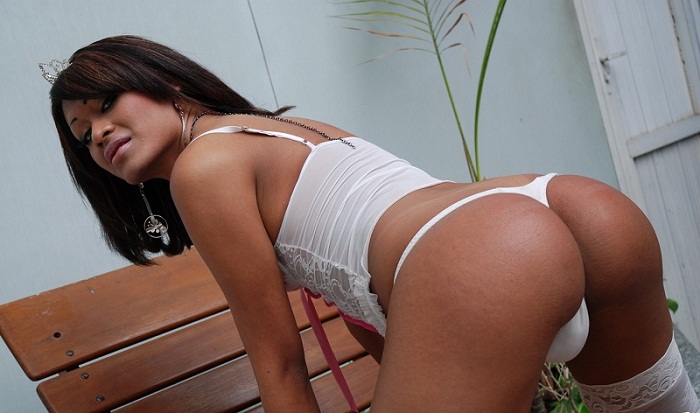 The ebony shemale beauty Taciely, has a sleek and slender body with long legs and big shecock that is sure to please naughty desires of all the tranny lovers out there. Taciely was dressed in her white corset, thong and thigh high stockings and made her dark skin look even more lickable. She slowly stripped and began to rub lotion all over her body and huge girl pole right outside on the patio. And once she started working that cream on her girl dick, it only took moments until she was rock hard.
More >





(
2
votes, average:
5.00
out of 5)

Loading ...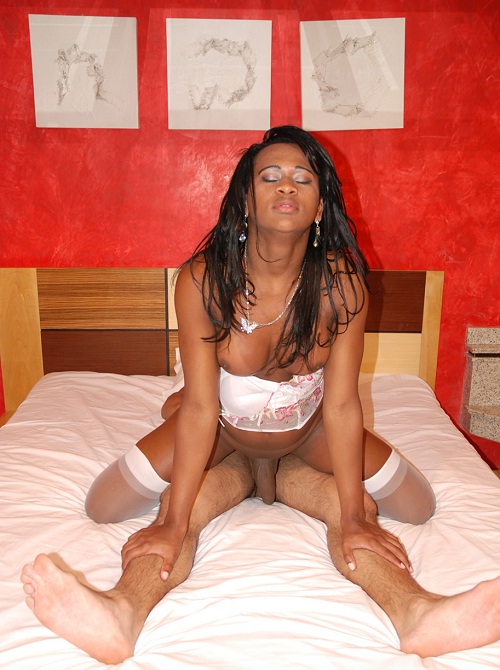 This horny ebony shemale beauty was a mouth watering site to behold in her white corset and silky white, thigh high stockings. She was definitely ready to play when we met her so we hooked her up with a big cock stud and got every moment of all the ass fucking, cock sucking frenzy on film. This guy definitely didn't waste any time getting her corset pulled down and nibbling on her big, firm titties. And this lovely T-girl knew exactly how to handle his thick shaft. She sucked him hard and deep in her warm mouth and let him push his cock deep down her throat. And when he was throbbing hard and ready to pump her sweet shemale ass, she straddled his hips and let him bury his man meat in her tight fuckhole. He rammed her ass while she stroked her shecock until she spewed her load all over her stomach.
More >





(
1
votes, average:
4.00
out of 5)

Loading ...


Patricia Voguel is one sleek shemale babe with a dark skinned shecock she loves stroking on camera. She reclines in her lounge chair as she slips off her red bra and slides her white thong down her long legs. Patricia teases her girl pole into hard life before stroking its length from base to head. She squeezes her chest and pumps that chick dick hard knowing she is on her way to a cum spewing orgasm that will have her load shooting like a fountain out of her tasty shecock.
More >





(
1
votes, average:
5.00
out of 5)

Loading ...