Black Shemale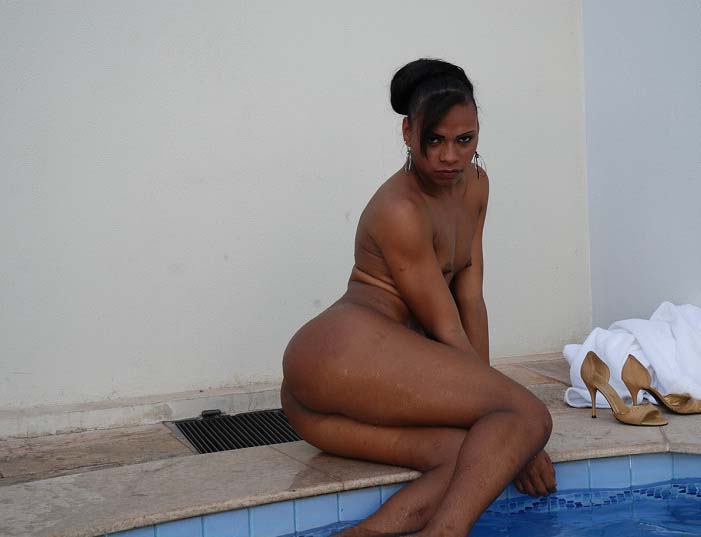 Tamires Vidall is a lovely Latin tranny chick with very long hair, a hard body and a plump shecock that she loves playing with. She strips out of her robe showing off every inch of her dark skin body including her muscular ass before stepping into the pool for some naughty playtime. Tamires splashes in the water letting the water sooth her hot skin. Then she strokes her thick girl pole until it is standing erect and ready to release her creamy cum load all over her tummy and thighs.
More >





(No Ratings Yet)

Loading ...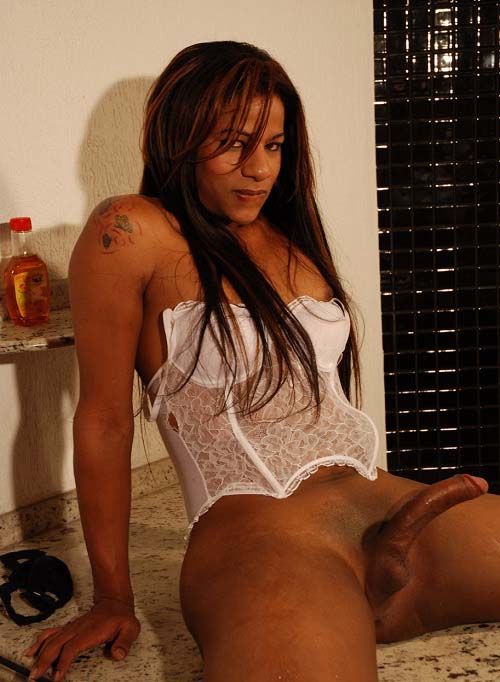 All that sexy dark skin and long brunette hair makes this stunning shemale a real babe. And Luana is one t-girl that loves getting naughty when she's in front of the camera. She slides her corset low to show off her chest and dark nipples then she is sticking her plump ass in the air and dribbling her cheeks with honey. This shemale babe loves to play and get kinky and she lets that honey drip out onto the head of her shecock before she strokes the hard length.
More >





(
1
votes, average:
5.00
out of 5)

Loading ...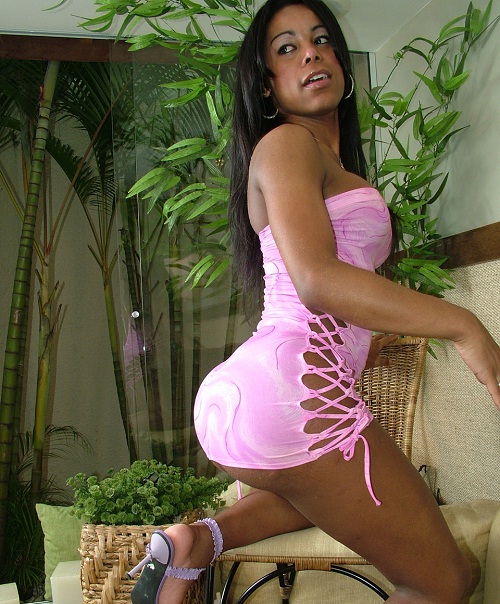 Everyone loves deep dark chocolate. It is bitter and sweat at the same time. This hot chocolate babe will make your cock get hard as she slowly wiggles that phat ass in your face. She has a damn tight body and she looks sweet in that hot pink dress over that dark chocolate. Once she strips down she gets out some whipped cream and starts to squirt her nice round tits. She takes her time getting her whip cream and spreading it over her she cock rubbing it in and making your mouth water. She wants to make sure she feels every inch and you can tell she is enjoying it by her moaning and the way her eyes roll back into her head as she squirts out her own load of whipped cream.
More >





(
1
votes, average:
5.00
out of 5)

Loading ...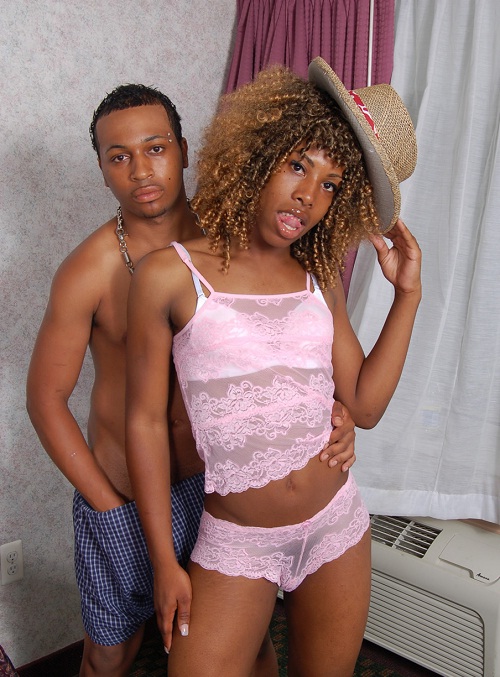 Pretty in pink and ready to play! This sexy babe with her blonde curls and ebony skin is one luscious shemale that loves strutting her stuff for the camera. This T-girl was a tasty treat for the eyes in her pink lace lingerie. She posed for the camera before stripping off her lacy boy style panties and setting her juicy shecock free. And this black stud found her so irresistible he willingly bent over the bed allowing this shebabe to play with his ass and fondle his balls until he was moaning and hard as a rock. This hottie might have looked innocent in her pink lace and blonde curls but you could see the wickedness in her dark eyes. And once they pulled out the bottle of lotion, he lubed up his cock and it was her turn to bend over and get her shemale ass pumped full of fat man meat.
More >





(No Ratings Yet)

Loading ...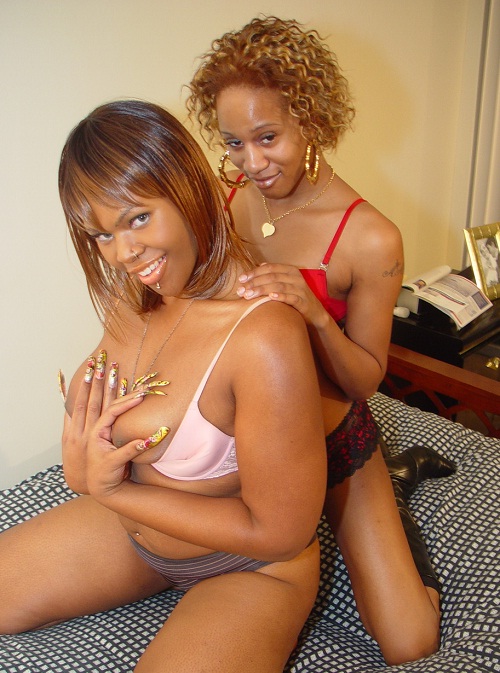 These two ebony beauties were totally hot for each and they were kind enough to let us join them for an afternoon of personal playtime fun and get all the hot and steamy action on film. The lovely shemale babe was blonde and petite with a long and thick shecock she proudly displayed for us and the camera. And her lover was a sexy full figured babe that loved showing off her ample booty and nice tits. They loved posing together and slowly stripping away each others bra and panties, teasing each others dark nipples with their moist, pink tongues. No time was wasted with these two chicks. They were constantly fondling and teasing each other until it was time to get down to some serious shecock sucking. This T-girl spread her slender legs while her lover got on all fours with her dark ass in the air and sucked her girl pole like a pro.
More >





(No Ratings Yet)

Loading ...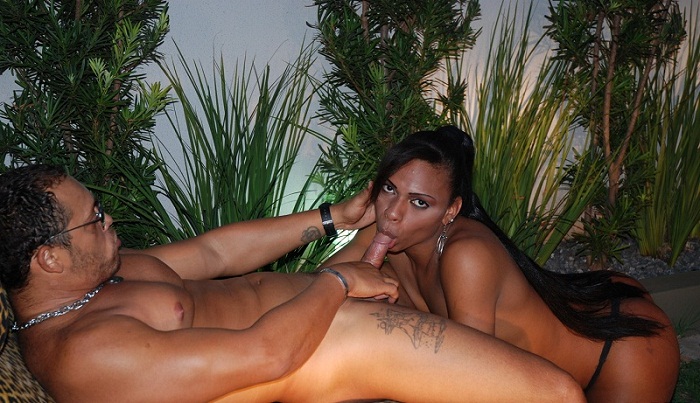 This dark shirtless dude is lounging around one night when ebony shemale Tamires waltzes in looking for some hot black dick action. The brown shebabe with the big bouncy booty pulls off the studs pants and then whips off her top to reveal her flat chest. She sucks his dick stick hard and this gives him a taste for some succulent black shemale ass. She sucks him some more and then pulls off her panties to show she also has a big dink between her legs. Now rock hard the guy sticks his shaft in her brown eyed poop hole and switches between fucking her doggy style and then missionary position. After reaming her good he finally stands and strokes his ball juice in her face as she jerks her own penis. The nights work ends with her solo stroking her shedick until she squirts a creamy white load of jizz on her sweaty stomach.
More >





(
1
votes, average:
5.00
out of 5)

Loading ...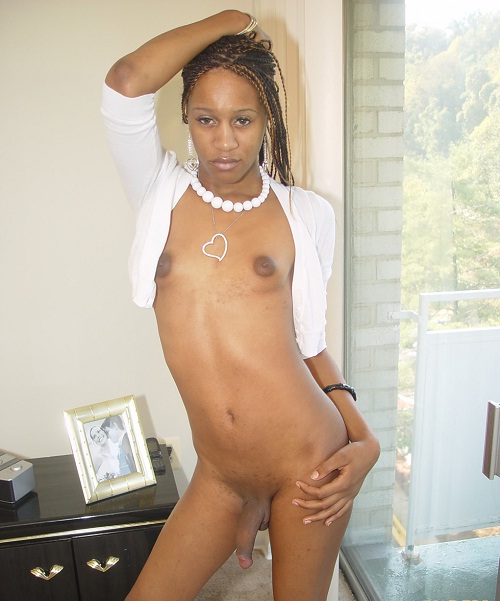 Shy, sexy and oh so hot. This lovely ebony shemale with her long dark hair and tight, slender body was a lusty site to behold. And watching her pose in her skimpy top and panties, with knee high leather boots and fishnet stockings was about to drive all of us crazy and had us ready to drool. Her movements were so sultry and graceful as she began to strip for the camera. And watching her stick that small, round ass in the air was a temptation almost too strong to resist. She unclasped her black bra and teased her tiny tits with their big, dark nipples before sliding her panties and stockings down her legs and revealing her thick and succulent girl pole. She stroked her shecock while giving us an awesome view of her tight, round ass. The more this T-girl stroked, the harder she got and it wasn't long before she was moaning and creaming in ecstasy.
More >





(No Ratings Yet)

Loading ...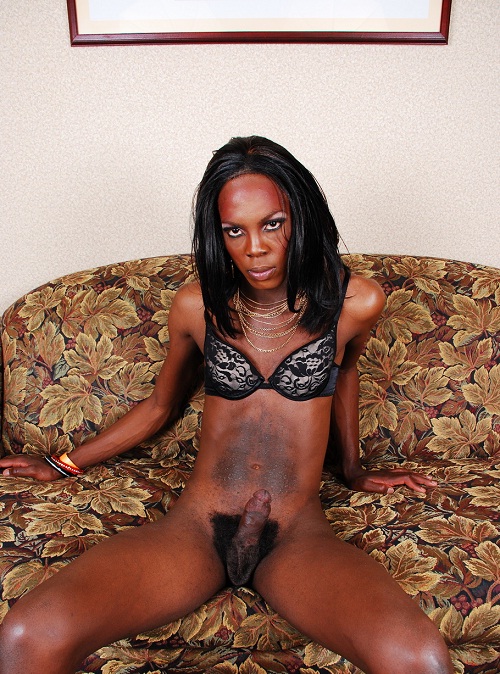 Super slim and bony Bianca showed up at the room one evening for a black shemale boning. She came with full face paint, lots of gold jewelry, tight black leggings and bright red blouse and strappy heels. She has great extension of her long slender limbs and this makes us think her girl pole also has more than adequate length. Slowly removing her baggy top with her skinny vein protruding arms we get a load of her svelte bare wasted body save her black lacey bra. Her stick figure is interrupted only by her bulging black booty which appears much smaller when she removes her pants. Foot fans will like when adjusts her heel straps before standing hands on hips with only the small triangle of panties covering her huge crotch bulge. The cameraman takes a peek under this to see her large curly black mound of pubes and tucked cock before getting his own throbbing white dick sucked by this shebabe. You can see her bulge growing as she slurps every square inch of his dick and balls. She finally bares her bum as she strokes her dink and then turns to compare cock size with the dude. She then sits on the couch with her huge hard fat dark dick waiting for another turn to satisfy her oral craving. This gets her so hot she spreads her legs and lubes up her tight butt hole in anticipation of cock in ass. Our guy makes her wait getting several more BJ's and poses out of her from different positions. Finally obliging her he inserts his dick in her ass and pumps until he pulls out and blows cum all over her torso. Drenched in this creamy load she jerks her own hard cock to add several ounces of jizz to the sticky mess.
More >





(No Ratings Yet)

Loading ...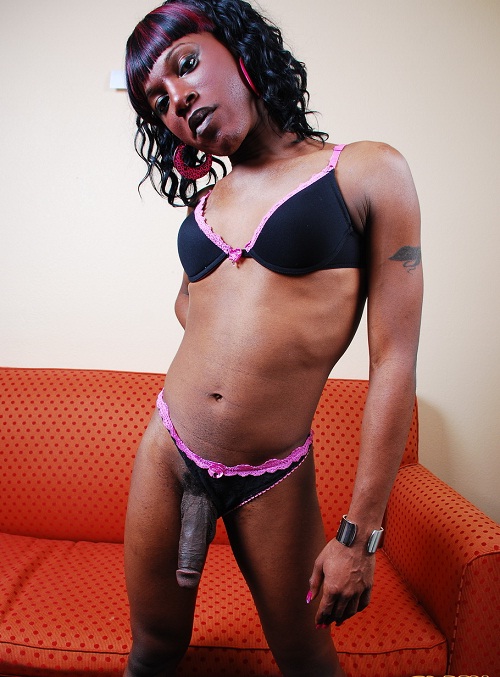 Lovely tall slim Amber came like a shining star out of the dark an lonely night. She showed up ready for business wearing only a bra, mesh body stocking and jeans. Below her pretty face she has square shoulders, somewhat muscular arms and her torso tapers nicely to her waist. With jeans off we see this girl has a slim shapely booty and quite a large bulge in her frilly pink and black panties. As she sits on the couch with legs spread we wonder what is under the inner triangle in the crotch opening of her stocking. Just to make sure she doesn't have any ED we let her suck on the photographer's big dick and we are rewarded when her huge swollen black cock and balls emerge from one side of her underwear. She squeezes her dark meat by the base below her scrotum as she sucks some more dick before sitting on the back of the couch and letting her giant chocolate penis hang free. She is proud of and loves modeling her big black shedink and gives us many nice views before poping her dark nippled hormone tits out of her bra. She then sits and strokes and it is amazing that her cock just keeps growing longer and harder. She begs to suck more cock while she jerks and instinctively puts her hand to protect her face when the cameraman fires his huge cum load at her. Not to be outdone she goes to work with two hands on her own tremendous tool until she milks and enormous squirting cumshot all over the mirror below.
More >





(
1
votes, average:
4.00
out of 5)

Loading ...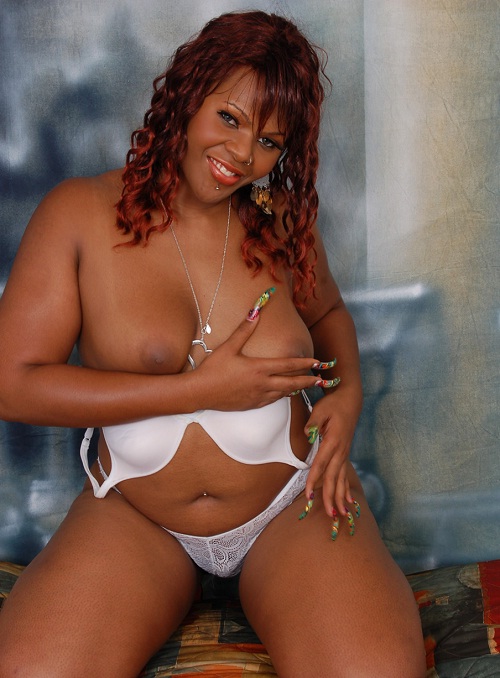 Break down straight ahead! And what were we lucky enough to find standing beside the open hood of this car but an ample bodied, red headed ebony shemale. Being the nice guys that we were, we decided to go over and see if we could help this full figured T-girl out of her car crisis. She was having problems getting service on her cell phone to call anyone so when we offered to take a look under her hood, she was happy for the help. Turned out to be something simple and we had her up and running in no time. She was so grateful, she offered us a lift back to our apartment and even agreed to come inside once we got there. Turns out this hot shebabe loved the thought of being on camera and before the afternoon was over, she was stripped down to her white bra and lacey panties stroking her fat shecock until she was spewing her creamy load.
More >





(No Ratings Yet)

Loading ...