Black Shemale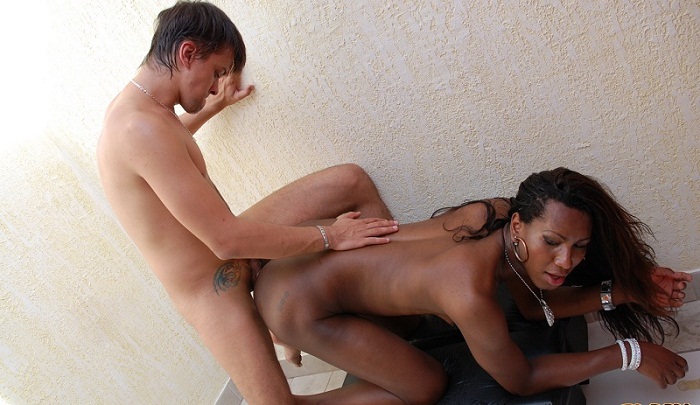 This luscious ebony shemale loves showing her stuff on camera almost as much as she enjoys fucking and sucking a juicy cock. Latoya Prado is a tall tranny babe with long legs, awesome curves and a plump tight ass. This horny stud definitely seems to like the way this shemale babe looks and smacking her thick butt cheeks. He sucks and nibbles the dark nipples of her tiny tits while he fondles her juicy shecock through her yellow thong. But he is anxious to get her completely naked and have full access to that thick girl pole. And Latoya loves every second of having his mouth sucking on her shaft bringing her to hard erect life. He straddles her thighs while she shoves her shecock deep inside his ass and lets him ride her rod while she pushes deep inside his ass. Then it's her turn to have her tranny ass pounded with a hard dick and she plays with his ball sac and strokes her girl pole while he pumps her ass full of his bulging hard man meat.
More >





(No Ratings Yet)

Loading ...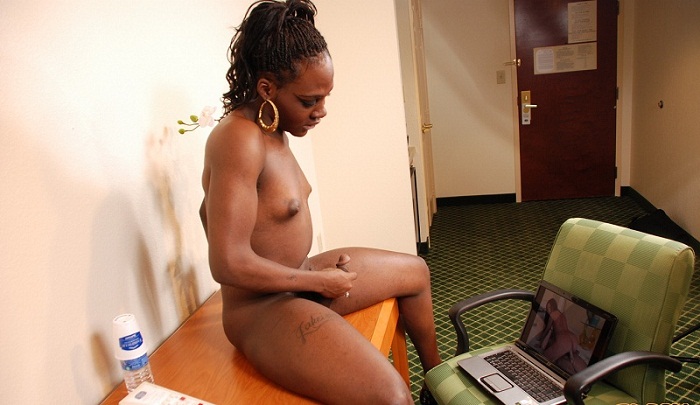 Everyone should get to have co-workers this sexy to make the work day a whole lot more pleasurable. This full figured ebony T-girl was one scrumptious temptation in her sexy fish net stockings and short black coat. She proved to be super efficient when it came to handling all her duties and working on her laptop. And wow, did she ever possess some great customer service skills. All we could say was that must have been one satisfied customer after witnessing that phone conversation. In no time this shemale babe was stripping out of her office clothes and down to nothing but her black high heels. And she let her 'customer' know exactly every move she was making. She stroked and teased her shecock until it was standing at full attention and before long, this ebony shebabe was moaning in hot rapture and squirting her cum all over her thigh.
More >





(No Ratings Yet)

Loading ...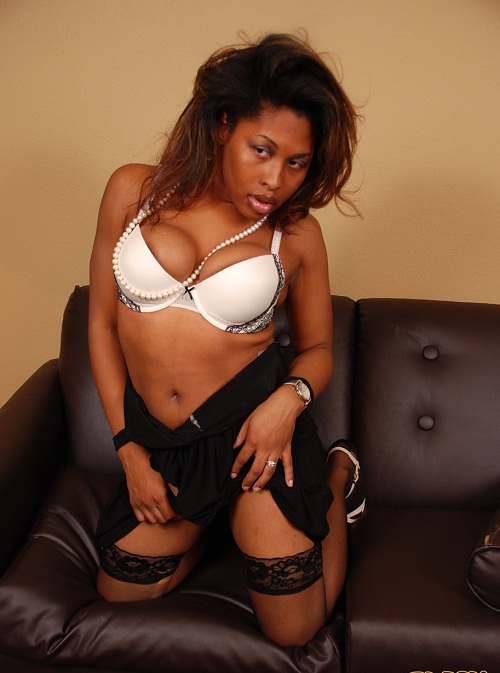 This ample bodied, ebony shebabe was a sexy piece of lust on high heels. Her sexy little black dress showed a delicious amount of cleavage and skimmed her curvy ass and hips like a lovers hands. And those black, silky thigh high stockings added even more sensuous appeal. This lovely T-girl posed and teased the camera slowly stripping out of her dress and revealing inch by dark inch of skin. She slid her bra straps off her shoulders and set those big titties free, squeezing them and fondling her big, dark nipples. She even held those puppies up so she could lick her own dark peaks. But the real excitement was when she slipped out of her white panties to reveal her huge, thick shecock. It was amazing it even fit in her tight panties. And once she oiled it up and began to stroke and pump, that shecock grew to extreme proportions.
More >





(No Ratings Yet)

Loading ...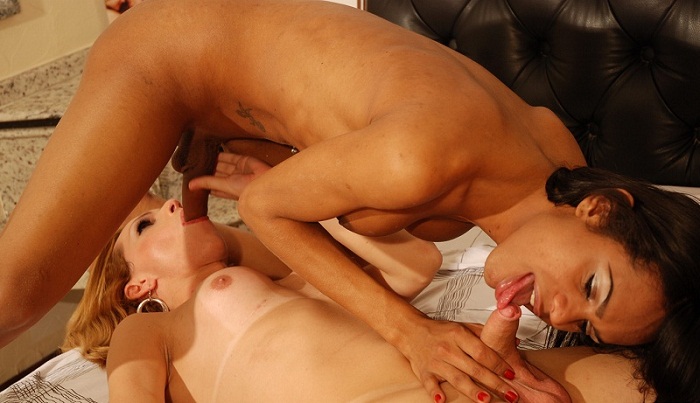 These two horny shemales couldn't wait to get their hands and shecocks on each other. Alessandra and Kawana take turns sucking each others girl poles taking those rods as deep down their throats as they can. All that mouth teasing gets these t-girls ready for some serious ass fucking. They ride each others chick dicks and let the other pump their ass full of female shaft in every position they can come up with until they are squirting their creamy loads on each other.
More >





(
1
votes, average:
5.00
out of 5)

Loading ...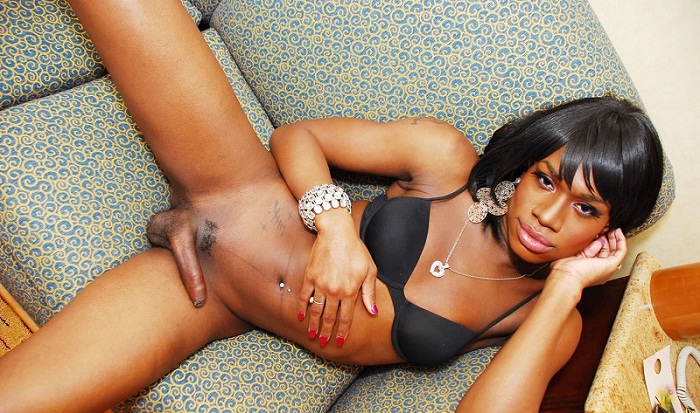 You can by the look on this black shemale babe's face she loves getting that big white dick in her mouth and sucking the hell out of it. She keeps up the mouth work while jacking off, gets her mouth filled with cum then spews her own jizz load.
More >





(
1
votes, average:
5.00
out of 5)

Loading ...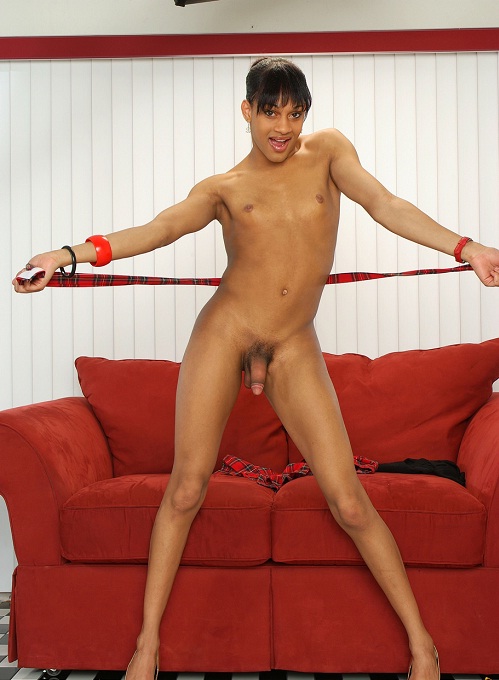 Cute Casey knows she has to come home right after school every day. If she doesn`t the boys may find out about her big secret. But once she is home alone this teen beauty is free to do what she wants. Instead of doing her homework she tosses her books aside and starts to tug off her school uniform. When she bends over we can see she isn`t wearing any panties under her short sexy plaid skirt. When she spreads her legs we see her hidden surprise and we understand why her horny home room teacher gives her detention so much. As she paws at her penis it grows long a fat with a pointy pink head. She is thinking about all the sexy boys in class who stare at her and wonder if they know she has a big dick. This gets her horny so she strips naked so we see her perfect smooth light black skinned body. She stands posing remembering the first time she let her teacher suck her long hard dick. She plays with the ribbed dildo as she remembers how he then fucked her tight asshole raw. Just like at the end of that lesson she jerks her big black cock until is shoots creamy white cum on her flat chest.
Photographer`s comments: My impression of Casey. This was her first photo shoot and she was a natural. She loved modeling and seemed to be prepared with posing and outfits. She was very flirty and loved to be touched. She likes to dominate men but seems to be more submissive type to me. I loved her big eyes and lips. She loved to tease when the camera was rolling.
More >





(No Ratings Yet)

Loading ...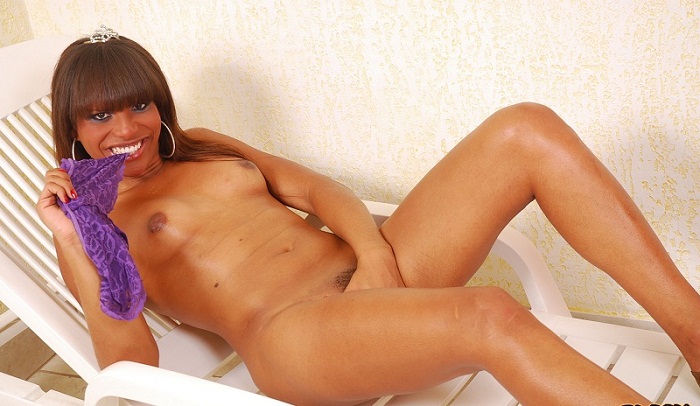 T-girl Melaine is such a hottie with her long red hair, beautiful smile and tight body. She knew how to grab the attention dressed in her black satin short outfit with the purple lingerie underneath. When she spreads her long legs, her shorts expose her nut sac just enough to tease you until your toes curl. And this hottie doesn't leave hanging, she strips out of her clothes and shows off her sweet ass and pumps her thick she dick until she spews her creamy load on her tummy.
More >





(
1
votes, average:
4.00
out of 5)

Loading ...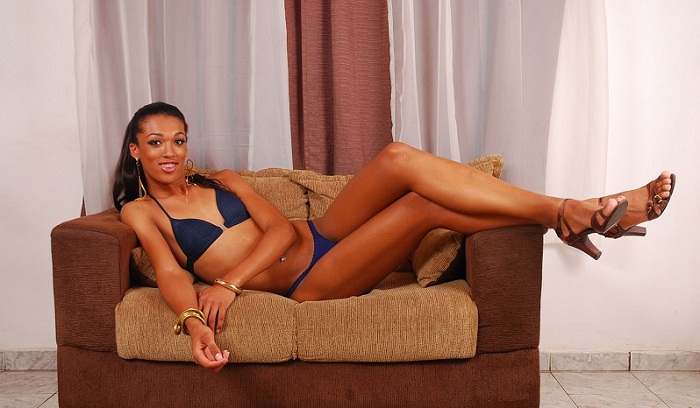 With her long dark hair and long slender body, Stefany Perrony is a lovely ebony shemale that can really steam up the camera. She is dolled up in her a short gold dress that looks awesome against her dark skin. She has tiny tits, a toned body and a small shecock she loves to stroke until she squirts her milky load. Stefany slips off her dress and slides her panties down her long legs before lying back on the sofa and teasing her shedick into hard life and she doesn't stop pumping until her jizz is flowing like a fountain.
More >





(
1
votes, average:
5.00
out of 5)

Loading ...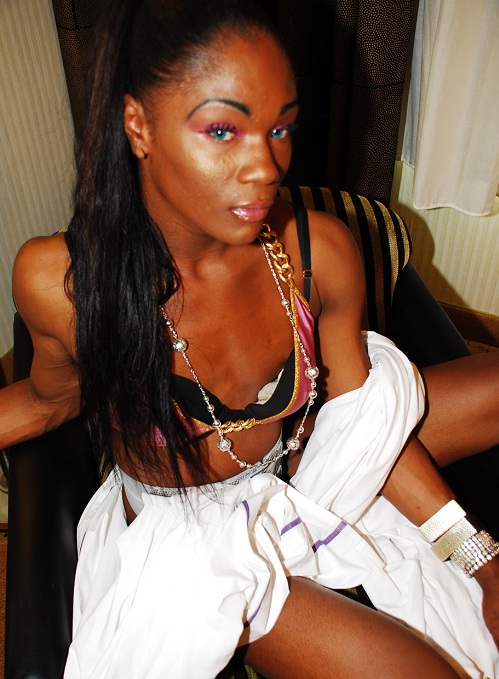 Drop dead gorgeous Alexis can be found burning up the mean streets of LA. This super sexy shebabe owes her exotic look to a mix of native Indian and obviously black blood. She dressed up real nice and slutty for the shoot and posed very well for a first timer so much so that we took way more fully clothed pics than usual. I love how her torso is so hard and flat and the hint of pubes on her lower abdomen. Jeans off her G-string cannot hide her hairy crotch bulge and we also get a look at her lovely ass. She poses with my cock and then spreads her legs until out pops her huge hard curving she-shlong. She looks even more beautiful stroking her long slick meat stick. She returns the favor to me with her free hand before she squirts her load which makes me cum on her cock and balls.
More >





(No Ratings Yet)

Loading ...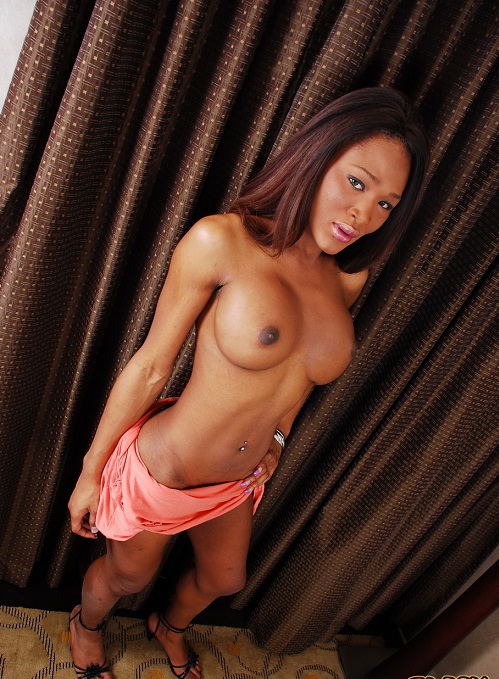 With this new set of gorgeous giant gazongaed Janelle I can honestly say we are living up to our name. This sultry ebony babe came dressed in a skimpy pink dress that showed off all her curves. She has a lovely mane of long brown hair that falls past her sexy shoulders which recede to her big chest. She slowly turns giving a multi-angle view of her simply beautiful bulging round booty which she bares to reveal a to large cock hardening ass crack that her thong disappears into. When she faces front again we see despite her ample curves she has a hard flat bejeweled stomach and the tiniest piece of patterned cloth covering her crotch bulge. Without warning her dress falls to her waist and oh my lord will you look at the size of her huge new fake tits. Clearly proud of these volleyball like chest ornaments she stands hands on hips before stripping to her thong. It is impossible to resist offering this babe a throbbing cock which she greedily sucks and dabs on her big nipples. She then turns to spread her cheeks and it is no surprise that this black beauty has a perfectly fuckable brown hole in back. But when she shows us she also has a long hard black cock it is truly astounding how flawless her body is. She shows off this statuesque figure from every angle before getting down to some serious dick sucking. It isn't long before her big new boobs get christened with a flood of gooey cum which drips down her torso. Horny now she straddles the glass table and jerks her dark meat as her huge chest heaves until she squirts out her own dick juice.
More >





(
1
votes, average:
4.00
out of 5)

Loading ...