Fah, Nat, Ohm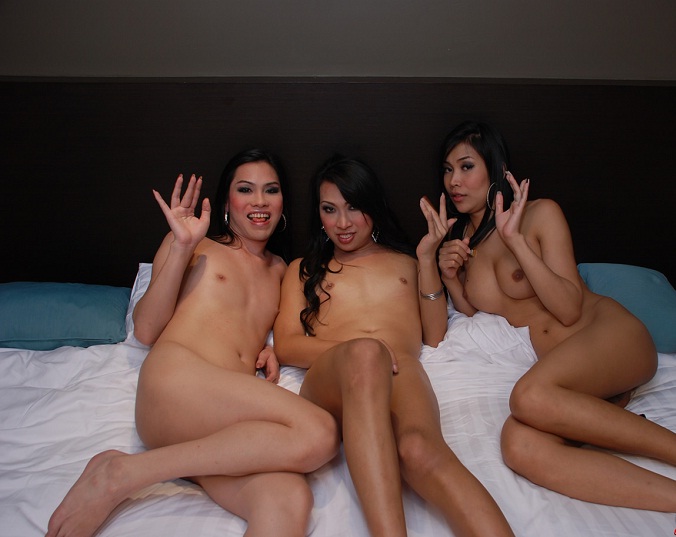 What has 3 cocks, 6 tits and countless places to get your cock fucked sucked and jerked? Why three gorgeous ladyboys from Guess Bar of course. This trifecta of black haired beauties is a good sampling of the fillies at premiere ladyboy stable in Thailand. They come to the gate dressed in slutty revealing bar wear. Ohm had her skimpy cocktail dress which along with her pretty blue lace bra make a poor attempt at hiding her perfect round boobs. Nat with her with her backless metallic halter turns because she knows her best asset is her big round booty which is jammed into some very short shorts. Fah too has shorts along with a black lace camisole that is a bit tight for her rather square midsection but her most appealing feature is her long ringlets of thick raven hair. After seeing close-ups of their faces we must give best in show to Ohm with her incredibly exotic eyes, full lips and pointy little shin. Nat is a close second with beautiful eyes, arched expressive eyebrows and often slightly scowly mouth which seems to say come fuck me. Poor Fah is a distant third but she does a good job working with what she has with her expertly mascaraed and shadowed eyes. Unfortunately there is no way to hide her slight pudginess and of course the serious underbite which gives her a permanent pout. When they show us there haunches Nat easily wins this contest and is not shy about showing the cock hardening crack in her wonderful ass. With all sitting on the bed fooling around it pretty obvious Nat is the horniest as she shows as her swollen balls being squeezed out the sides of her white panties. But before further nudity ensues the girls jump up and start to dance and throw pillows at each other. Ohm is the first off the mark to get naked and we can see that this girl has a perfect body to match her face. Nat is next showing off her flawless milky white skin, nice body and very small nipples. Again Fah is not in the running with the other two body wise with her few extra pounds and squarer shoulders. They all have similar sized dicks with Fah having a slight edge but she also finally takes first prize in something with her massive meaty balls. The race to the finish line begins with the side by side triple jerk with both Fah an Ohm focusing on their cocks while Nat lays flat eyes closed dreaming of fucking her boyfriend as she massages her nipples. Nat props in the same position as the others for the final sprint and Ohm cums out on top as she does in most other areas. Nat has a quick peek at some porno on her phone before laying back down to jerk a clear load from her pink dink to show second. Third place goes to Fah but she is redeemed by her giant scrotum which she methodically pokes until it squirts cum up and out the end of her cock and back down on it. The three fillies cross their legs to hide their spent cocks and wave goodbye before returning to the paddock.
The original plan was to shoot Ohm and Nat separately. But they showed up together with Fah in tow but I was tired, so I said what the hell, let's do a threesome, it'll go quicker. So I hope you guys appreciate this because it's not like I get a discount when I hire two or more girls to do the shoot. Actually it would be a foursome if I had participated which I did a bit but only off camera as Nat and Fah needed a little extra attention to stay hard and get ready to cum and I'm always glad to oblige. They were really a pleasant group to work with like most Guess Bar girls. Nat is by far the horniest, Ohm is sweet but a little distant and Fah is a touch gruff with her truck driver voice. I don't know her too well but from a looks perspective I don't think you could find a better girl than Ohm. I think she is one of the prettiest girls in Thailand (real or otherwise), with a perfect body and great tits. Nat is also quite appealing and is somewhat aggressive (to get you to take her home) in person but I find this attention welcome. She apparently is getting boobs soon which I think is the final puzzle piece to make her astounding. Fah could of course stand to lose a few pounds and I was pleased to see that she has in some recent pictures that I'll be posting to the forum. She has lost weight on both her body and face and is now looking much more feminine but no word on her baritone voice.




Format: WMV
Resolution: 1280×720
Size: 484 MB
Duration: 15:59 min
Download Video
1108-Fah-_Nat-Ohm-SM.wmv
Download Photo Set
1108-Fah- Nat-Ohm-SM.zip
Related posts:
No comments yet.
No trackbacks yet.
about 2 years ago - No comments
This is a tiny little gnat of a girl coincidentally named Nat except for the fact that she has a huge cock. She starts the set combing her fake hair as she stands in her skimpy orange outfit and fishnet stockings. You can see every ripple on her bare midriff and when she sits down…