SOLO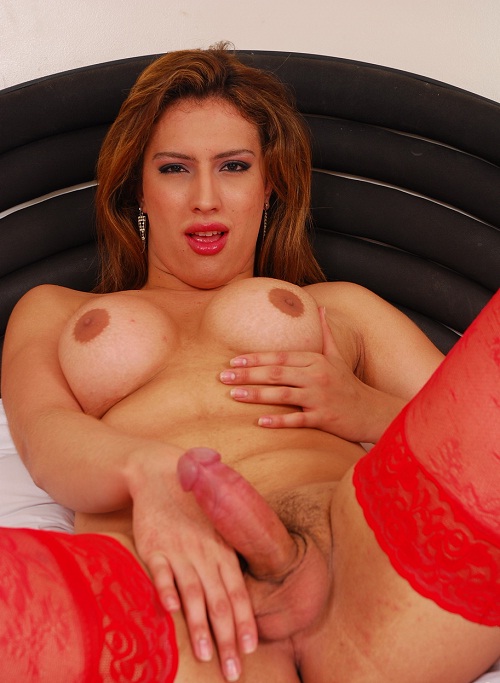 Redheaded Patricia Bysmark looks like a wet dream in her red lingerie and thigh high stockings on her shapely legs. She is a real tease taking off her clothes and fondling her big boobs. Once she gets her panties off she uses a finger to tease her tight asshole while her plump shecock gets hard and keeps growing until it is huge and throbbing. Patricia yanks on that meaty girl pole crying out in ecstasy as she shoots her load on her stomach and almost to her big rack.
More >





(
4
votes, average:
4.00
out of 5)

Loading ...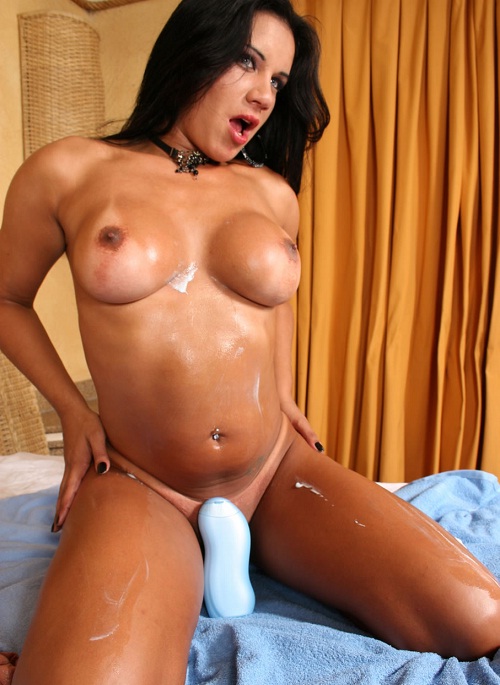 This horny brunette shemale with a phat ass and nice tits decided she needed a break from the men she was dating. They were just jerks, and the sex wasn`t that great for the shit she was putting up with! She is all alone in her bedroom and breaks out her lotion and squirts it heavily on her tight abs and spreads it slowly along her body until she reaches her thick shemeat. This is one organ she takes her time in stroking and making sure that all the lotion makes it all the way around and down onto her balls. She loves how it feels and she lets that good feeling build until she sexplodes all over her tummy.
More >





(No Ratings Yet)

Loading ...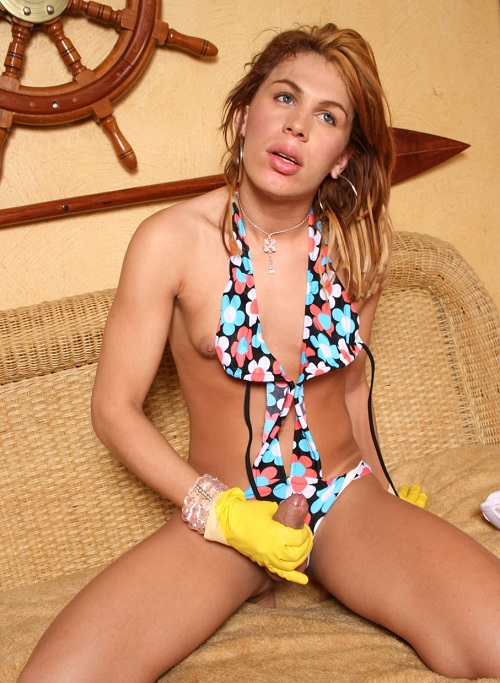 Everyone`s apartment gets dirty and sometimes you just have to take the time to clean. This horny shemale, puts on her cleaning outfit, and gloves and starts around the apartment to give it a good cleaning. It never fails she seems to bee line right to the bedroom over and over again; until she just gives up and decides to clean her shemeat before the rest of the apartment. She even has her gloves on, but once she touches her cock with those gloves, there is no taking them off. She strokes and fingers herself as she moans and humps into the bed. She loves to hump and stroke at the same time until she just blows her load all over her clean sheets.
More >





(
1
votes, average:
5.00
out of 5)

Loading ...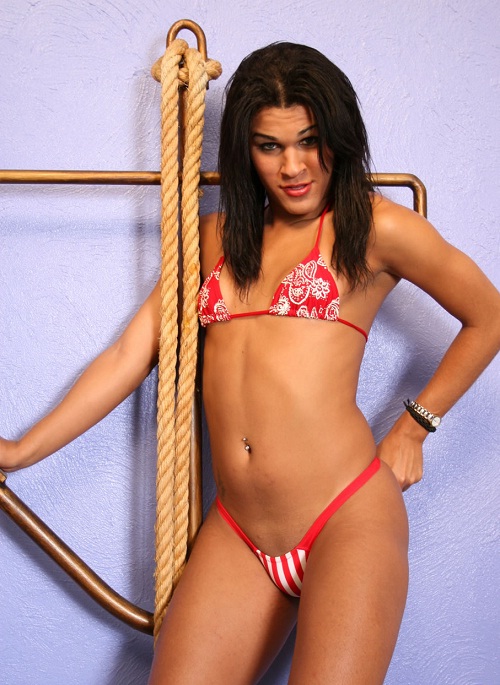 This perky brunette shemale has some major fetishes. She loves ropes and oil, lotion or anything that makes her cock slippery in her hands. She should have a sign that states slippery when wet, because she is wet most of the time due to her lotion fetish. She once again wraps herself up in that coarse rope before bending over and applying a thick squirt of lotion on her very nice ass, it dribbles down just like she wants and that inspires her to touch her thick shemeat and then finger her tight ass until she cums all over her fun rope sextoy.
More >





(
1
votes, average:
5.00
out of 5)

Loading ...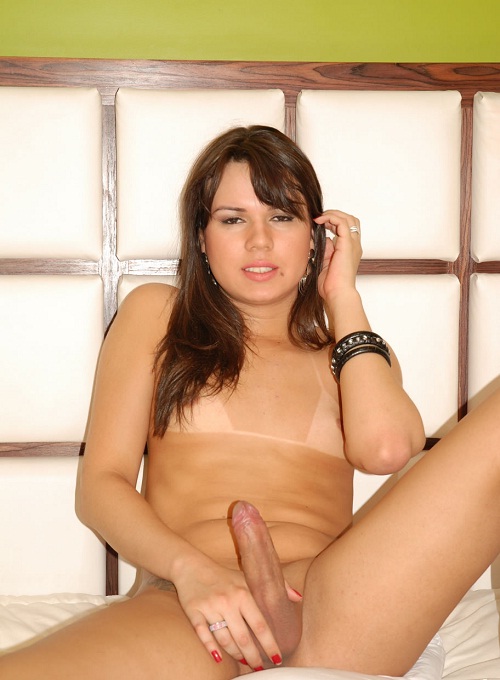 Lovely tranny Leticia is in front of the camera with a mission to get off. She's been given a bottle of baby oil and a comfortable bed with which to accomplish her task. Things start off very well as she poses in knee high black leather boots and a sexy black bikini. She can't keep those clothes on for long though; she needs to let her cock be free. Next comes the baby oil, which she generously pours over her body, leaving her all shiny. The slickness of the oil turns her on and when she wraps her hand around her purple knob she's already hard. Her she-cock is beautiful and fully functional as the turgid erection will show. She's got a pretty hot ass, too.
More >





(
1
votes, average:
5.00
out of 5)

Loading ...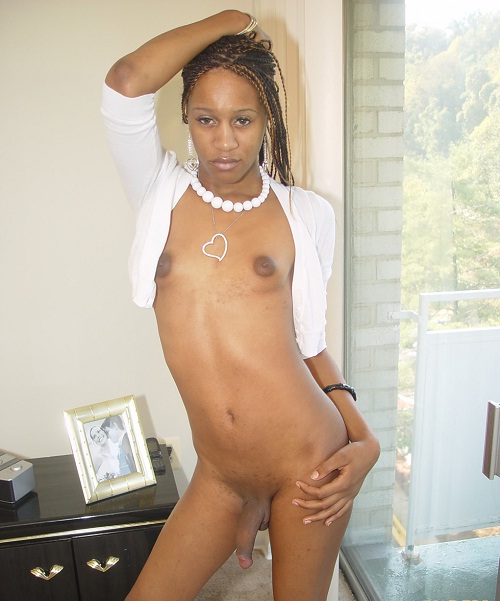 Shy, sexy and oh so hot. This lovely ebony shemale with her long dark hair and tight, slender body was a lusty site to behold. And watching her pose in her skimpy top and panties, with knee high leather boots and fishnet stockings was about to drive all of us crazy and had us ready to drool. Her movements were so sultry and graceful as she began to strip for the camera. And watching her stick that small, round ass in the air was a temptation almost too strong to resist. She unclasped her black bra and teased her tiny tits with their big, dark nipples before sliding her panties and stockings down her legs and revealing her thick and succulent girl pole. She stroked her shecock while giving us an awesome view of her tight, round ass. The more this T-girl stroked, the harder she got and it wasn't long before she was moaning and creaming in ecstasy.
More >





(No Ratings Yet)

Loading ...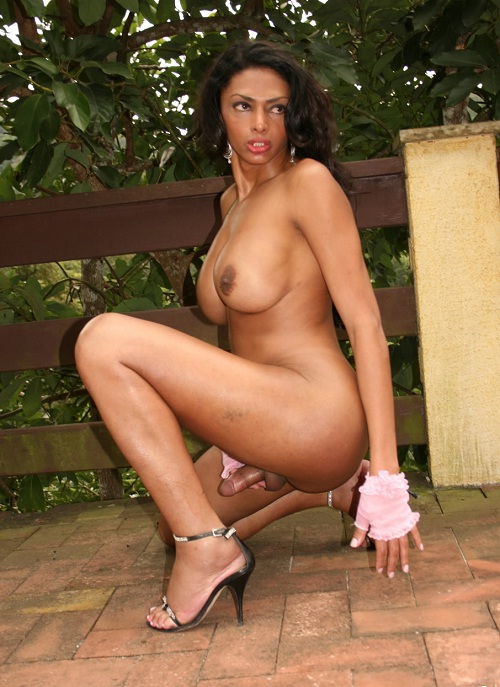 Pamela is eating her favorite fruit on the patio and its so juicy it rolls down her sensual lips and onto her big tits leaving a sticky sweet trail. Pam thinks that feels so good she just squeezes that fruit and it floods her tits and her belly in sticky goodness. She wonders what else that would feel good on. She takes her sticky hand and strokes her cock as she starts to stuff that fruit up her tight ass…oohhhh that does feel good. She continues to stroke her hefty meat stick and begins to plunge that fruit deeper into her tight ass until she is moaning and humping her hand. She just can`t help herself. She is so horny now and she is wild, she just can`t stop what she has started and her hand strokes her shecock until it just erupts with its own sticky juice all over her pretty thin waist.
More >





(
1
votes, average:
5.00
out of 5)

Loading ...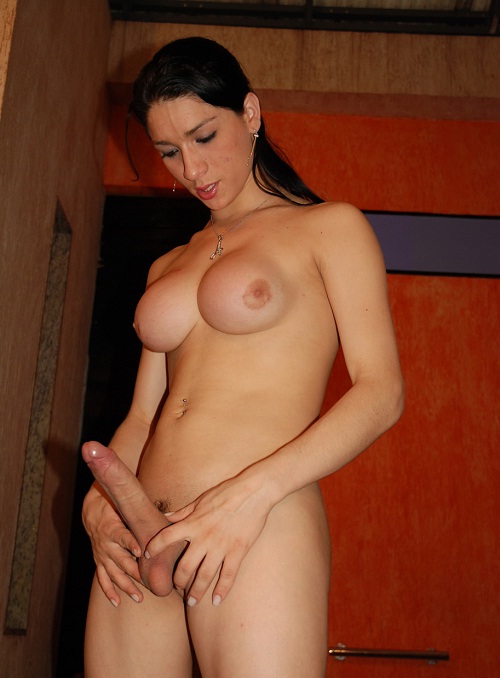 This raven haired, shemale beauty looks sexy as hell sitting on the edge of this indoor pool in her pink lingerie with her sexy smile and dark bedroom eyes. Adriana is one hot T-girl that loves exploring her own body and loves doing it in front of the camera. She teased and squeezed her firm tits before sliding out of her bra and panties and it was obvious by her hardening shaft that she was getting very turned on. And this babe had a real thing for lotion. She covered her shecock, perky boobs, tummy and legs with that creamy liquid then slowly and teasingly rubbed it in paying special attention to her ever stiffening girl meat before slipping in the pool. Adriana leaned back in the warm water spread eagle stroking her slicked up shecock and fondling her tits until her rosy nipples were pebble hard. It wasn't long before this shemale slut was pumping harder and faster and spewing her creamy load all over her stomach and thighs.
More >





(
2
votes, average:
5.00
out of 5)

Loading ...
Posted by admin in HD | 1,858 views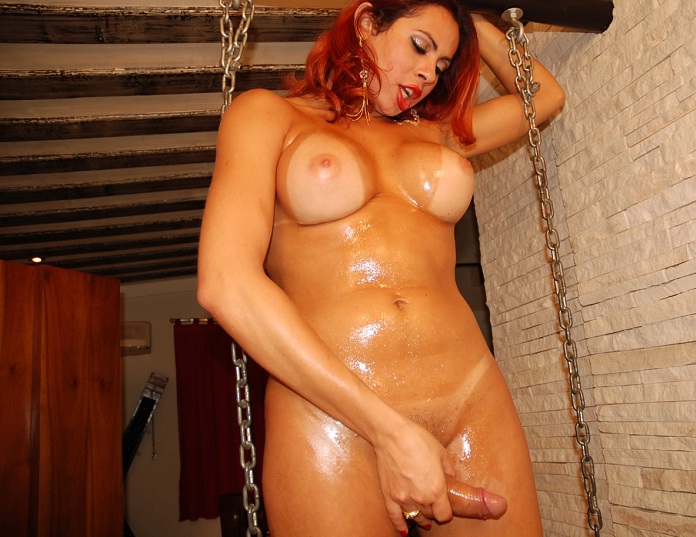 Ana Paula is one hot shemale with a sweet face and gorgeous body. What sexy curves this T-girl has and those long toned legs are heavenly. She loves dressing up in her sexy lingerie and playing around while she gets naughty on camera. And she was very playful in this scene while she swings back and forth teasing the camera with her sexy eyes and smile. It definitely got a few degrees hotter as this lovely ladyboy seductively began to strip out of her leather looking bra and skimpy bottoms and oiled up her big rack, firm round ass and long juicy she-rod. She rubbed and stroked her thick shecock and squeezed her firm but cheeks giving us an awesome view of her tight asshole. And the more Ana Paula stroked and squeezed the hotter and harder her shaft became until she was pumping harder and faster and moaning and finally spewing her hot load all over the seat of that swing.
More >





(
1
votes, average:
5.00
out of 5)

Loading ...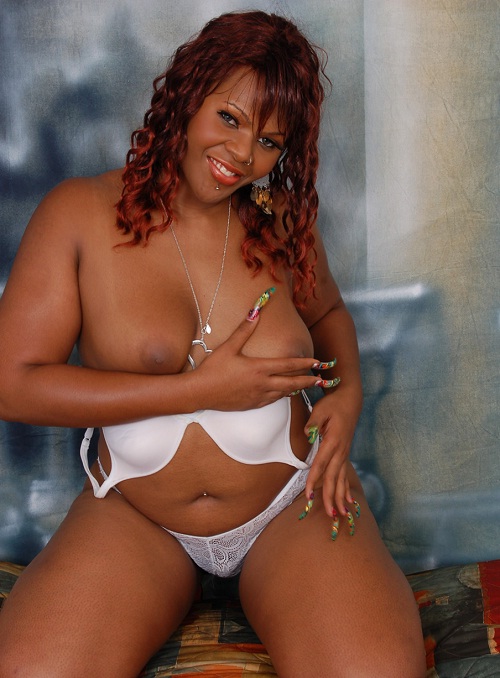 Break down straight ahead! And what were we lucky enough to find standing beside the open hood of this car but an ample bodied, red headed ebony shemale. Being the nice guys that we were, we decided to go over and see if we could help this full figured T-girl out of her car crisis. She was having problems getting service on her cell phone to call anyone so when we offered to take a look under her hood, she was happy for the help. Turned out to be something simple and we had her up and running in no time. She was so grateful, she offered us a lift back to our apartment and even agreed to come inside once we got there. Turns out this hot shebabe loved the thought of being on camera and before the afternoon was over, she was stripped down to her white bra and lacey panties stroking her fat shecock until she was spewing her creamy load.
More >





(No Ratings Yet)

Loading ...