SOLO
Posted by admin in HD | 1,401 views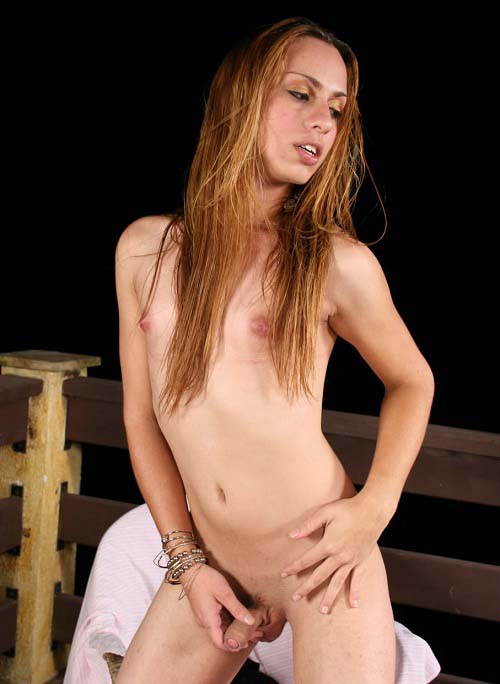 This pretty thin shemale with redhair has decided to be a shemale stripper. She wonders if she has it in her to get on stage and dance, taking her clothes off for money. Does she? Well she decides to practice on her patio and starts dancing her way to an unseen audience. She really gets into her dance, and utilizes the chair on the patio, and practices how to use her erotic seductive stares. She decides to add oil into the mix and starts rubbing herself with the oil and glides across the patio, oiled and stroking. She loves it and she thinks maybe her invisible audience is really getting into it! Don`t worry we love how you stroke your cock and cum for us!
More >





(
2
votes, average:
4.50
out of 5)

Loading ...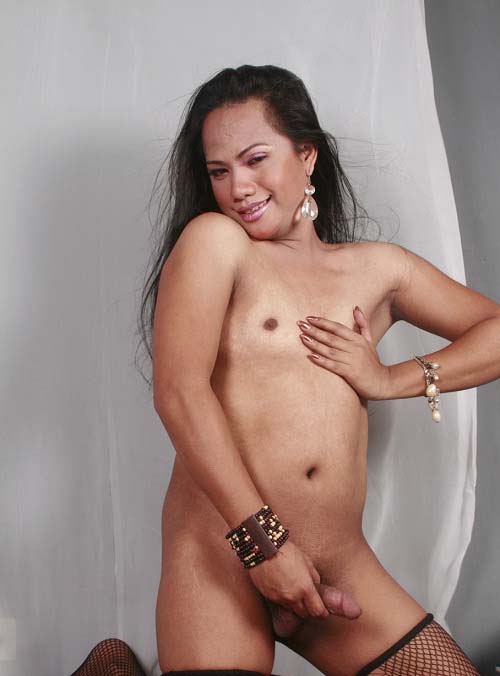 If you are wondering who the masked lady is you would be half right until you got her pants off to see she has a fat hairy dick and balls. Sexy full figured Katrina starts out disguising herself with a bright and shiny red mask and mouse ears. This cannot hide the fact that she has a pretty face and long brown hair but her green sweater, dark shirt and red striped skirt does conceal her true gender for the moment. We are no better informed when she strips to her red cross bikini and black fishnet stockings except that lower plus sign seems to be covering an unusually large crotch bulge for a girl. Not yet revealing her true sexual identity she unmasks her beautiful sultry eyed face which only adds to our gender confusion. She grins while she takes a few puffs on a cigarette before kneading at her groin until she can no longer keep dick a hush hush. Her secret exposed she removes her bottoms and are rewarded by a fat side curving veiny penis with a ring of bushy black pubes. The masquerade over she lays back to massage her tits with one hand while she strokes her chubby cock with the other until she side squirts her ball juice on to the waiting table.
More >





(No Ratings Yet)

Loading ...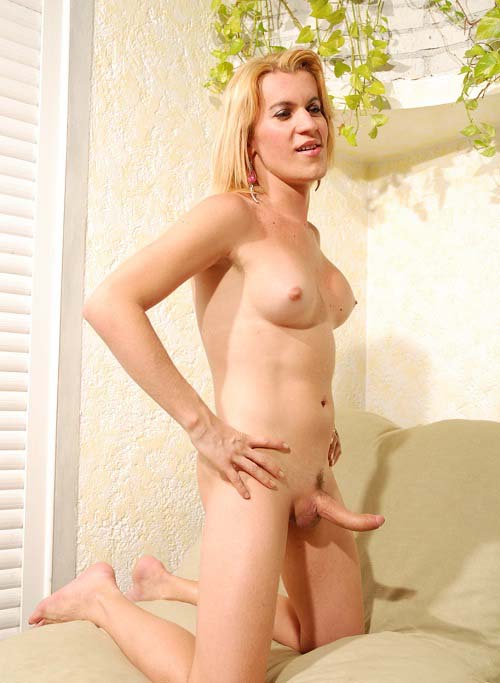 This blonde tranny likes getting down and dirty and playing up her feminine side. Carla Mel is a cute and playful shemale with small firm boobs, a tight bum and a long shecock. She looks very hot in her pink bathing suit and even hotter once she gets her top off. You can tell by the naughty smile and the twinkle in her eyes that this t-girl can be wicked and twisted when she sets her mind too it. And she proves it in this photo gallery. Not only does she get on her knees and spread open her butt cheeks to show off her tight asshole, this funky chick gives a little show that you just have to see to believe. It definitely gets her hot and hard and the luscious shemale Carla rubs her stiff shecock from base to head until she is throbbing and blowing her thick and sticky load like a fountain all over her stomach and letting it drip down her shecock.
More >





(No Ratings Yet)

Loading ...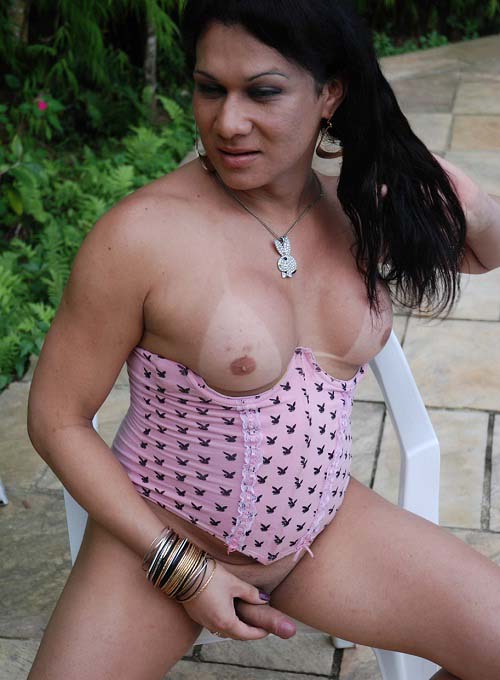 What`s a horny shemale babe to do all alone on a hot day? She sits down by the pool showing off her big tits and plays with her delicious shecock! Alexia was a well built and toned T-girl with a huge set of firm tits and a shapely, round ass. This brunette tranny loved showing off her tight body for the camera. She slipped out of her mini skirt leaving on just her corset style top pulled down below her tits and began to play in the water. The feel of that warm silky water must have been a real turn on for Alexia the more she dipped her feet in the pool the harder her velvety girl pole grew. She gripped it in her soft hand and began to stroke her shecock slowly up and down moaning in self satisfaction while we got every seductive movement on film. This horny T-babe loved having us watch her and she began to pump harder until she spewed creamy cum like a fountain.
More >





(No Ratings Yet)

Loading ...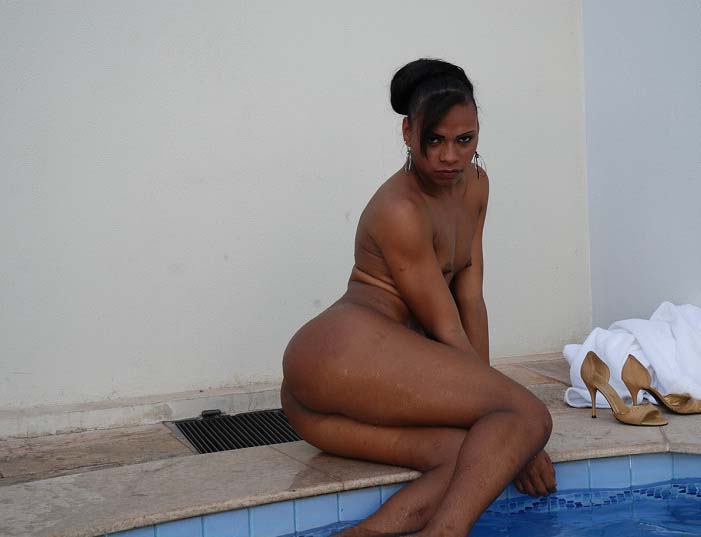 Tamires Vidall is a lovely Latin tranny chick with very long hair, a hard body and a plump shecock that she loves playing with. She strips out of her robe showing off every inch of her dark skin body including her muscular ass before stepping into the pool for some naughty playtime. Tamires splashes in the water letting the water sooth her hot skin. Then she strokes her thick girl pole until it is standing erect and ready to release her creamy cum load all over her tummy and thighs.
More >





(No Ratings Yet)

Loading ...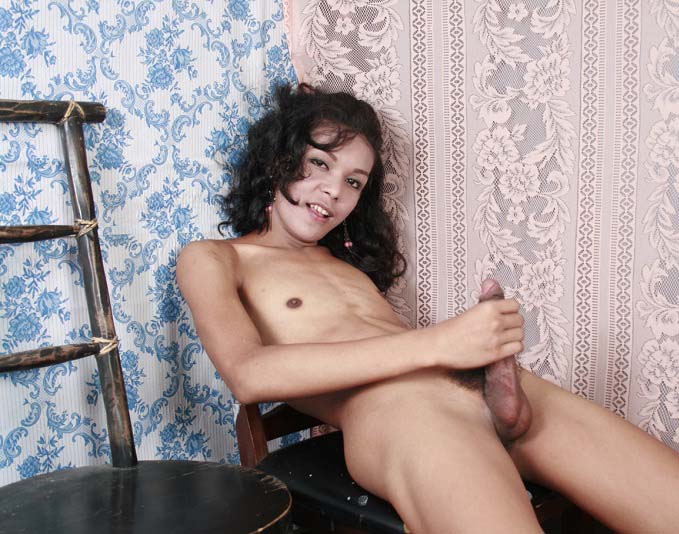 If you doubt that new exclusive model Rhiane is a superstar than take a look at her naked body. If you are not convinced by her rail thin fat free frame and her huge hard cock then look closer at her belly button and you will see it is at the center of a tattoo star. We didn't bother with clothes in the pcitures for this set as we knew you would want to see as many shots as possible of her posing with her hard hairy dick. But for those who like to see there ladyboys first in clothes check out the video for a short strip scene. I just love watching her laying back and stroking her giant cock and then standing as it juts out proudly at a right angle to her body. It's from this position that she jerks out a load of creamy cum from her huge hardon.
Photographer's comments: Hot, that's how I would have described Rhiane in one word. Want to know how hot she is? Well, we have yet to start her shoot and she was already bugging me to give her 3 male partners for her next session. And for someone as pretty and sexy as Rhiane, I won't have a hard time booking TS lovers out there to fuck her.
More >





(No Ratings Yet)

Loading ...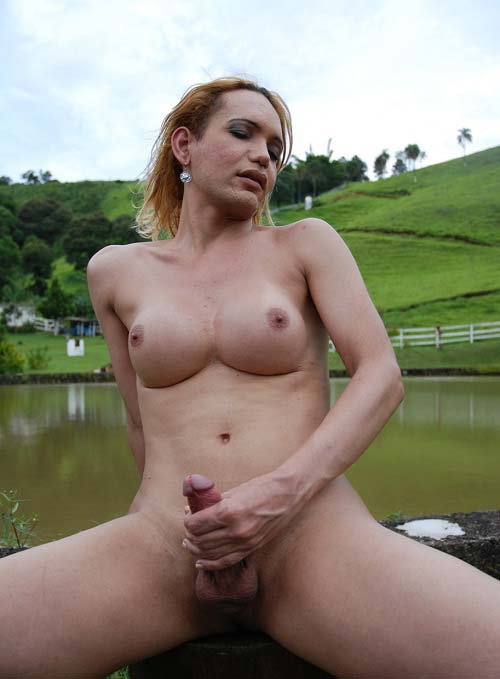 Kelly was an incredibly luscious shemale that loved exposing her beautiful body for the camera. This tranny babe told us that having so many eyes watching her as she stripped and played was the biggest turn on she had every experienced. And there was no denying as she posed in her corset and black thong that she was hot as hell and the camera loved her from the top of blond head down to her bare toes. Her playful persona came through on film loud and crystal clear and just watching this delectable T-girl as she bared every inch of her lovely skin was heating up the already warm day in a big way and their wasn't a soft cock around, and that included the bulging shecock between this shemale hotties long legs. She sat down, leaning back to give us an awesome view as she took her plump girl pole in her hand and began to stroke it hard and fast until she shot her cumload all over her tight abs.
More >





(
1
votes, average:
1.00
out of 5)

Loading ...
Posted by admin in HD | 1,031 views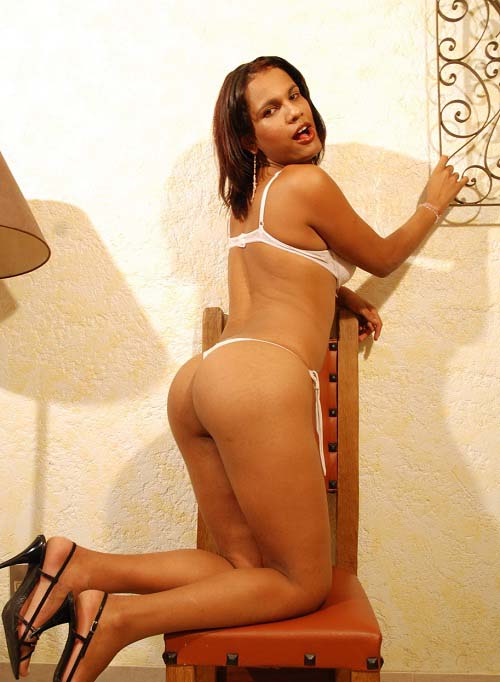 Sexy Gabriela is a shemale babe with a plump derriere and a long, juicy shecock that she loves to play with. She takes off her bra and thong before grabbing her can of lotion and squirting it on her tasty tits. She rubs the lotion into her boobs and tummy loving the silky feel of it on her skin. This gets this tranny babe aroused until she is squirting lotion on her girl pole and rubbing it long and slow until her shecock is hard. Gabriela loves teasing her self and she won't be through until she spews her jizz.
More >





(No Ratings Yet)

Loading ...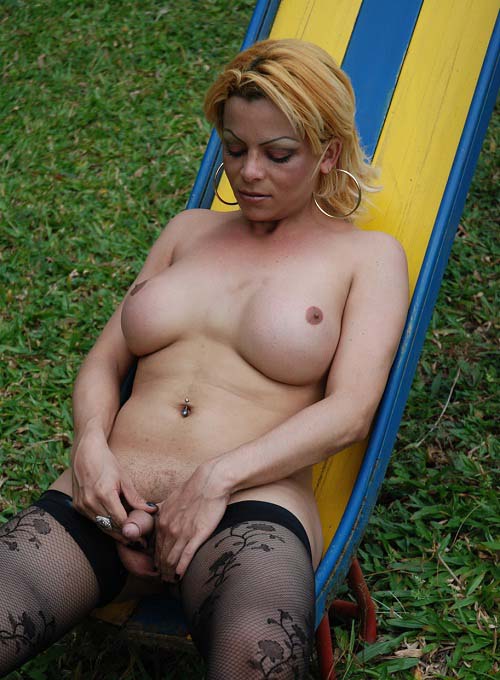 Adma was a sexy, blond shemale with an outgoing personality that loved being playful and naughty. She was dressed in her sexy leopard print lingerie and black thigh high stockings. She knew that her skin tight outfit showed off her plump ass, big tits and the bulge between her legs to perfection. This shebabe had a playful personality that came through on film beautifully and watching her play on the slide was an enticing pleasure, especially when she pulled her bouncy boobs out for us to see and enjoy. She wasn't shy at all about stripping down outside and showing off her meaty shecock. The combination of being naked, being watched and being outdoors seemed to just excite this vixen even more and her girl pole got thicker and harder with each passing second. She began to stroke her erect shecock and it wasn't long before she was spewing her cum all over her stomach.
More >





(No Ratings Yet)

Loading ...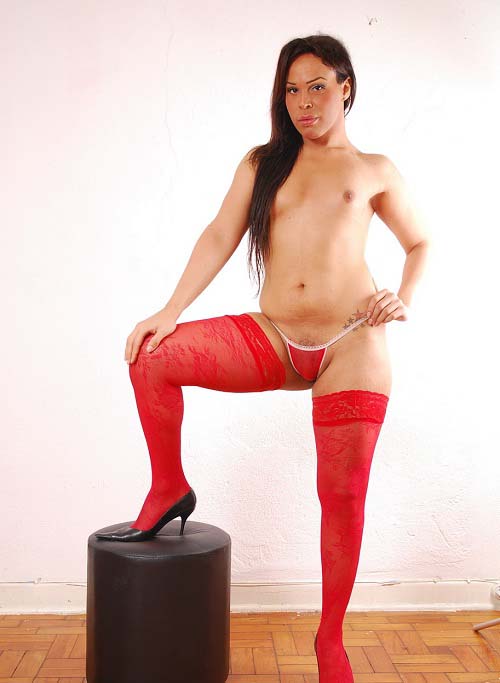 The color red never looked so good as it does on this horny shemale beauty. Brenda Lima is a Latin t-girl that loves getting herself off and she wants you to watch. Knowing you are watching as she strips out of her red lingerie and shows off her hot body and plump girl pole really turns her on. She leaves on her thigh high stockings and high heels and strokes her little fem dick until it is ready to spew its load.
More >





(No Ratings Yet)

Loading ...