SHEMALE WITH MALE
Posted by admin in HD | 3,259 views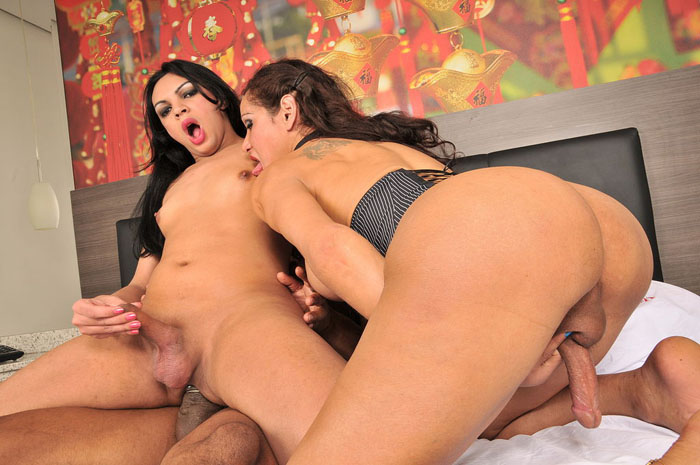 Lucky Latino stud Capoeira is about to tackle two of the hottest Latin shemales ever! Ana and Bruna are both gorgeous and voluptuous brunette babes; both sluts have got incredible tits, and even bigger dicks! Their stud stands above them as they crouch at his knees like the submissive ladyboy fuck sluts that they are, simultaneously working their mouths up and down his shaft. Then the stud pounds them both in their rear ends with a seemingly limitless amount of energy and a rock hard control over when he ejaculates. The girls also take turns drilling each other in the ass, with some intense three-way positions to be enjoyed as well.
More >





(
1
votes, average:
3.00
out of 5)

Loading ...
Posted by admin in HD | 1,337 views

Here's a threesome tranny fantasy to light your monitor on fire! Daivid D, lucky bastard that he is, has two gorgeous trannies at his beck and call. Lorraine Baldez is a dark-haired honey while Danielle Albuquerque is a streaked blond shemale goddess in her own right. Daivid dives his head in Danielle's lap and comes up with a dick in his mouth. Lorraine makes herself useful by swallowing his cock! Then the trannies start trading blowjobs with Daivid plowing Danielle in her sweet, tender butt! Get your ticket to ride the endless human train of taboo pleasure!
More >





(No Ratings Yet)

Loading ...

Thayla Andrade and Tayana DeCastro are both gorgeous chicks with dicks who love having some man meat in the middle. When they whip out their cocks, you know that they mean business. One tgirl goes down on her back, slurping that cock, while the other gets ready to have her ass licked and probed. This TTM threesome combination is going to have your dick harder than ever, and making sure that these shemales are spraying their cum everywhere. They just love letting their dicks spray out all over the place.
More >





(
1
votes, average:
1.00
out of 5)

Loading ...

I would like to introduce you to Eye, ANOTHER ladyboy player exclusive!!!
The one thing that stands out to me most about Eye is how aggressive she was. When I walked past her she started grabbing on my cock and trying to convince me to short time her. Most "working" ladyboys do the same but she was extremely persistent. In fact, she was so persistent she offered to suck my cock on the side of the street and she put my hand down her tight shorts right there in front of everybody so I could feel her cock. SOLD! I got her number and thought about how much fun she would be when I called on her.
I was sitting around…a little bored and a little lazy to go out and Eye came to mind. I started thinking about her and how aggressive she was and wanted to see if she would be the same way in bed. I called her to come over and she arrived within the hour…willing to please. When she first came in she said, `hey I remember you` and attacked me. She was so aggressive I had to calm her down a little bit so I could get my cameras and everything in order to share the experience with you guys. Once the cameras came on she got a little shy but luckily she warmed up a little once she got a cock in her mouth.
Overall, I can say I`m glad I made the call to Eye. She was fun, she was willing and best of all, she had a raging hard cock the entire time. I`m not joking, from about 2 minutes from walking in the door until about 5 minutes after she blew her load her cock was jumping up and down it was hard. God I love this place!
More >





(
2
votes, average:
3.00
out of 5)

Loading ...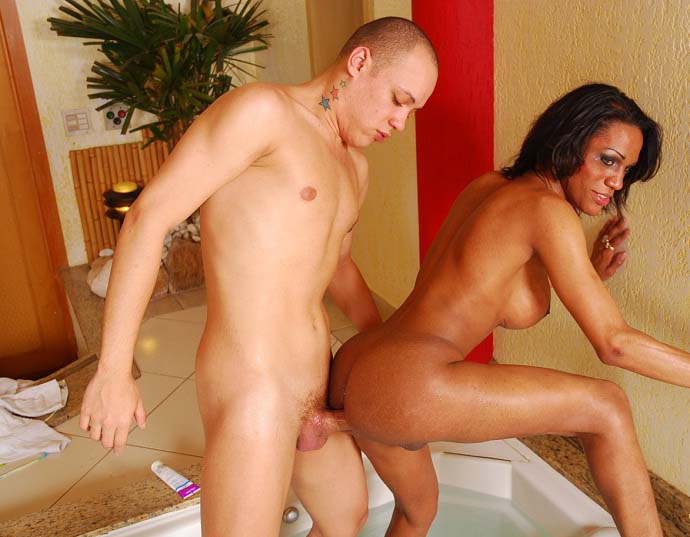 Anarah Rodrigues is like a wet dream come to life with her toned body and juicy shecock. She is an incredible looking shemale babe with a hot body and an appetite for hot sex this horny stud is very eager to appease. He kisses all over her body before helping her into the hot tub and taking her girl pole deep in his mouth. She gladly returns the favor by slurping on his dick and then bending over to let him fuck her sweet, tight ass.
More >





(
1
votes, average:
1.00
out of 5)

Loading ...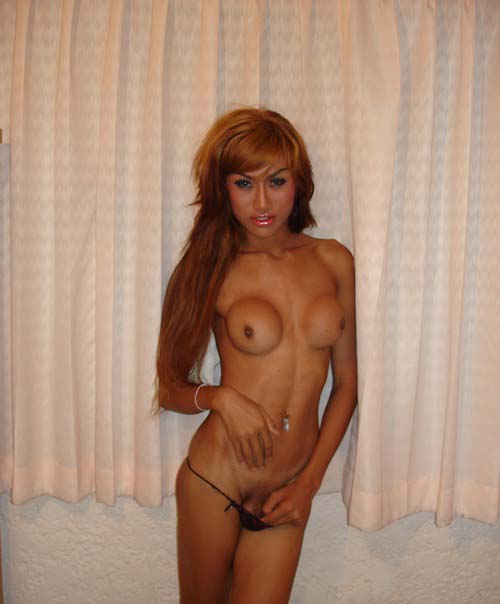 This is by far the horniest girl I have ever met as well as being one of the hottest. She is bubbly and fun and always laughing and acting crazy. Maybe she is on drugs but if so I want some. I mean look at her taking her clothes off, dancing around and hamming for the camera. This was the funest shoot I`d done to date. I`m glad she had a big poofy dress to hide her body or she would be too sexy. I don`t know about you but I love those baseball sized tits protruding from her skeletally thin body. Some would say they look fake, well hell yes but they still look great! Look at her grabbing those things in both hands with nothing else on but her impossibly small string bikini briefs. When you see her huge cock it makes you wonder how it could be restrained by such a tiny piece of cloth. When hard her big cock has a slight twisting up curve to one side. Once she had my cock out and I was looking down on her pretty face sucking it and those tits and cock below I knew I had to fuck her. A little lube and a condom and we were off to the races which I did not catch on film. Fast forward to her huge cumshot all over and around her belly jewel. Well for most girls this would be enough right? Not Pond, she insisted that I fuck her again and she actually came a second time. Unbelievable!
More >





(
1
votes, average:
5.00
out of 5)

Loading ...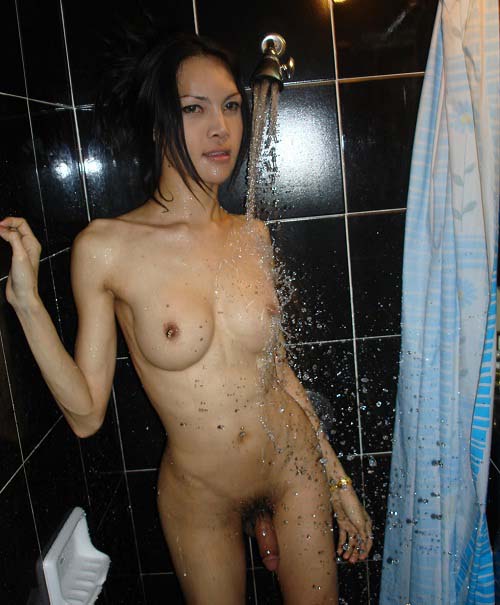 Sorry for the forced wit of the set title but another site had already used Alice in Ladyboyland for this babe. Plus mine refers to her huge hard cock which is just a bonus when you consider this girl is so perfect in every other way. Another girl who must have a good deal of falang heritage if not a full on white daddy. Her circumcised cock is further evidence of this given that most Thai`s have hooded dicks. She could go to any bar in the west and I don`t think anyone could tell she is Thai let alone a boy. However it must be the Thai blood that allows her to look like a girl and yet not be. If she was 100% white she would no doubt have \"that look\" that gives away western shemales.
More >





(No Ratings Yet)

Loading ...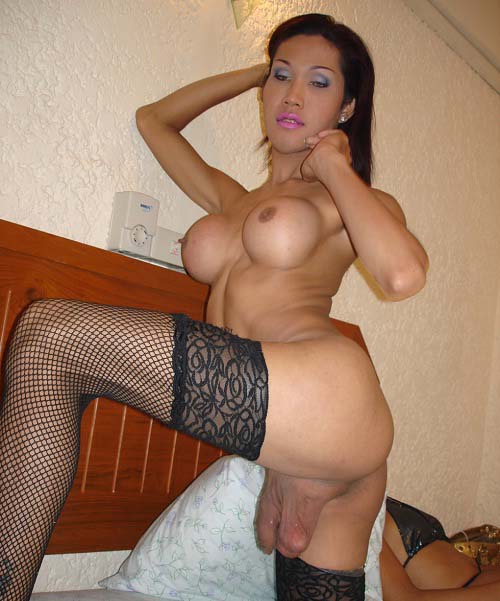 Lek which ironically means small in Thai makes the most of her size. She is a tall girl with a huge dick, big booty and she has recently added some giant boobs to balance things out. She is a friend of Sara`s and started out posing with her in black bra and panties that had trouble containing those grapefruit sized titties and large banana cock and balls. Her balls hang down a good four inches as does her flaccid cock. She has a nice large lower back tattoo framing the top of her ample booty and a smaller one partially ringing her jewelled belly button. I thought it would help her to see my cock and sure enough hers began to swell as she sucked me and licked my balls with her pierced tongue. She asked for the baby oil and I thought what a great idea to oil up those spectacular boobs and cock. Of course a short titty fuck was in order before she sucked me until she spewed hot juice from her trunk sized dick.
More >





(No Ratings Yet)

Loading ...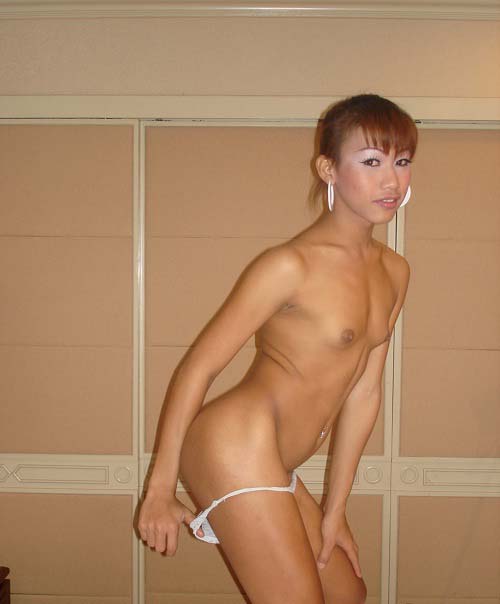 I`m a sucker for a pretty face but I`m also a sucker for a sexy little Femboy body. Monika is the epitome of such a creature. She has a very pretty face with a big mouth that is always smiling and large fluttering eyes. In clothes she reminds you of those pubescent teen girls from Junior High that teased but would have nothing to do with you. If this isn`t enough to get you hard check her out in her black strapless bra showing her petite square shoulders and bejewelled sexy tummy. Femboy lovers will be ready to cum in their pants when she shows her suckabley sweet little hormonal tits. But pace yourself because the best is yet to cum. She takes off her short shorts to show us lacy white panties that contrast deliciously with her mocha skin. But wait, why do those tiny panties on this sweet teen babe have a bulge? Let`s take a peek. My god she has a short fat hooded cock in there! At this point in the shoot I almost uncontrollably forced her to her knees where she obediently went to work on my throbbing dick. She noisily moaned and slurped away as she sucked and yanked on me with one hand and jerked herself with the other. It wasn`t long before she produced a voluminous cloudy excretion from her adolescent girl dick.
For those who don`t know Femboy is broad term given to ladyboys who have retained some aspect of their true gender other than their cocks. Normally a Femboy will not have fake tits and I think Monika`s are perfect the way they are. It is too bad that some quack will likely ruin these by inserting oversized water balloons at some point. I love big fake tits but sometimes I like to imagine that I am molesting that girl from grade school that was responsible for my sexual awakening (and that she had a cock).
I met Monika at Casanova earlier that evening. The moment I sat down Monika plopped down on one side and another more womanly ladyboy on the other. As well an extremely hot girl hovered giving the impression that she was more deserving of my attention. I don`t know why but this always seems to happen to me at Casanova. At bars there are always girls looking over their shoulders to see if I am checking them out but here some girls definitely have an attitude. I will wave them over and say maybe we can talk later or give me your number but they inevitably storm away in a huff. Sure enough though I will catch them glancing over from across the bar. This is a fun game and I like girls with spunk but my instinct tells me that these headstrong girls may be trouble later on when it comes to negotiating the shoot. So as I have learned the hard way countless times I went with the birds in the hand versus the one in the bush. So then I had to decide between girl (Monika) or women.
This again was an easy choice as through all the games with the other girls Monika simply snuggled close and beamed up at me adoringly. When I waved the waitress over to pay the bill and the barfine she squealed with excitement and hopped up to go change and grab her things. At this point attitude girl strutted over and hand on hips challenged me with \"why you go with that little girl?\". I pretty much laughed in her face and this of course fuelled her anger. She twirled around heel on toe and against better judgement I jumped up catch her by the arm. I moved close and whispered in her ear something like \"Sorry baby, I like you, give me your number, I`ll call you later\". Like magic her body unstiffened and she turned her head and said \"I like you too but my phone not work, you come back later\". I said that I would try but of course I did not and it was probably for the best.
More >





(No Ratings Yet)

Loading ...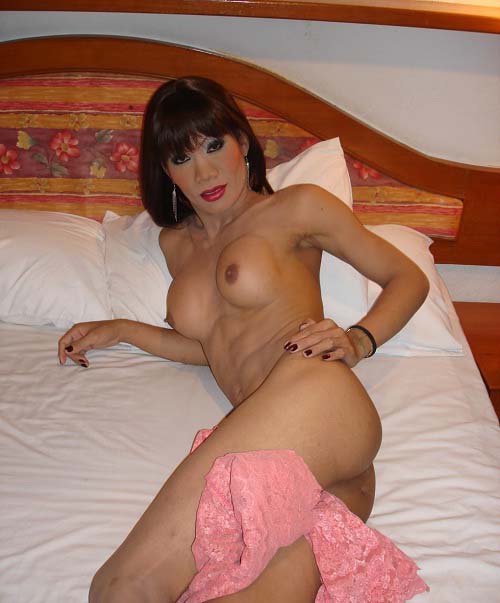 Not the prettiest girl in Pattaya but my god, what fucking body. In fact I can`t think of a ladyboy or girl who has a better one. She has perfectly shaped tits and ass tacked on to a long lean muscular frame. I found her showcasing this well in her slightly tattered cocktail dress on Beach Road around Soi 13. I bumped into to her as I was stumbling along on my ways back to the bars after finishing with another girl. She said \"go with you\" and so I did a 180 and she followed me back the short distance to my hotel. She took a call and then slinked out of her dress to reveal her spectacular tits sitting atop washboard abs. She took a shower and there are some great shots of the water streaming down on her against the black tile background. She is an awesome sight in just a towel and she seemed to know what to do next as she pawed to free my hard cock from my pants. I love her lower back tat which is eye candy when you are ramming her from behind. This is the only blemish on her perfect lightly tanned skin which is virtually hairless save her head and trimmed pubes and balls. From behind her sweet A-hole is a site to behold as it winks at you from the middle of her divinely shaped rump. Of course she also has a gorgeous big unhooded cock which sticks upwards at a 45 degree angle. Enjoy the shots of her stroking her big rod to orgasm.
If you look at only Nidnoy`s face you probably think that I must have been pretty drunk to take her home. Well that is true actually but there is another reason; unlike when I was young I no longer give a shit about a girls face. When you`re prepubescent I think for most guys it is all about the face. If I think back to grade school there were girls who had great bodies but were not as popular as prettier girls. This changes a bit in Junior High as the smart guys figure out it is easier to get in the pants of the not so pretty girls. I was way too picky given my minimal game so I did not get much action in my teens and early twenties. My epiphany came in college when I asked a buddy how he could screw a girl that I considered to be ugly. His answer was \"same basic anatomy\" and when this sunk in I promised myself to never again pass up a piece of tail. Of course there has to be something there that I find attractive and in this case Nidnoy has an abundance of cock hardening qualities. Ironically the Thai word nidnoy or rather nitnoy means a little bit.
More >





(No Ratings Yet)

Loading ...