SHEMALE WITH MALE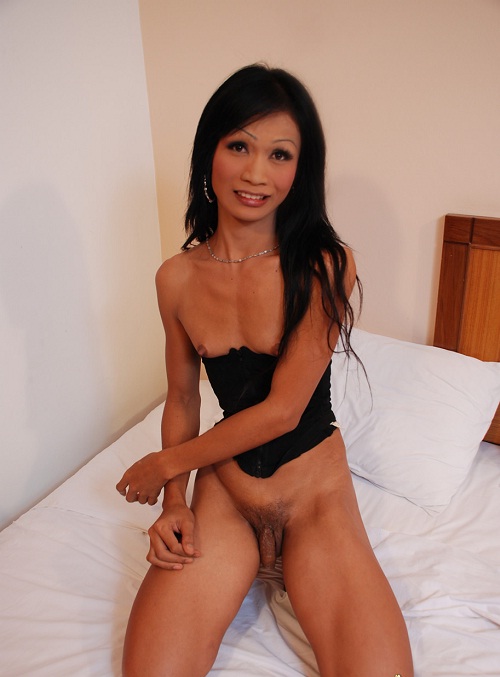 Gee is an older girl who works at High Boss in Pattaya who comes to us in her red cocktail dress. She has very long wild black hair which literally reaches her waist. Her pretty face is contorted by her attempts at a forced smile. However her best feature is her beautiful eyes which are large and lashed. You can see from her arms and legs that she keeps her body in good condition no doubt from lots of sex. With the dress off she looks curvy in her super tight black lace corset and dirty jean short s under which I was pleased to see she has naturally wide hips. The contrast of black on white is maintained with her sexy lace triangular panties which point to her only masculine feature. She soon pulls these down to let us peek at her trimmed pubes and top of her cock and balls which are neatly tucked between her legs. She then does a 180 and spreads her large ass cheeks to give as a close up view of her sweet boy pussy. Some great shots of my dick in her mouth before she stands and exposes her large puffy nipples while stroking her small dick which never gets fully hard. On the bed she lays back and takes turns between sucking me and two finger stroking, stretching and squeezing her dink and balls until they finally produce a surprising squirt of clear cum.
When I first saw Gee outside in front of Hi Boss she looked super hot. She looked much more impressive than in the light where I had second thoughts about choosing her over a large number of sexy and desperate girls. But she has a great attitude and did her best to work with her obviously over hormoned cock. She has an interesting story in that she says she lived with her boyfriend in the Netherlands for many years. Despite being back working the streets of Pattaya to support herself she like most Thais and unlike people in the West does not seem to be bitter about her previous relationship. I suspect that this has something to do with them being just as happy to return their own culture.
More >





(
1
votes, average:
5.00
out of 5)

Loading ...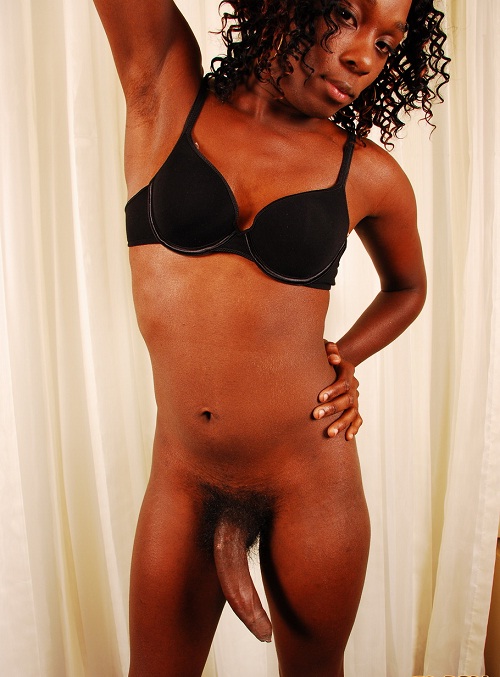 Klarissa is a black shebabe from Orlando who has a cute curly bob hairdo which frames her pretty face. She talks in a calm quiet baby voice which adds to her shy and sexy demeanor. Despite this she has no problem turning around and pulling up her tight satin black dress to show off her bright pink and white panties which she pulls down to give as a peek at her shapely black butt. Facing front she shows us her flat hard abdomen and then inches her dress up past her sexy navel. At the same time she slowly pulls her panties down first revealing the top of her bushy black pubes and then the hardening shaft of her brown shedick. With her panties at her knees we are struck by the excessive length of her huge hooded down hanging dick. Her curving cock grows longer and harder as she pulls her dress up over her shoulders and stands naked but for her black bra. The cameraman is humbled by a cock size comparison and then requests that she kneel and suck his throbbing dick while she stokes her own black meat pole. He lets her catch her breath before stuffing his dick back in her mouth as her dark dink rests at a right angle on her thigh. She is getting very horny and so spreads her legs and strokes her cock giving us a view of her black balls and hairy asshole. When she lets go her big black tapering tinkler hangs down like an elephant's trunk but springs up on her stomach when she gets some more oral pleasure. Kneeling on the chair from behind the vision of her beautiful big black booty is disturbed by the giant brown sausage sticking through her legs. Sitting in the chair she admires her enormous crotch meat before starting a long stroke that ends in a spectacular white cum squirting climax. She then plays with her gooey black penis with one hand while jerking the camerman's dick with the other until he anticlimaxes his load on her bra.
More >





(
1
votes, average:
4.00
out of 5)

Loading ...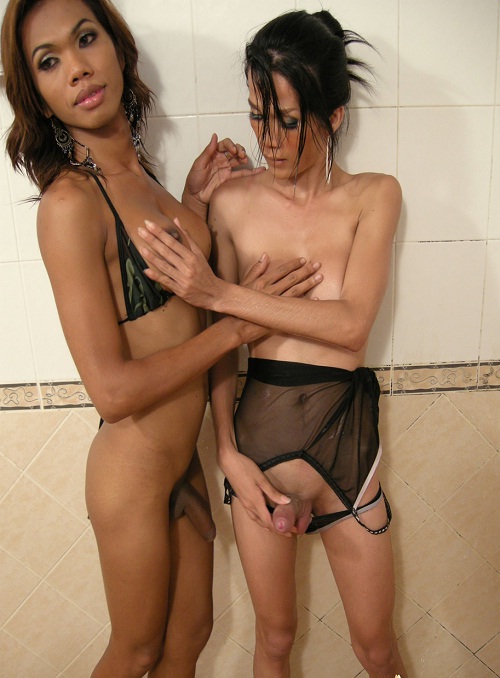 Here we have two slim big titted and cocked babes who join me for a little fun in the toilet. Joy who is the curvier and darker of the two looks gorgeous in her small and tight camo bikini which leaves little to the imagination. Joy has a beautiful face and very sexy dirty blonde hair that compliments her flawless chocolate colored skin which glistens when wet. Wan is slimmer and younger but just as pretty with her white skin which contrasts with her jet black hair. Her sheer black pink trimmed bathing suit covers more but it is simply impossible for her to look bad in any outfit with her silicone titted supermodel skinny body. The girls start the set by washing each other before giving us a peek at there shaved cocks and Joy exposes her perfect round water balloons. Joy's huge shedink gets hard first and she sits down on the lieu to wrap her big pink lips around my cock and suck and then lick it and my balls. Wan quietly watches us as she strokes herself until out pops her also giant boner. I leave Joy to stroke alone on the toilet and show Wan that while she is huge I still have her by an inch or two. Side by side the girls compare and fondle each others big dicks and Joy finally pulls Wan's top down and out fall her huge fake jugs. It is then Wan's turn to demonstrate her cock sucking skills first on Joy and then on me sitting on the toilet as she holds her veiny curving dink between two fingers. Joy gets horny watching this and calls me over asking to suck my cock some more until she gives Wan a close up view of her long hard down curving penis. The girls continue to jerk themselves as they switch positions so Joy can suck me yet again. This sets up the double cock jerk where Joy squirts frothy white cum on herself followed by Wan's blob blast on Joy's left tit and arm.
What a great day I had working with these two babes who work at High Boss Bar in Pattaya. We wanted to do an outdoor beach shoot so we went to a somewhat secluded part of North Pattaya. As we could not escape curious onlookers entirely it ended up being a fantastic bikini shoot which will show up in the more photos section at some point. The toilet scene here was an afterthought as I needed somewhere to get the girls naked and they were happy to wash the sand off at the same time.
More >





(
1
votes, average:
5.00
out of 5)

Loading ...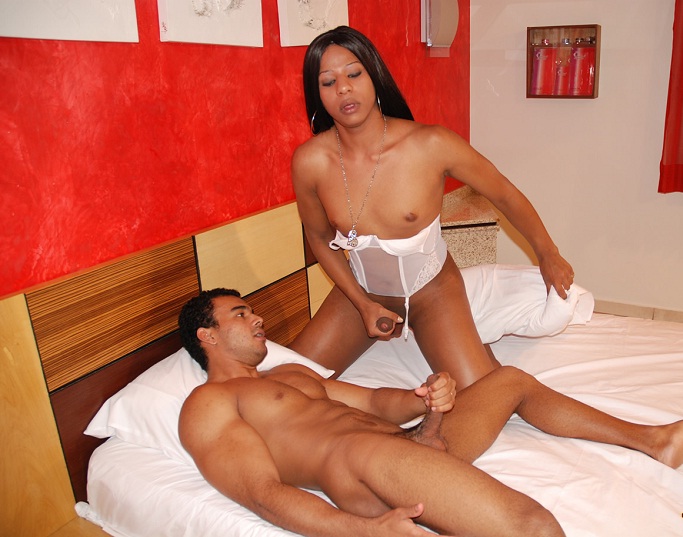 This ebony shemale with her long raven hair and tight bubble butt looked hot as hell in her white corset and her matching white thong. And this stud must have thought so too, because he couldn't keep his hands and mouth off of her. He wasted no time in getting her on the bed and her thong pulled down her shapely legs so he could get to her thick and juicy shecock. And this luscious T-girl loved having her girl pole sucked and licked. She even threaded her hands through his hair and pumped her woman shaft in and out of his mouth. But she wanted her taste of some meat too, so they positioned themselves on the bed for a cock sucking 69. Their lusty hands and mouths went to work pleasuring each others hard shafts and it was clear to all of us, they were loving every moment. But when things got really hot, this shemale babe couldn't wait to bury her girl pole in that ass.
More >





(
1
votes, average:
5.00
out of 5)

Loading ...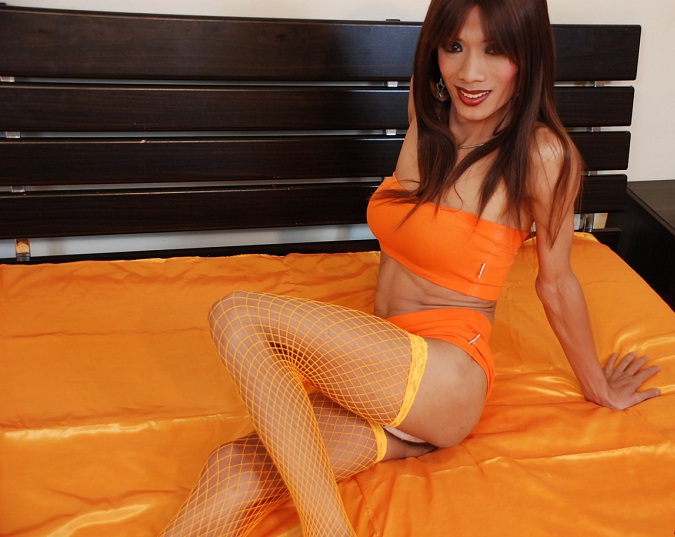 This is a tiny little gnat of a girl coincidentally named Nat except for the fact that she has a huge cock. She starts the set combing her fake hair as she stands in her skimpy orange outfit and fishnet stockings. You can see every ripple on her bare midriff and when she sits down the large bulge in her white panties push her tiny skirt up. As I moved close she wasted no time pulling out and sucking my cock before standing and removing her skirt. The bulge grows and from behind she pulls her G-string aside to show her sweet hairy little bunghole and you can see the end of her large cock which has been forced between her legs. When she removes the straining white cloth, out springs her huge fat dick which looks even larger in proportion to her miniature body. It stays rock hard through showing us her puffy boy pussy and other poses before she takes a call. That done she generously lubes up her hairy hole and invites me to fuck it. This I do from a few positions before she settles down for a double cock jerk until she shoots her load all over my cock and stomach.
I found Nat on Soi 13/1 in Pattaya at Beach Road where she works as a freelancer (i.e. streetwalker). This Soi in central Pattaya has two Ladyboy bars, La Bamba and Stringfellows which employs many feminine ladyboys. For some reason most of the freelancers working around there seem to be the most masculine of ladyboys. I would not even say they are femboys but rather wig wearing transvestites. You would think they would work closer to the gay area, Sunee Plaza but I suppose they are looking for straight men and the traffic around Beach Road. This type of ladyboy is not for everyone and they are reputed a being the most trouble in terms of drug use, stealing and other bad things. I had no trouble with Nat who with her small size could not pose much of a threat but I found many of the others around there a little worrisome looking.
More >





(
1
votes, average:
5.00
out of 5)

Loading ...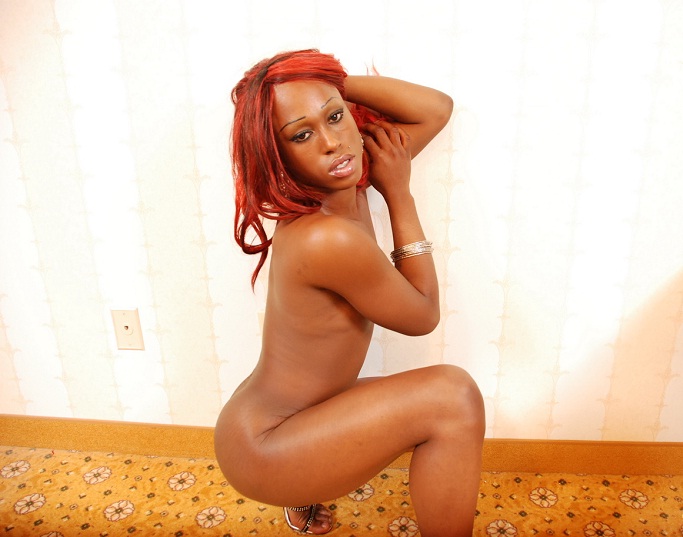 Holy hell, this ebony shemale was incredibly hot and sexy with wicked dark eyes and luscious full lips. Her long hair was streaked black and fire red and her body was sinfully sweet. She was dressed in a sexy matching halter top and mini skirt outfit that left most of her luscious dark skin bare. And that mini skirt didn't even completely cover that tight, bubble ass. Every move she made gave tasty glimpses of her brown buns and was an irresistible treat to see. She was definitely one sultry T-girl and she really enjoyed showing off her sexy self for the camera. She slipped out of her clothes with sensual slowness, keeping her shecock covered just to tease us mercilessly. But once she got her mouth on that man meat, her girl pole got too long and hard to hide. And before long, she was squirting her cum all over her shapely thighs.
More >





(No Ratings Yet)

Loading ...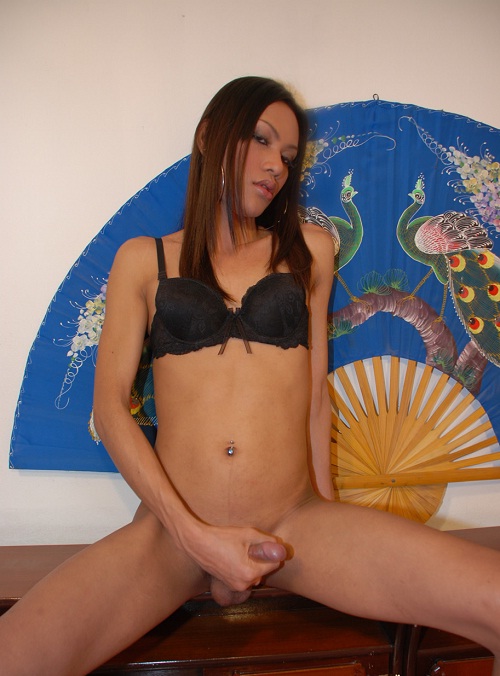 Seeing tall slim beautiful Beau in the street I sought the truth about how she was built down below. As she stood there statuesquely in her sort blue jean shorts and pink on white double tank top I asked her not to fib about how big she was down there. She told with a straight face that she had a small cock. While could not tell if she was jibing or jesting I went ahead and asked her to sit on the bed. She wore a serious expression on her very pretty face with her long dark hair, full pink lips and large sleepy eyes. She then got to her knees and removed her shirt to tantalize me with her slim almost nude torso save for the lacy black bra covering her flat chest. The tease continues as she shimmied down her shorts to show her tiny panties covering a surprisingly large crotch bulge which grows with our torment as her neatly trimmed pubes now peek from the top of this small triangle of cloth. From behind the truth of her gender lie is revealed by her hairy butt hole sand small dangling balls. Back around Beau's geste about her cock is exposed by the unveiling of her hard long pole and low hanging ball sack. It is no gag when she grabs her tool in one hand and mine in the other before dropping to her knees to suck my dick nor does she (gag). It is also no joking matter when she sits on the headboard of the bed to pose with her big dink in hand before delivering the punch line as a large squirt of creamy cum on to her leg.
I'm not really sure if Beau was joking or if she really thinks her cock is small. She may not have been jesting because she hangs around with her friend Pim also from Obsession bar who has a huge monster sausage cock. So relatively speaking her slim long curving dick is small but is plenty big enough in isolation. Truthfully her humorous motivation was contrived by me simply to gain the reference to chronically remade Beau Geste story about the French Foreign Legion brothers who along with their brutal commander are the last survivors of a remote Middle Eastern outpost. In the version I remember the commander (played by Telly Savalas) forces them to fight on against relentless attacks by sarrasins until one is finally killed and the other kills the commander to escape. Then there is the "Last Remake" version starring the hilariously bug eyed Marty Feldman as one of the brothers.
More >





(
1
votes, average:
5.00
out of 5)

Loading ...

If you have an aversion to stunning slim femboys with huge fat cocks then look no further because Pim embodies all these traits. Seeing her kneeling sweetly on the bed we first notice her pretty face framed by the strait cut bangs of her brown hair which ends in a long pony tail. Despite her shapeless frilly prison striped blouse we get the sense she has a slim sexy figure from her long neck and willowy arms. This is confirmed when she stands and removes her tight blue jeans to reveal slender legs and bright red panties. She lifts her top to show she has a nice flat tummy and narrow waist before she partially pulls down her panties to give our first peek at her hairy patch. A further slight tug down of her red briefs and out flops her huge shrivelled hose that soft is bigger than most erect cocks. She spins to give as a back view and we see the panties have an interesting lace design sprouting from her ass crack before baring her beautiful small round butt and then spreading her cheeks so we get a good view of her sweet boy pussy below which hangs her large meaty balls and hardening hooded dink. Her top off we see her black lace bra has slid down below her small puffy red nipples capping her suckable hormone titties. After a quick stretch and tug her dick grows long and fat and she just stands there as it hangs down to one side with the pink head peeking out from its hood. Now it's time for her to stoke that monster cock before she reaches out to do the same to mine before kneeling to suck me off will she continues to jerk herself. This girl loves to pose her big dick and fat balls which she does laying back before finishing with a giant vertical squirt of cum that has soaked her svelte body with glistening ball juice.
I had no idea that Pim was so well endowed. I met her in the street near Nana with Beau from the previous episode. The both had just finished work at Obsessions and were standing near the entrance to Nana obviously looking for customers. I approached and was immediately attracted to both of these tall slim model bodied girls. I thought Beau was slightly prettier so I originally only wanted her to come along. But I had a feeling about Pim and neither seemed averse to waiting while the other did her shoot so I asked them both to come along. Beau went first and as I described previously she said she had a small cock which turned out to be untrue. Pim was next and was I in for a shock when she unsheathed her unholy crotch sword. I have seen a few cocks that are that long but few as fat. Boy was I glad that I trusted my instincts as her big giant boner is one of a kind.
More >





(
1
votes, average:
5.00
out of 5)

Loading ...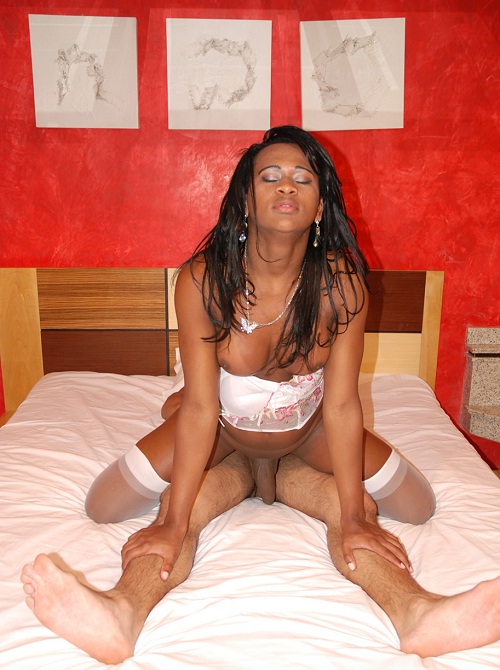 This horny ebony shemale beauty was a mouth watering site to behold in her white corset and silky white, thigh high stockings. She was definitely ready to play when we met her so we hooked her up with a big cock stud and got every moment of all the ass fucking, cock sucking frenzy on film. This guy definitely didn't waste any time getting her corset pulled down and nibbling on her big, firm titties. And this lovely T-girl knew exactly how to handle his thick shaft. She sucked him hard and deep in her warm mouth and let him push his cock deep down her throat. And when he was throbbing hard and ready to pump her sweet shemale ass, she straddled his hips and let him bury his man meat in her tight fuckhole. He rammed her ass while she stroked her shecock until she spewed her load all over her stomach.
More >





(
1
votes, average:
4.00
out of 5)

Loading ...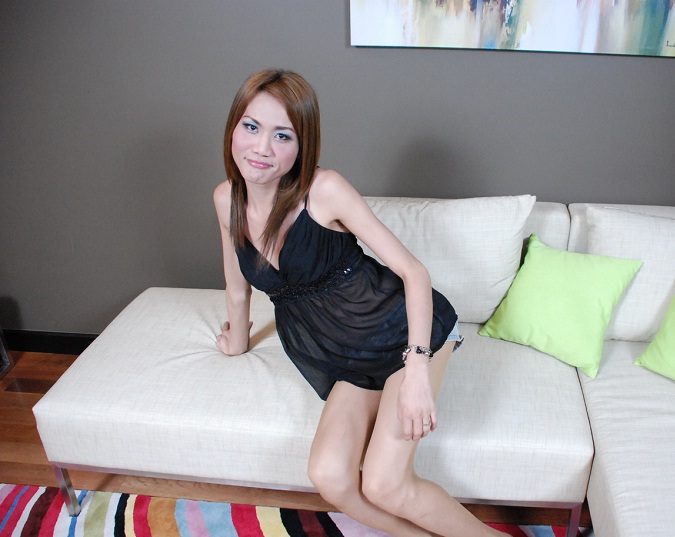 Pantyhose and high heel fetish fans will love this set with tall and slim Bangkok femboy named Ae. Her long slender milky white arms and legs give away her very tall and thin figure which she attempts to hide with her billowy and sheer black dress top. When she pushes the straps down she reveals bony but sexy shoulders and prominent collar bones which connect her long neck to her incongruously large head with reddish brown hair falling back down to those shoulders. She has a wide and fairly pretty large feature face on which she usually wears a nice smile revealing imperfect teeth. Top off she leaves her black strapless bra covering her flat chest and reveals her tight vertically scarred outy naveled torso. Removing her short jean shorts she has magically donned s pantyhose under which we can make out sexy red lace panties which have trouble covering her ample dark pubes. The next sequence on the couch is for leg and foot fans as she slowly removes the sheer hose until she must remove her heels to get them completely off her large feet. Standing she pulls on her panties from various directions to tease us with partial views of her pubes, ass and balls. She then kneels to suck my dick and this causes her nice cock to sprout up through a hole in her panties at 45 degree angle. We then get her to put the pantyhose back on so we can see her gorgeous hard penis tenting them before pulling them back down for some great dick posing shots. She ends the shoot by laying back on the couch with her hose at her knees to jerk her pretty dink until it squirts a huge load from her pubes to her bra.
Ae is a super nice and quiet freelancer who works the Sukhumvit Road area near Nana Plaza. When she did the shoot she seemed to usually be on the North side between Soi 3 and 5. You can often find her sitting with friends at the outdoor restaurant in the alley between these Soi's and there are some pics of her in the forum doing just that. She is very thin almost to the point of emaciation which I hope is natural versus from a drug habit. I almost prefer this type to some of the meatier more feminine girls and I get a woody just looking at her legs and so she was a natural for the pantyhose fetish shoot. I would actually like to do more like this so tell me in the forum if you would like to see more pantyhose, stockings, heels and lingerie.
More >





(
1
votes, average:
5.00
out of 5)

Loading ...