Sandy Lopez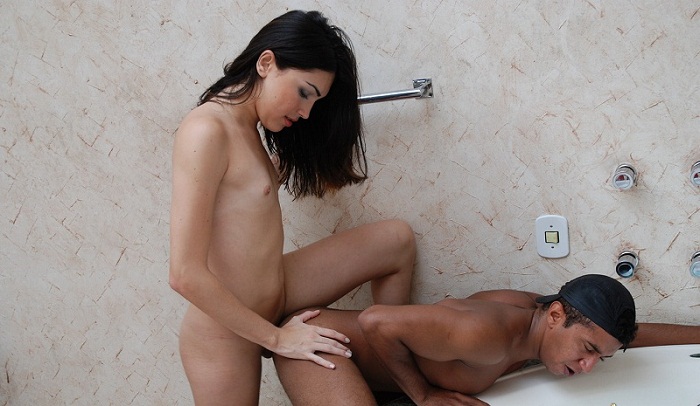 Sweet Brazilian ladyboy Sandy Lopez is sexy Asian/Latino hybrid with a unique look. There is no mistaking her Japanese ancestry with her high cheek bones, exotic eyes and slanted brows. Her long flowing jet black hair contrasts nicely with her with her milky white skinned femboy body. Whether from the East or West all shemales are horny as hell so she joins her dark stud in the bubblebath for some slippery fun. This stunning shebabe knows how to please her man so she wraps her small mouth around his fat brown cock. He returns the favor by liking and sucking her white and pink shaved balls and cock. She again sucks this dudes big dick hard so it will slide easily into her boy pussy which is presoaking below the waterline. She then gets him to fuck her ass first standing doggy style and then missionary perched precariously on the edge of the tub. To repay him for the pain he has caused in her back she bends her guy over the edge of the tub and inserts her ivory dick in his ebony ass. She pounds away at his rear while he jerks his dick until she is ready to cum. Doing a standing stroke as he sits she finally squirts a large creamy load on his well muscled abs.
This in the first in a series of hardcore sets we bring you starring Brazilian shemales of Asian decent. While Brazil was originally a Portuguese colony it has a healthy mixture of races from black to white and all in between. Like most countries that at one time had liberal immigration there is a large Asian community especially Japanese. Since Brazil is the land of shemales in the western hemisphere it is not surprising that there are quite a few ladyboys from Brazil. As you can see Sandy Lopez appears to have a mixed Latino and Asian heritage. While larger in size than most Eastern ladyboys she would be slightly more petite than most other Brazilian transsexuals.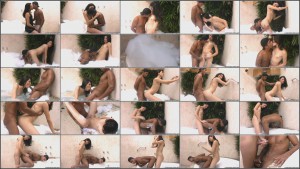 Format: WMV
Resolution: 1280×720
Size: 551 MB
Duration: 18:33 min
Download Video
1093-Sandy_Lopez-SM.wmv
Download Photo Set
1093-Sandy Lopez-SM.zip
Related posts:
No comments yet.
No trackbacks yet.
about 2 years ago - No comments
Brunette trannies Laisa Lins and Sandi Lopes kiss him and kneel down to suck his large cock. They take turns going down on him while he strips off his shirt, and Laisa gives Sandy a rim job while she continues to blow him. It's now his turn to drop to his knees to suck each…