admin
This user hasn't shared any biographical information
Posts by admin
Posted by admin in HD | 1,200 views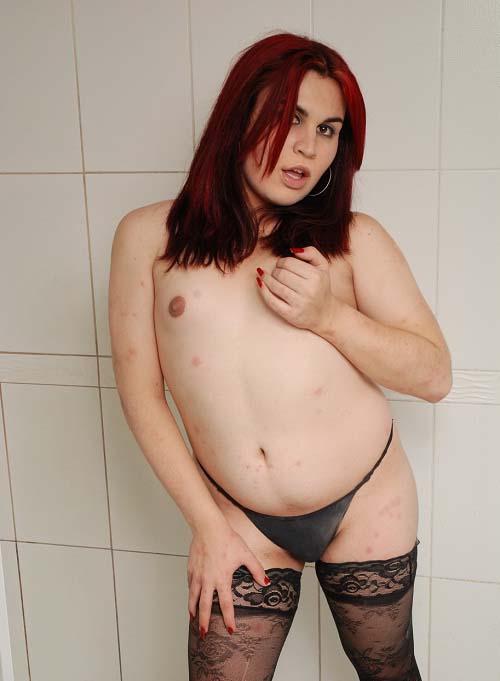 This redhead shemale has a pretty face and a plump body. Anita is dressed in her skimpy black lingerie with thigh high stockings on her shapely legs. She strips off everything but her stockings while she poses in front of a mirror spreading her ass cheeks with her hands to give a good view of her tight bung hole. She tugs on her shecock until it is hard and stading erect. And Anita doesn't stop pumpin on that juicy chick dick until she is spewing her thick load.
More >





(No Ratings Yet)

Loading ...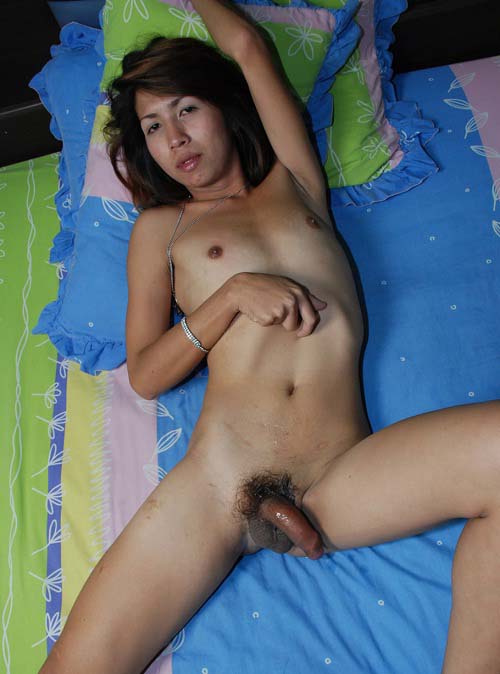 Pangpon was the one I was shooting while Cindy was getting hard and she was a nice surprise. When I first saw her I didn't get the sense that she was very pretty. I didn't realize it at the time being caught up in the shoot but she is very sexy. Her expression, poses and the way her hair falls to her shoulders all do it for me. As you can see she has virtually no makeup on and a few large zits (unless my editing guys airbrushed these out). I think she could be a stunner if made and dressed up to the hilt. Her natural look extends to her whole body which is pale and hairless except the small pube tuft which I like very much. She got hard with a little help and seemed to enjoy sucking my dick. Seeing it soft, I was initially worried she had a small cock but it swelled up to respectable length and above average thickness especially at the base. Her balls seemed to swell up as well just before and after her nice little cum shot. There's a few really nice shots of her spent cock and balls. I'll have to remember to get more shots like this from all the girls. I guess I often don't because many of them want to jump up and go get cleaned up immediately after cumming. Pangpon was content to just lay there as her sausage glistened.
More >





(No Ratings Yet)

Loading ...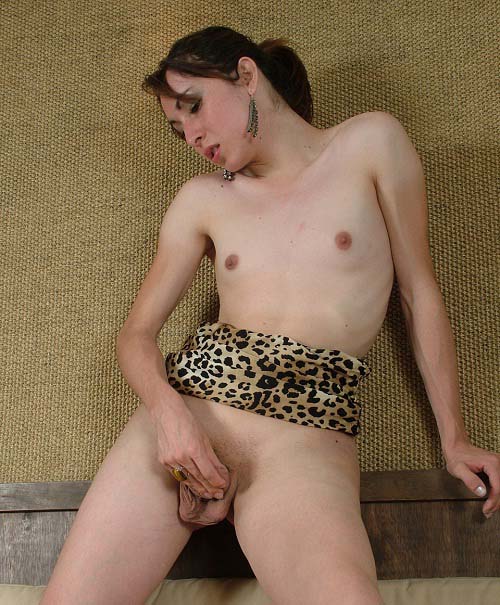 She pours sticky honey all over her aching shecock as she thinks about a tongue, a pink tongue as it licks its way down her thick shemeat and sucks her pretty shaved balls. As she is thinking those dirty nasty thoughts her hand creeps down to wrap around her sticky cock and starts to tug at it. It feels so good she starts to moan and move her hips and can`t help herself, she just wants to cum so badly. She moves her sticky fingers to shove them in and out of her tight ass and she can`t help, but shoot a load all over her chest ass she dreams about a wet tongue licking and sucking her dry.
More >





(
1
votes, average:
5.00
out of 5)

Loading ...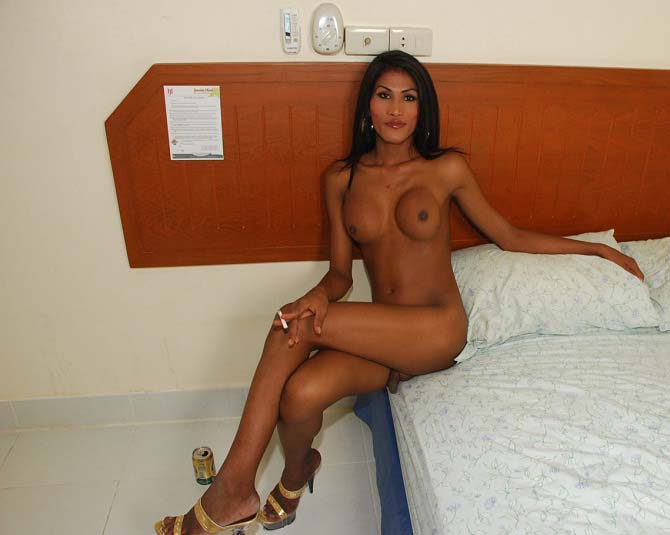 While not the prettiest girl on Walking Street, like a beacon in the night I was drawn to Pim in her bright yellow side ribbed skin tight tube dress. The striking contrast with her chocolate skin is exquisite and drew my attention in the crowd of ladyboys hanging around in front of Jenny Star. This must be working for her because I`m pretty sure I had seen her the night before wearing the same or similar dress. With those long legs she struts confidently up and down walking street rarely making eye contact with her falang prey. I`m sure you can see in her face that this girl has attitude. She does not beg you to take her home like so many others. She did not even appear particularly happy when I asked her. She indifferently looked me up and down before she acquiesced to my proposition. When she peeled of that dress I realized that this girl has a perfect super model body. I can`t put my finger on exactly what it is about her face that does not quite work because I love her hair and like her lips and nose. Perhaps her eyes are a touch too small, which you would think she could rectify with some additional shadow. I think with those incredibly high cheek bones there are just too many hard angles. You`d think these would be an asset on a tall girl with a model`s body. But after all she was born a man and a wide square lower face is inherently masculine. She probably would have made a handsome man if she had not gone the ladyboy route. Not surprisingly, as I found out later she is a top. In any other culture I think a dominant gay man would stay that way; that`s why I love Thailand.
More >





(
1
votes, average:
5.00
out of 5)

Loading ...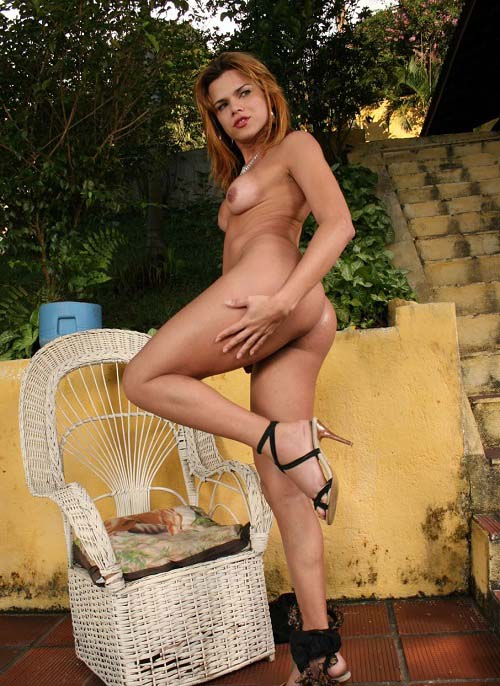 This sundrenched shemale sits on the patio and enjoys her daily fruit. When you bite into it the juice just comes gushing out splashing her chin and dribbles down her chest. She loves how this fruit is tasting and continues to eat it, then she realizes she has eaten it down to the shape of a very small cock and that gets her thinking, OMG that could fit into my ass and drench me in juices that would make me hot and sticky. She rolls that slice of fruit along her tits, and then runs it up and down her asscrack before she shoves it in. She is really getting into this fruit thing by now and starts stroking her shecock up and down, and tuggin it tight until she creams all over the steps.
More >





(
2
votes, average:
5.00
out of 5)

Loading ...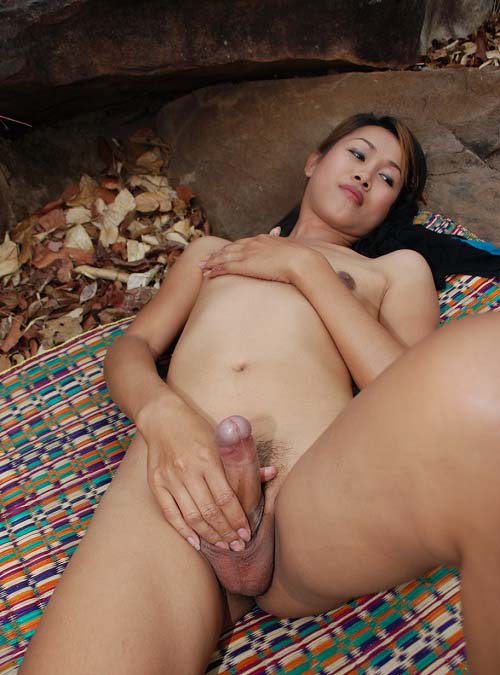 Nony is a very natural looking older girl with easy going nature. She shows no signs of being almost 30 with her easy smile and perfect pale complexion which unlike in the West is sought after by most Asian women (and ladyboys). Since we were in the great outdoors we thought it would be great to get back to nature by removing her clothes. First off is her top to show us her narrow chest which is capped by large succulent red nipples that stand out from her white skin. She then pushes her cut-offs down over her wide girlish hips and lovely long legs at the top of which lies a nice triangle of brown pubes. She giggles because she is shy about showing her cock and on the close ups of her sparingly made up face you see just how naturally pretty this girl is. With a little coaxing she shows us her soft and dark hooded little cock. Thankfully all ladyboys are horny so when she lies down on the mat and begins to stroke her dink and balls they begin to swell to a respectable size and it is not long before it is squirting cum all over her stomach.
More >





(
1
votes, average:
5.00
out of 5)

Loading ...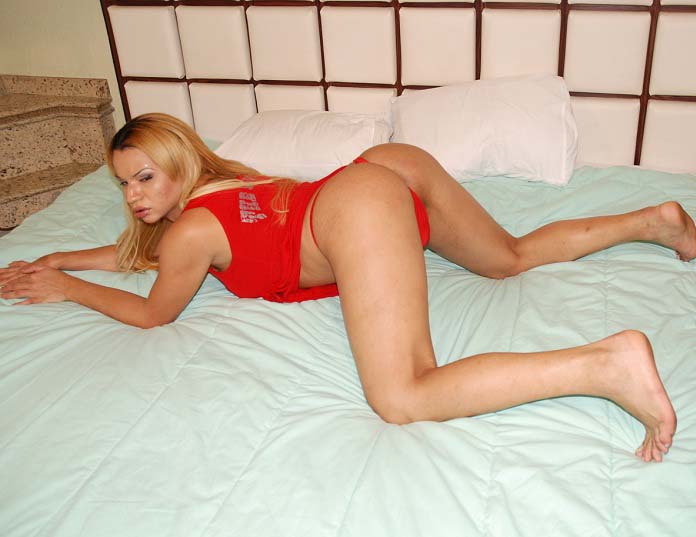 This full figured T-girl was a lusty eyeful in her short red dress and matching thong that left her long shapely legs bare. Angelica loved posing and showing off her sexy shemale ass and firm tits. She slipped out of her dress baring her gorgeous full rack before sliding her thong down her legs and spreading her round butt cheeks for the camera. And when she reached for a bottle of lotion and began to squirt it on her lush ass, big tits and juicy shecock, we knew we were in for a real treat. She covered herself in that creamy liquid teasing her nipples to pebble hardness before she began to rub and tug on her thick girl pole bringing her shaft to full erection. Angelica was lost in ecstasy as she stroked every inch of her lotion covered shecock until she was moaning and biting her bottom lip in naughty pleasure. And it wasn't long until this horny shebabe was spewing her hot load all over her hands and stomach.
More >





(
1
votes, average:
5.00
out of 5)

Loading ...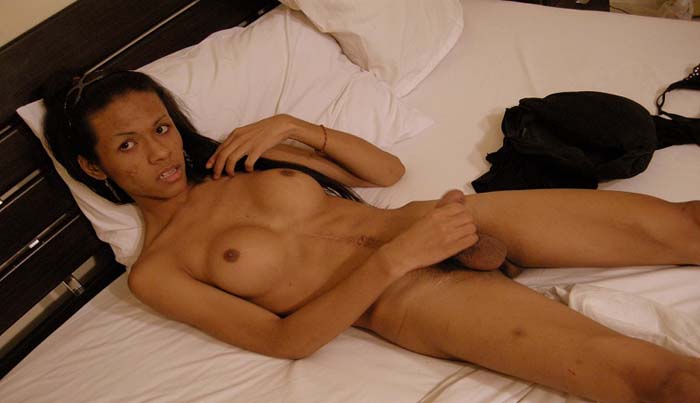 If a ladyboy with a huge cock, tits and a hairy ass shows up at your door looking for money, how can you turn her away? Despite the fact that I had plans to meet another girl who would be showing up within the hour I said "OK, but it has to be fast". The truth is that when it comes to ladyboys my will is controlled by my small head. So here is an impromptu big cock quickie set with the one and only Gobee from Pattaya. Once I acquiesced to her request she wasted no time baring those big round tits and pulling out her huge hard hairy dick. I love when Gobee kneels over me while she yanks that giant crank. On this day I thought I would make her flip over for an upside down jerk. This gives a stunning view of her famously hairy butt crack which I had every intention of plastering with cum if I had more time. But this hirsute honey stuck to the bargain and within ten minute of walking through my door was blowing that huge load of cum down all under her left breast. Gobee actually must have been quite horny that day as she usually does not cum that quick which was perfectly timed given right after my phone rang from the other girl who was downstairs.
More >





(
1
votes, average:
1.00
out of 5)

Loading ...
Posted by admin in HD | 1,187 views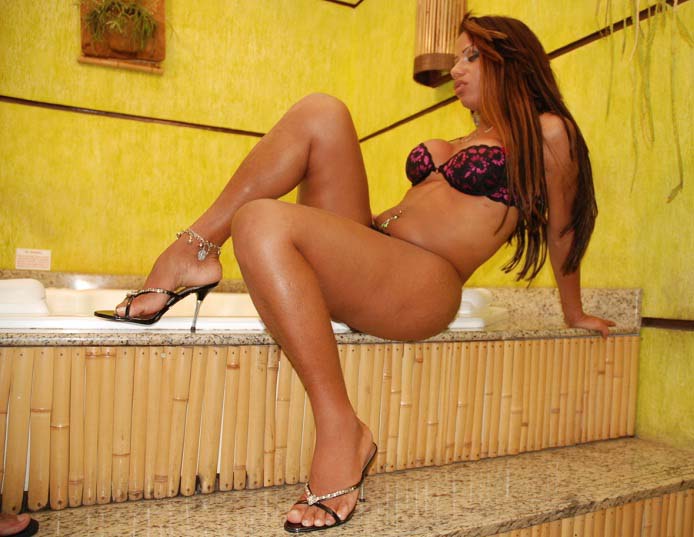 Holy hell, this delectable shemale babe doesn`t have a clue just how hot and tempting she truly is which makes her even more desirable. Esmeralda is a lust inducing, mind blowing tranny that makes your mouth water and your mind indulge in all sorts of naughty and dirty fantasies that will drive you wild. This luscious T-girl was dressed in a black and pink bra and thong set that showed her awesomely toned body to perfection. Her firm round tits were luscious and her shapely legs and curvy ass makes your hands itch to touch her tanned skin and mold themselves to her mouthwatering curves. Watching her strip bare ass naked is a sinful pleasure made even more potent when she climbs in the hot tub and enjoys the hot water and feel of her lush, tight body. This T-girl had no inhibitions at all playing for the camera and watching her stroke and tug on her shecock until she blows her creamy love juice in orgasm will have your cock standing at attention and ready to shoot off like a fourth of July firework!
More >





(
1
votes, average:
5.00
out of 5)

Loading ...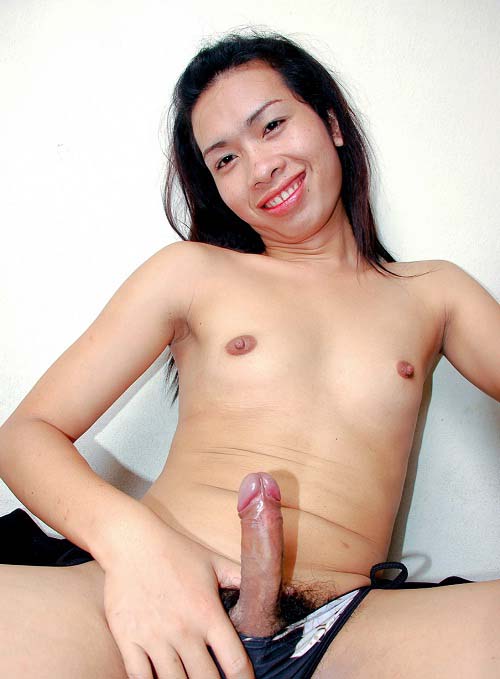 This cute little girl did not resist arrest when I nabbed her for selling her body in the street. I told her there was no need for cuffs if she came willingly but I could tell that she might like this. I said that if she tried anything I would pull my pistol and so she said that she definitely would. Back at the station she sat smiling on the black bed in the holding cell clearly enjoying being incarcerated. As I conducted her intake interview she began to move around trying to excite me with various views of her sexy little body. I asked her how long she had been doing this and why did such a cute young girl not have a husband and children. She ignored this and continued to tease me by giving me peeks at the bikini she wore as undergarments. She then asked to see my pistol so I obliged and she asked if I wanted to see hers. I said what are you talking about, you are unarmed and then she layback and drew her bottoms aside and out popped her concealed weapon. I realized she was not a real girl and this made me take my mind off the ball and on her hairy dick and balls. She then pulled up her dress to show her slim sexy tummy and then lay back and held up her dink for closer inspection. I approached slowly, gun drawn and she reached out and grabbed it saying she wanted to clean it with her mouth. I told her to get up and remove her top slowly so I could check for other hidden weapons. I then ordered her to get back on the bed and to keep her cock in her hand where I could see it. I then told her to flip over as I had to check if she was hiding anything in her little butthole. I then said not to make any sudden moves except with her dick. She then stroked the barrel of her love gun while alternatively yanking mine or flicking her puffy nipples until she fired blob bullets all over her stomach.
More >





(No Ratings Yet)

Loading ...